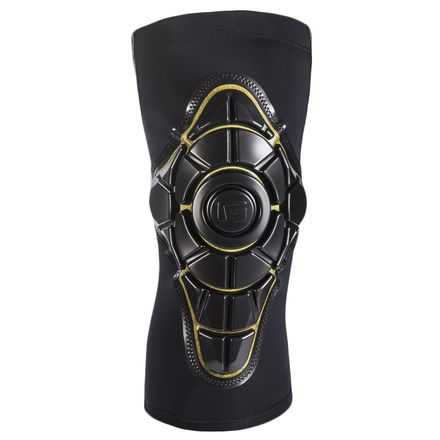 Colors
Just right.
Big, bulky knee pads make riding tougher than it needs to be, and on most rides, you just want a little extra protection, not a hockey goalie setup. The G-Form Pro-X Knee Pads are perfect for all-mountain rides –the RPT Impact Protection hardens on impact, and protects your skin and bones from injuries.
Machine-washable
RPT Impact Protection
Kneat
Familiarity:

I've put it through the wringer
Most of my riding time is spent chasing people that are faster than me. Inevitably, I get too comfortable and find myself skidding with my body instead of my wheels. When I wind up in this situation, it is nice to have a layer between my knees and the rocks. Not sure I would recommend these for hardcore enduro or intense downhill riding, but they have been life-savers on numerous occasions. I have bashed knees at high speeds and come out mostly unscathed thanks to the Pro-X. These are a great compromise between annoying plastic pads and pads that are too soft.
They run a bit small.
Keith Gleason
Way to much hype
Familiarity:

I've used it several times

Fit:

True to size

Size Bought:

Medium
So I bought these on sale and saw so many people raving about these so I got them, I ride mostly enduro, first off the quality is way poor, stitching starting coming off on the first ride then on my first wreck with them they slid off my knee and ended up doing the exact opposite of what they were supposed to do which is protect them!! Never had a problem like this with my fox launch enduro and those are the same price as these. Very disappointed in this product
ANDREW MCARTHUR
Height:
6'1"
Weight:
140lbs
Wow. I am super impressed with G-Form.
Familiarity:

I've put it through the wringer
The time had come where I needed some good protection for BMX racing. I figured if G-Form was good enough for the Olympic gold medalist (Connor Fields and Mariana Pajon) then I should go with them as well.
Love the technology implemented and the strategic placement of the pads in the vital areas. In the past, I used protection that was just too bulky and restrictive. You can easily wear this protection under your race jersey and pants without hindering range of motion.
The sizing chart was spot on and everything is very form fitting. The elastic bands on the pads really stood out to me. They are strong and don't get loose during riding. Everything stayed in place the way it should be.
I have not crashed yet while wearing this product but already I feel more confident and barely notice that I am wearing it during a race. Five stars all the way. Great products and well worth the price.

Justus S.
Just ok.
Familiarity:

I gave it as a gift but have feedback to share

Fit:

True to size
I gave these as a gift and the seams unraveled after a few uses. Other than that, they fit true to size and work as intended
Shae
Bought for my 13 year old son to protect him while racing Enduro on his mountain bike. Fit nicely and stayed up in spite of rain. Noticed this brand was very popular among the other racers. Did notice the stitching coming loose in a few spots though.
Ben Brown
I just gave them a try today and i have to say i already love them. They re very lightweight, not bulky, elastic and your knees aren t getting sweaty. I would definetely recommend
Ioan
Lightweight, comfortable protection
Familiarity:

I've used it once or twice and have initial impressions
I just bought these for a 2-day MTB skills clinic (drops, berms, pump track and such) and they were PERFECT! When on, they only feel like you're wearing kneewarmers, and they're not too hot. Be careful with sizing, as some of the other reviewers stated - I had to go up 1 size from my usual shorts size. I'm so happy with this purchase that I'm going to get the elbow pads to replace my heavy POC set. Wearing both this weekend showed me how much more comfortable the G-forms are. It's nice to know I can throw these in my bag in case the terrain gets rough, or I get daring and want to try something new ;-)
Angela D.
Great, Lightweight Pad for Pedaling
Familiarity:

I've put it through the wringer

Fit:

True to size
These are a great option for those looking for lightweight protection that'll breathe well on the way up and provide adequate protection on the way back down. Highly suggest something burlier for days at the bike park, but for a day riding up to fly back down, these are the perfect option. The rubber on the knees is made to flex easily and well, allowing for smooth pedal strokes. The lycra material is lightweight and breathes well. They hold their elasticity well, though the stitching has started to come undone. Still plenty of life left in them though.
John Oscadal
My husband bought these and he says: I've always had knee pain when wearing knee bass and these are better but still hurt my knees after a long day (constant patellar compression). They don't ride down which is great and are lightweight, have not stretched much after 20+ hrs of riding. Medium fits my skinny legs well. Some of the stitching is coming undone after just a few rides which is disappointing.
Nicole Sumner
Great kneepads!
Familiarity:

I've used it several times

Fit:

True to size

Size Bought:

medium
So I had heard a lot of great things about these knee pads, so when they went on sale, I decided to get them. I am new to MTB, so I wanted something that would help me be more confident while riding, and the few falls I've taken with these on have been free of knee scrapes or bangs ups. So these definitely do their job. One thing I will say about the sizing is, absolutely measure your knees, because you may be a shorter person like myself, and get smalls in everything else, but need a medium for these. It truly depends on how large your knees are.
Kennan K.
Height:
5'6"
Weight:
131lbs
So these are sooooo comfortable and they dont get wet from sweat like some do. They protect my knees very well! If you deciding between these and another pair. Just get these
Juan Altuna
Comfortable and Breathable
Familiarity:

I've put it through the wringer
I love these G-Form pads. They are lightweight, super comfortable, and they wick moisture pretty well. The padding is like a soft rubber material so they flex with you on every movement. Upon impact, the material hardens up to protect you. I haven't seen a more comfortable knee pad.
Jeff Collier
I'm pretty satisfied with the gform pads. They are as comfortable as the fox enduro pads and offer a bit more protection when it comes to impacts. Unfortunately I was able to test these out the second time I rode in them and they performed decently at a moderate speed slide out, but the pad I landed on slid down my knee and I still got a good road rash. Not sure if another pad would have stayed on in a similar crash, but you can only ask so much of pads so light. I'm still happy with my purchase, and would recommend them for light duty crashes haha
chris henderson
Perfect for Peddling
Familiarity:

I gave it as a gift but have feedback to share
I gave these as a gift, he digs them. The size guide is spot on. They'r e not overly warm for a hot day, and allow the back of the knee to breathe. Slim enough to wear under shorts/knickers etc. And good for general wear on an untamed trail with branches, brush, etc. Recommend these for any rider who just wants a bit of impact protection.
Emma
Good pads
Familiarity:

I gave it as a gift but have feedback to share
I bought these as a gift, they are great for people who want a lower profile pad, that protects but still is good to pedal in. They are great for confidence for beginners as well, and they wont get in their way.
Braydn Tanner
Great for light protection
Familiarity:

I've put it through the wringer

Fit:

Runs small
I wear these if I know I have to pedal a lot but still want to get rowdy. No straps or heavier material, they are made of the same material knee warmers are made of, and feel the same while pedaling. The flip side of that is they are not super protective, so I would not wear them for gravity or lift access riding, but they have saved my knees on several occasions riding the local trails here in utah. They do run small, so size up a size from what you normally get!
Luke Dordai
Unanswered Question
Would this work together with a g-form shin guard?

I bought my G-FORM PRO-X KNEE PADS from CC and I was checking for the same brand shin guard but I see you don't have it. Anyways I wanted to ask you if you think a g-form shin guard would play well with this
Thank you
Elio E.
Enduro MTB perfection
Familiarity:

I've put it through the wringer
When you don't want to stop and pull down your knee pads during transitions or pedals - these pads are the answer. No more pinching or bunching because the fabric is super stretchy and soft - yet still maintains composure during a crash. Not the strongest, but better than wearing nothing at all on those hot pedal days.

Checkout my MtnHub profile to follow me on my adventures! https://app.mountainhub.com/account/myfeed
Suzy Williams
Too Tight
Familiarity:

I returned this product before using it
I purchased these for light protection, not DH. I was going to Moab and I needed some protection from sharp rocks and scrapes. I tried the pads on in the home and also riding around in the neighborhood. The initial fit was concerning because I have large calf muscles and the lower part of the knee pads would ride up into the bend of the knee. This was very uncomfortable and started to be painful after only about 20 minutes of pedaling. I took the pads off and verified the size chart that I purchased the right size. Unfortunately the size measurements are only for above the knee. I think a better design would be below the calf coverage. They do offer a shin+knee pad but I thought this was overkill for me. I ended up with the Specialized Atlas knee pad and the issue of constriction was resolved.
Chris
a little more than less
Familiarity:

I've used it several times
These are great for those long tech rides because they pack up easy and are still comfy and easy to pedal around in.
johngchrist