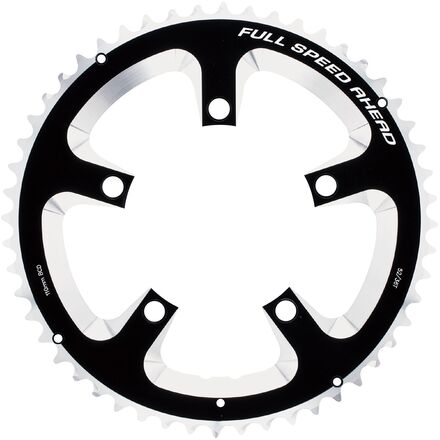 Colors
Crank hard. Crank hard.
As you'd expect, Full Speed Ahead designed the Super Road Chainring to run smoothly with its in-house components, but the folks at FSA aren't crazy, so they also made sure it would work with certain Shimano and SRAM components as well. Made from 7075 T6 aluminum, the Super Road is slightly thicker in key spots than your average ring, which gives it added stiffness to help you accelerate quickly. It's also ramped and pinned for seriously clean shifts, and available in all different sizes, so you can build up or pare down to your ideal setup.
7075 T6 aluminum
Five-bolt attachment
Compatible with FSA, Shimano, and SRAM components
Unanswered Question
I currently have FSA rings on an older SRM crank. I have a 50-34. Can I run a 52-34 or will that create shifting issues?
Thanks!
-Michael
mic101628285
I would expect it to work perfectly since I was replacing the same part after way too many miles on the old ones. No surprises but I am not sure how inter-compatible this ring is with other cranks.
David Z.
Unanswered Question
Does FSA make compact 50/34 chainrings for crankset with 130mm bcd?
marlon
Unanswered Question
Can I use the 46T of this one to replace the 50T of my Shimano Ultegra 50/34?
Millan A.
Unanswered Question
Is this compatible with 1st gen SRAM red compact crank(5 arm spider) 10 speed, 110BCD while using the SRAM red inner chain ring? Do I need to change out the inner ring as well?
Dennis H.
Unanswered Question
On the drop down option the 52t is listed with the 110mm BDC; while on the description it is listed with 130mm Bolt Circle Diameter. Which one is it? Also can this chainring fit on to the SRAM Force CX1 crankset?
James C.
Can I run the 52 on my Gossamer Pro 110...
Can I run the 52 on my Gossamer Pro 110 crank? Do I need to run them as a pair?
lost
Yes, you should be able to run 52 on a Gossamer Pro. The best setup would be 52 outer and 36 inner.
Catie Rowan Thompson