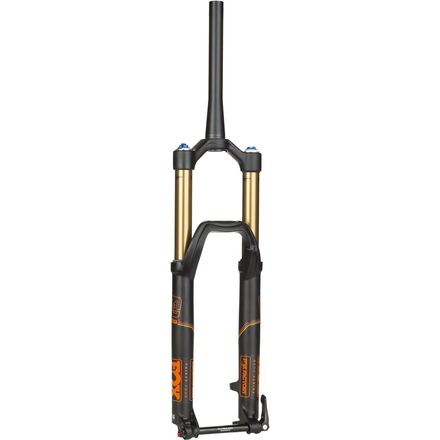 Colors

Detail Images
Optimal stiffness-to-weight.
Striking just the right balance between relatively stiff tracking and lightweight efficiency, the Fox 34 Float 27.5 160 3Pos-Adj FIT4 Boost Fork gives your long-travel trail bike the rock-gobbling plushness needed to conquer technical terrain without the heavier feel of a 36 Float. Please note, this fork isn't directly available from Fox, instead it's an OE model we pulled from complete bike builds. Generally, Fox doesn't make the 34 Float in models over 150 millimeters of travel, but this fork goes into 160-millimeter territory for those wanting a long-travel option for their trail bike. Ultimately, it's a great choice if you're seeking a lightweight build for your trail bike, instead of going the route of a 36 Float.
This particular version of the 34 Float enjoys the 3-position adjustability of its Fit4 damper, which gives you the option of running it Open, Medium, or Firm. In Open mode, you'll find low-speed compression tuning for getting its feel just right to the terrain at hand. Medium gives you a bit more efficiency on those long climbs and smooth trails where stiffening up the front end makes sense. And for times when a practical lock-out is needed, the Firm mode comes in handy for fire road climbs and asphalt slogs back to the trail head. Just in case you forget to unlock it, it comes with a blow-off that prevents damage when you hit a bump or pothole in Firm mode.
34mm stanchions balance stiffness with lightweight feel
Conquer technical trails with 160mm of rock-gobbling plushness
Boost thru-axle for stiff wheel tracking, ample tire clearance
Fit4 damper with 3-position adjust: Open, Medium, Firm modes
Low-speed compression tuning in Open for fine-tuning its feel
Medium adds efficiency on long climbs and smooth-buffed trails
Firm acts as a lock-out for slogs on the road