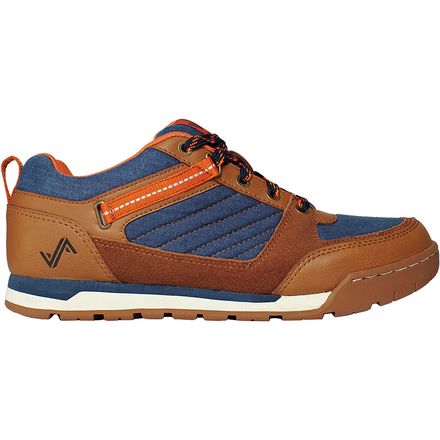 Colors

Detail Images

Community Images
Money.
Forsake's Banks Men's Shoe doesn't much care whether it spends its time on day hikes or laid-back city cruises; it's much more interested in keeping your feet cool and protected, with a moisture-wicking mesh lining and breathable leather, suede, and canvas upper. Its die-cut EVA midsole and nylon shank support your feet no matter the terrain, and the all-terrain lugged rubber sole stays grippy on slick sidewalks and rugged trails.

Quick-drying leather, suede, and canvas upper
Moisture-wicking mesh lining
Die-cut EVA midsole
Nylon shank
All-terrain lugged rubber sole
I use them, but not always.
Familiarity:

I've put it through the wringer

Fit:

True to size
I've had these for two years now. I bought them and wore them everywhere. They are great for some things, and not great for others. Definitely not ideal for hiking or any short of un-level ground. I find that if I am doing some simple foothill hiking that my ankle rolls easily wearing these and do not offer the greatest traction. Around town these are great. The material and durability are great. They'll last forever. I would like to try a different style for hiking/outdoor use.

I would agree with others that these do start to hurt my feet if I am walking all day or on my feet a lot.
matt
Height:
6'0"
Weight:
200lbs
Quality shoe, but not comfortable
Familiarity:

I've used it several times

Fit:

True to size
These are sweet looking shoes and are a quality build. The stiffer sole is nice for bike commuting.
With that said the shoe fit has not been so great in my experience. On first use they didn't feel quite right feeling quite stiff and no cushion on the sole. If I wore them an entire day, my feet were aching. I thought maybe I needed to just break them as my other Forsakes (Freestyle) have been incredibly comfortable, so I kept wearing them intermittently. After 6 months of giving these a try, the story hasn't changed and I'll be scrapping the shoes. Looks like others have had better luck than I.
Ryan D.
Not Great
Familiarity:

I've used it several times

Fit:

True to size
I think they are stylish but perform terribly. They don't breath, and the fit & support of the shoe is sloppy at best. I really like the look, but I won't be buying them again.
hendricks.logan2251897
Height:
6'1"
Weight:
195lbs
So far so good
Familiarity:

I've used it several times

Fit:

True to size
So far these shoes are nicely supportive and comfortable. They breathe nicely and do a good job repelling water as well. The sole seems to be stiff enough to support my feet while walking on rocks and uneven terrain. I feel like I can ride bikes or hike in this shoe, while looking good enough to go out to dinner if I choose to.
Brock Price
Poorly Constructed
Familiarity:

I returned this product before using it

Fit:

True to size
These shoes will not last long. They are cheaply made and clearly show this. Save your money. I do not know how to explain the other reviews here but I believed them and expected more of these shoes.
Alex
First pair.
Familiarity:

I've used it several times

Fit:

True to size
I really like these shoes. The color pattern is great, blue and orange baby, Go Broncos!
They fit pretty well, I have really wide feet and they are better than average for that, I don't see them being too wide though for others with normal size stompers.
The 12 is true to size. The one thing, I am used to skate shoes with very flat soles. These have a lift on them so I'm walking a little taller than I ever have which has taken some getting used to, though I don't mind, I just wasn't expecting it.
I've only worn them a couple days, but I really like the feel and hope they last. Could be my new favorite shoe, but time will tell.
Sam Hansen
Best Shoes Ever
Familiarity:

I've used it several times

Fit:

True to size

Size Bought:

10.5
I bought these after I made a trip to Zion, and forgot my trail shoes and had to hike in skate shoes. I travel a bunch, so it's super helpful to only have to bring one pair of shoes with me the entire time. The first day I bought them, it dumped in Salt Lake City. I woke up in the morning to clean off my car and got to work and for once my feet were completely dry. The parts of the shoe that were wet, dried in 30 minutes. I really like the hard boot-like rubber on the bottom of the shoe. I can really take these shoes from work, to the grag, to the ski hill, to the airport, and beyond! Would highly recommend picking up a pair.
Aj Marino
My first Forsakes
Familiarity:

I've put it through the wringer

Fit:

True to size

Size Bought:

9.5
I've now got several pairs of Forsakes, but the Banks was my first. I've been wearing them on and off for several years now, and I keep coming back to them. They look great, and I feel like I can walk forever on them. You can't go wrong with these.
Floyd
Height:
6'1"
Weight:
195lbs
LOW QUALITY not worth $100 by a longshot
Familiarity:

I've put it through the wringer

Fit:

True to size
First off, these shoes look pretty unique and although the choices are limited, I like the colors they use. I have the Orange and Blue ones. Unfortunately these shoes have not worked out too well for me. I only wear them occasionally when going out around town and in the relatively few times I have worn these shoes, the heel started to wear out almost immediately and now there is a big hole in the fabric at the heel. When tightening the laces the fabric connecting the upper part of the shoe to the sole tore on the inside and the tear has grown quickly. One day I wore them unexpectedly in the rain and they soaked it up like a sponge. After this, It seemed like the blue dye leeched out and that part of the shoe completely faded. Now after wearing the shoes 30 or so times, usually just at the end of the day or when going out at night, I have a torn up faded pair of shoes. The soles don't even look used, but the rest of the shoes look clearly worn out. All I can say is I am disappointed. If I had paid half as much, maybe I wouldn't mind but at $100 I would expect them to be of higher quality. I almost always wear out the soles of my shoes before anything else, so for another hundred dollar pair of shoes I'd expect the same.
David M.
A Solid Shoe
Familiarity:

I've put it through the wringer

Fit:

True to size
I found these in a small, local outdoor gear store in Breckenridge (which is where the company is based). I was immediately drawn to the color of the shoe, which was very stylish. I was a little uncertain in the store when I tried them on, but I decided to buy them anyway. At first, I didn't think they were very comfortable, but Forsake has done an awesome job with an adaptive footbed in the sense that it really molds to your foot. But be warned - it takes a couple days. They are definitely stylish and comfortable, but I wouldn't recommend them for much more than kicking around town or a low-intensity hike. In a pinch, they will work fine as a hiking or even mountain biking shoe, but I find that they better suit in an apres sense. Perfect to throw on after you take your hiking boots, ski boots, or bike shoes off, especially if you plan on spending some time wandering around the nearest ski town. They're not waterproof like some of Forsake's other models, but they do have a high rubber outsole on the toe which makes them good for trekking around in dirt and thin layers of snow. Like one of the company's slogans, these shoes are perfect to take "from the gnar, to the bar."

Something that I feel are under-appreciated with a shoe are the laces. Forsake kept the laces from a hiking boot, which is fantastic. Super easy to lace up and down, and they are durable, high quality.

My one complaint is that the blue fabric around the foot opening has started to wear down, especially because I sometimes keep them tied when I slip them on. I don't really mind, especially because it gives it a sort of gritty, outdoor look, but those who like perfect kicks should avoid putting the shoes on while still tied.

Overall, these shoes are good quality and stylish, perfect for any outdoor adventurer needing something a little bit more comfortable to get home.
Max
Killer
Familiarity:

I've used it several times

Fit:

True to size
I have the orange and blue model. I love the low top version of these shoes. They work really well in the summer/spring when you need a little more air than the high/mid top version and still get the job done.
Benjamin Stewart
Stylish
Familiarity:

I've used it several times

Fit:

True to size
I remember Foresake's Kickstarter campaign and seeing an early pair. It's a brand with a great story backed by a quality product. I wish there was a little more variety in the colors/styles but I settled on Navy/Orange and have been psyched. I've picked them up more as a casual show to wear around town but am sure I will find myself hiking in them too. They're comfortable, look great, and seem like they'll last. All praise over here.
Than Volk
Comfortable, stylish, functional
Familiarity:

I've put it through the wringer

Fit:

True to size
I'm always hesitant about trying new shoe companies because I have a large, wide foot, but these shoes have been insanely comfortable from the moment I put them on. They more than accommodate my feet, and feel like a well-broken-in pair of sneakers. The best part though is how rugged they are for how they look. I wear them when I hike and work outside, but also feel like they're stylish enough to wear out. If you're searching for a great-looking shoe that goes everywhere, look no further.
Adam R.
great start
Familiarity:

I've used it once or twice and have initial impressions

Fit:

True to size
Just received the low top version of these shoes after being a steadfast wearer of the Thurston's for over a year. So far so good. Contrary to another opinion, I find them to be a solid build quality and really appreciate the look. They aren't cheap, but these are quality shoes. Just early impressions so far, but I like them as much as my previous pair. The low tops seem to breathe quite a bit better than their higher alternatives.
orangeblue
Quite durable
Familiarity:

I've put it through the wringer

Fit:

True to size
I got these this year and immediately put them to the test. On a road trip across the country I hiked the Grand Canyon in the rain wearing these and they were great. I continue to wear them daily.
emcf
A cut above - no doubt.
Familiarity:

I've put it through the wringer

Fit:

True to size
Having a low top shoe that still makes you feel like you have your feet firmly planted on the ground is rare - Forsake accomplishes this with flying colors. Love how easy these are to wear around town or on the trail, and the comfort level is top notch. It's a no brainer!
Greg
Good low top all terrain shoe
Familiarity:

I've used it several times

Fit:

True to size
I wasn't sure about the low tops, whether they'd look a little clunky/skateboardy, but the banks have proven to be awesome shoes for all scenarios. They can't handle quite as much weather as large hiking boots but they fit really great and they're good for summertime hikes when its really hot out. Overall love them, great shoe.
Dylan Clark
Forsake these shoes
Familiarity:

I returned this product before using it

Fit:

True to size
Bottom line: these are "fashion" shoes that should cost $45 at DSW.



Shoes arrived stained on several places on the canvas part of the shoes, looks like from machine oil during manf'g. Construction was low-grade Chinese, with welt stitching showing around a poorly glued on sole in heel area. Metal d-ring that subs as second-to-last eye was about to bust when these were tied tight. It looked like these would last about two months of normal use. Very limited heel and arch support. Shoes looked better on website than in person, for sure. $100 for crap-design, low-qual, made-in-china junk is ridiculous. You'd be better off paying $50 for a pair of Sketchers. Returned for a pair of patagucci's who at least sent someone to China to make sure their shoes were made right.



5 stars??? Maybe the other reviewers work for Forsake?
THE DUDE
Love these kicks!
Familiarity:

I've put it through the wringer

Fit:

True to size
comfortable and light. these are my new go-to's!
Tyler Wakstein