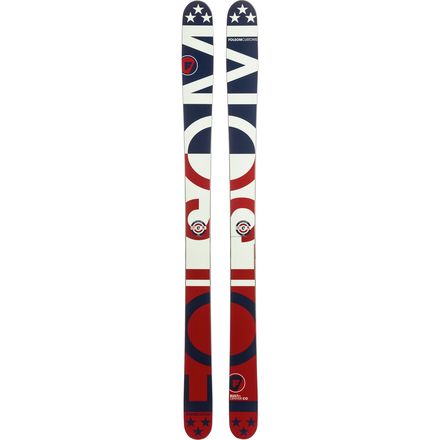 Carve its name.
Though it's a big-mountain ski that claims to be a hard-charging workhorse, Folsom's Trump Ski still offers one of the easiest rides out of any ski in the resort—at least as far as the white, soft stuff is concerned. The Trump could very well be one of the best freeride skis out there and may inspire you to carve its name on the tops of every big mountain you ride it down.
More specifically, the Trump's tubby waist, moderately rockered tip, and shallow tail rocker ride down deep powder with playful zeal. Folsom added traditional camber underfoot to pivot and steer firmer snow a little easier and give the ski the power you'd expect from a big mountain ski. The wood core gives the Trump a stiff and stable feel when you're charging down steep lines at eye-watering speeds, and the sturdy sandwich sidewall construction stays headstrong no matter how many unruly objects you crash into this season.
This freeride ski is pure gold on big mountain lines
Wide 117mm waist width floats deep powder
Moderate tip and tail rocker navigates deep, soft snow
Traditional camber underfoot ensures edge control
Light wood core ensures stiff flex
Sturdy sandwich sidewall construction is durable
The last review makes me laugh....you liberals are amazing, you can't handle the truth. We put up with 8-years of Obama doing his best to ruin a country that has shown the world what it means to be great. Why do you think everyone wants to move here. It is not because we have followed the socialist governments of Europe, it is because we are a country of people and individuals not of government intrusion. As far as I am concerned and millions of others in this country I think it is great that a ski company is showing patriotism by showing the Red, White and Blue in honor of our 45th President. Get over yourself and what America become strong again.
H Paul R.
Trump skiis
Familiarity:

I've put it through the wringer
In the wake of the election of such a despicably bigoted, misogynistic, and hateful person, the political agenda of an outdoor sports vendor seems rather insignificant when compared to other going-ons across the country. However, members of the outdoor sports community should know that backcountry.com has gone out of their way to advertise and promote (via facebook) the 2016 Folsom Trump Skis, which they are touting as the "Presidential big mountain weapon of choice" which promise to "make skiing great again." Personally, I find this appalling on many levels. In addition to the many more serious moral deficiencies that his campaign was based on, his views on the environment and conservation are seriously out of step with the non-partisan common values of the outdoor sports community. Backcountry.com was dismissive of these concerns when contacted. I urge all my climbing, skiing, mountain biking, flyfishing, outdoor-loving friends to avoid doing business with backcountry.com.

Yes, I do recognize the nuance and sarcasm of the design. However, Donald trump has made his fortune through similar narcissistic branding of himself and his name. Exploiting the serious implications of his presidency to market and sell skis, whether it be with a political agenda or making a joke out of his election, is not ok with me and seems inappropriate in the face of the regime he is setting up. Backcountrys apathetic response to these concerns was disappointing
Maxwell K.
Unanswered Question
Is this a joke?
CaitJenks