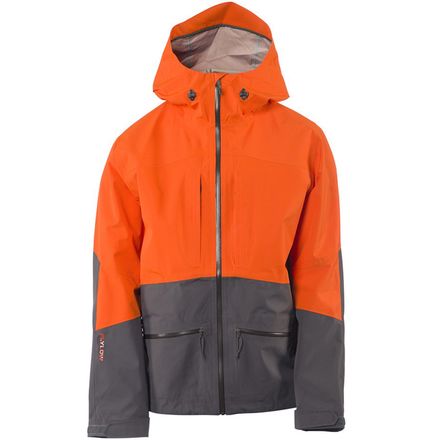 Colors
Pure genius.
The FlyLow Men's Genius Jacket shows off its design brilliance with a lightweight construction that doesn't skimp on durability when you're skiing from winter's first storm through spring's sloppy slush. The secret to its ultra-thin, yet highly robust design lies within a 4-way stretch fabric paired with a Polartec NeoShell membrane. This combination keeps you free-flexing and completely dry through the worst conditions of the season, all without succumbing to premature wear when you're searching for turns until May.
NeoShell is guaranteed waterproof like much of the competition, ensuring you stay nice and dry in deep powder and soaking conditions alike. However, what really stands apart is NeoShell's air permeability, which allows for rapid evaporation of water vapor (e.g. from built-up sweat), all without letting in gusty conditions and oncoming storms. Most noteworthy, this air-permeable membrane facilitates thermo-regulation on demanding ski tours, so you're never hot and sweaty one minute, then freezing-cold the next.
Advanced ski jacket for resort days and backcountry tours
NeoShell delivers waterproofing and enhanced breathability
4-way stretch fabric enhances freedom of movement
Fully taped construction prevents intrusion of moisture
14-inch underarm zips expel built-up heat and perspiration
Helmet-compatible hood seals out blustery conditions
Pack-accessible chest pockets and vertical map pocket
Handstands are my favorite!
Familiarity:

I've put it through the wringer

Fit:

True to size

Size Bought:

small
The Genius Jacket has a very apt name. I have owned this jacket for a year now and I am familiar with its ins and outs. I have worn it or at the very least brought it on every outing this winter. It will also be accompanying me to Alaska this summer for work as a guide. This jacket is very light and can pack down small. The fabric is high quality and has a good amount of waterproofing and breathability. (Take a look at this chart for specs.) https://www.sierratradingpost.com/lp2/waterproof-guide/



My favorite aspects of this product are the light weight design of the jacket, the pocket design, the hood and the fit. Light weight speaks for itself, I love the idea of losing a powder skirt and other luxury features to go longer and get more powder! The pockets are minimal, however they are very well thought out. I always find a good spot for the plethora of gear that accompanies longer trips. The mesh lining is super light but durable. Hood design is essential for any good hardshell. Flylow's hood does a spectacular job of this! There is enough fabric that is stiff enough to go past your face and create a pocket within the storm. There is some spindrift that this creates but it is minimal and if you're out in that bad of weather you need a face mask anyway. However, I have been out in 60+mph winds with just this jacket and a buff and I was able to reach my objective. The most impressive aspect of this jacket is the fit. I love the way this jacket fits! All of the draw cord are strong and easy to grab very easy to get full bubble boy and not let any wind or snow in. One thing I really appreciate is the sleeves are long enough to cover my mittens. My APE index is 1 inch positive. (I am a knuckle dragging snowboarder LOL). The articulation of the fabric is excellent and it ever feels cumbersome. Overall I am very impressed with the fit and design of this jacket.



Some things that could be better are the lack of a second zipper for access to a belay loop during belays or repelling and the zippers on the pit zips are a bit hard to re-zip. However, if you are looking for a light weight bomber hardshell for backcountry ski mountaineering this is your jacket.




joe K.
Height:
5'9"
Weight:
140lbs
Best Jacket
Familiarity:

I've used it several times

Fit:

True to size

Size Bought:

Medium
I got this jacket because I got hot in all my other jackets because they were too thick. This is just a shell but it does everything you could possible want will weighing very little. It keeps the wind out will still being breathable and will keep you dry no matter what the conditions are.
Coleson Kastelic
Height:
5'11"
Weight:
125lbs
Awesome Shell!
Familiarity:

I've used it several times

Fit:

Runs large
Just picked this up and haven't gotten too many days in it yet, but I love it so far. Super light and packable, also keeps you dry all day! I really like the pockets on it too. Very well thought out. I would say that it seemed to be a bit bigger than my older Flylow pieces that were of the same size.
Porter Trapp
This Jacket Does it All
Familiarity:

I've put it through the wringer

Size Bought:

Medium
This jacket is pretty much perfect. I've used ski touring, backpacking, and at the resort. It preforms every task perfectly. Light enough to wear as a rain jacket in the summer time, but put a down jacket underneath and it's perfect for subzero skiing or hiking. Super stylish and functional too. Really impressed and definitely looking forward to many more adventures with the Genius jacket.
Nathan D
Height:
6'1"
Weight:
165lbs
Really Impressive
Familiarity:

I've used it several times
I just picked up one of these as I wanted something lighter for touring. Initial impressions are exceeding expectations: it's amazingly lightweight considering the features. If I'm out touring good pockets and vents are a must and it's a relief that there's no compromise on that front whilst keeping the weight down. It doesn't feel too delicate either though and I'm looking forward to seeing how it handles some resort days as well. I just wore it for a rainy Fall day, brushing off the cobwebs with some crevasse rescue practice and transceiver drills, and was bone dry after a full day out there. I then biked home in the rain and the breathability seemed on point too. Looking forward to many more days out there to see how it holds up.
MH
Ideal for any mountain adventure
Familiarity:

I've put it through the wringer
This jacket has been through rough and tumble from the exposure of Chamonix steeps to touring the high peaks of New Zealands's southern Alps. Not once has this jacket let me down, the lightness and durability of the stretchy NeoShell fbric makes it ideal to pack up and take with you on any adventure! The style factor is also off the charts, I've been using the jacket in the fiery Ember/Granite colour allowing me pop all over the mountain, this is especially handy if you are in the realm of competitive skiing!
Alistair Garland
Lethal Weapon
Familiarity:

I've put it through the wringer
Simply the only jacket for any job. I have put last seasons jacket through hell and high water and almost 10 months of skiing. It went through rain, sleet, miles of oak brush, skinning and scrambling. To this day it has no tears or zipper failures and still keeps me dry. My favorite things about the genius are the pockets, the chest pockets fit skins or field notebooks with ease and the hip pocket is much easier to find things in than traditional hand pockets (and the 2018 version has two of them!!). This is a serious tool for all ski adventures no matter how heinous or mellow.

Bryce Gordon
The perfect ski/snowboard jacket
Familiarity:

I've put it through the wringer
I can't say enough good things about this jacket. You truly feel protected from any element mother nature wants to throw your way. Great for every situation. Pair it with a down layer for those cold storm resort days. It crushes the backcountry and sunny days as well. Plenty of storage capabilities and venting. Stylish too. I bought the first version of this jacket two years ago and absolutely put it through the wringer. The few negative features have been upgraded to turn this into the perfect ski/snowboard jacket. Now that I have this year's jacket in hand, I'm officially ready to trade in the brown pow for snow!

FYI: I'm 6' 175 pounds and rocking the large.
Jimmy Loder
Light, but not too light
Familiarity:

I've used it once or twice and have initial impressions

Fit:

True to size

Size Bought:

Large
I love this jacket for touring because the material is super light, but it's not overly stripped down. My previous touring jacket was pretty nice, but it was so "light weight" that it had like 1 pocket and zero other features. Even for touring I still consider pockets fairly important, even if it's just to organize all my junk while I get from my house to the car at the crack of dawn, so I'm glad FlyLow didn't skimp on the compartments on this one. I suppose the other trade-off is that more features means more expensive, but for the high-end neoshell material (which if you haven't tried it, is incredible) this jacket is still a great price. Haven't used it long enough to really comment on longevity, but the stitching and such looks good and I haven't had issues with any other flylow gear.

Fit is pretty spot on I'd say. At 6' 200lbs the Large fits great, room for a midlayer, but definitely not much extra room.
Vinny Mauro
Height:
6'0"
Weight:
200lbs
Check out the Tour Machine.
Daniel H.
All you need!
Familiarity:

I've put it through the wringer

Fit:

True to size

Size Bought:

Large
I wore this jacket almost every day last winter, putting in over 100 days. It held up to everything I put it through. No rips or tears. Great balance of light weight and yet durable performance.
Noah Howell
Height:
6'2"
Weight:
195lbs
Lightweight for Touring
Familiarity:

I've used it once or twice and have initial impressions

Fit:

True to size
I bought this jacket for my boyfriend who was in need of a skiing shell. It is extremely light weight. The downside it does not have as many features (no powder skirt, pit zips, limited pockets) Very packable and would be a great touring shell.
Boyfriend weighs 190 and 5'11" size large fit great.
Annika
Height:
5'7"
Weight:
155lbs
It's what you need from a touring shell
Familiarity:

I've used it several times

Fit:

True to size

Size Bought:

Medium
I've had the Genius for a month now and I've put more days in touring this year than at the resort so that is to be considered a preface to my review. So far the jacket has done everything I have expected it to do. Its breathable, packable, lightweight, waterproof/windproof and well made. No frills here although I will say that the zipper layout is not lacking functionality or space. The hood also fits perfectly over my POC backcountry receptor, it's not constricted like some other stormhoods. As far as sizing I tried both the small and medium and the small fit me but I prefer a looser fit for ski jackets so I went with a medium, the sizing is true to size based on the sizing chart but slightly different than the Higgins from what I saw/felt.
Ask for "Forbes" on chat and I'll gladly share more feedback about my experience with the Genius.
Forbes S
Height:
5'10"
Weight:
165lbs
Light weight tour machine
Familiarity:

I've used it several times

Fit:

True to size

Size Bought:

large
I bought most of my other flylow pieces based on durability (and the cool local factor). This one is not built like the others but is perfect for what it is meant to be. this is my lightest jacket, no frills you don't need and is perfect for taking a walk in the snow....and shredding down. the fabric seems really breathable and it stuffs super small in my pack if i dont need it.
hmrmicah
Height:
6'
Weight:
190lbs
The Ultimate Adventure Trooper
Familiarity:

I've used it several times

Fit:

True to size

Size Bought:

small
Bottom line is this jacket works. I have been down in south america with it for the past month now and have experienced all the conditions.

Most noticeable, this jacket keeps you dry. My first week I skied a complete white out storm day, I am talking rime ice on any exposed hair after the first run, and stayed totally dry and protected from the wind all day. More impressive was the four days of rain we got in the valleys last week and the sloppy snow on the mountains. Polartec Neoshell keeps water out around the clock, any weather any place.

The breathabilty, durability, fit and wear of this jacket work at the same caliber as its waterproof abilities. There is not compromise anywhere. I've been cramped in back of pickups, gone on forested hikes, traveled and built and dug in the back country many a time so far and the jacket moves and stretches with you. The easy access pitzips are not stiff or bulky and do not restrict any movement. Simple paneling and design keeps the jacket snug to you form, not boxy or drafty. I exceptionally like the length and waist sinch which keeps the jacket down even when airing cliffs, digging pits or loading luggage in a rainstorm. The thoughtful design goes farther. At first not having to massive pockets for your hands and all the other crap that ends up in there felt odd but this jacket is made to go places and meant to wear well with a pack. Instead of two pockets that would be inaccessible with a pack on the one media pocket sits just below the waist belt of a pack and holds comfortably a phone, ski strap, hand warmers or maybe a snack. Then the two chest zip pockets hold the rest.

This jacket does not just ski well but it rallies up there with the best lightweight four season jackets out there, alpine, ride, hike and play and the genius will deliver.
Bryce Gordon
Height:
5'6"
Weight:
130lbs