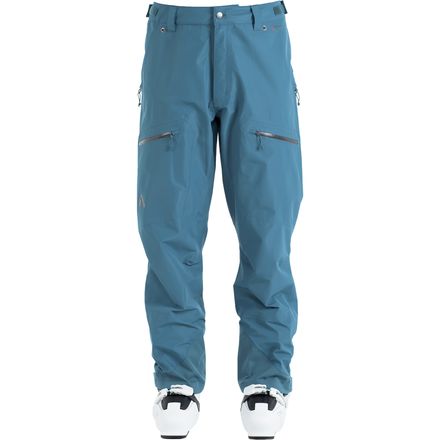 Lighter, simpler, and smarter.
Simple is often best, especially when it comes to backcountry tours where extra features equate to unnecessary weight on the long uphill skin. Taking this simple-is-better mentality to the forefront, the FlyLow Men's IQ Pant offers minimalist design and proven performance for the demanding backcountry skier seeking the lightest possible pant in FlyLow's line. Polartec NeoShell provides the guaranteed waterproofing you'd expect from a pant designed to slay the steep and deep. Fully sealed construction prevents outside moisture from seeping through and compromising your comfort when your miles from the nearest trailhead or backcountry hut.
What's special is NeoShell's superior breathability, courtesy of its air permeable design. This design allows for active air exchange, rapidly dispersing excess water vapor (e.g. from built-up perspiration), so you're never hot and sweaty on the skin up, only to nearly freeze to death once you've reached the blustery, exposed summit. And although it does allow for increased air exchange, it won't let strong gusts and oncoming storms inside, so you're always protected from inclement conditions.
Staying true to its name, the IQ offers a host of smartly placed features that won't weigh you down with excess weight or unnecessary bulk on the long, uphill skin. Outer thigh vents keep you from overheating when you're moving fast through the backcountry. 500D Cordura cuffs prevent tearing along the pant bottoms, especially during strenuous bootpacks. Zippered pockets throughout offer functional storage, with a dedicated beacon attachment system for safe backcountry travel (with proper knowledge and educated friends, of course).
Smartly designed pant specializes in backcountry skiing
NeoShell offers superior waterproofing and breathability
Fully sealed construction keeps you pleasantly dry
500D Cordura cuffs reinforce pant from tears
Outer thigh vents rapidly expel excess heat
Articulated knees for full range of motion
Beacon attachment system for backcountry travel
Not great pockets; like the fabric
Quick and dirty: fabric is awesome, super breathable. I like the minimalist design. However, it does not comfortably fit a beacon in the front pocket because the beacon sits low and rides on your kneecap, making it very uncomfortable. I personally get too hot wearing a harness for my beacon, so this pant didn't meet my needs without modification. Otherwise it's a sweet pant that just needs a little tweaking.
Andrew S.
A closer look at the Flylow IQ Pant
Rob Wykoff