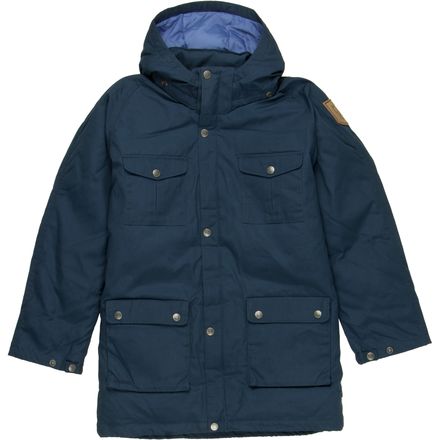 Your son will stay warm while exploring the winter landscape.
The desolate winter landscape is marked with cold, wind-blown snow, and the last thing you want to do is trek across the frozen tundra of the playground with your son in search of polar bears and snow leopards. Bundle up your mini Shackleton in the Fjallraven Boys' Greenland Down Parka so he stays warm while tracking the subtle signs of the neighbor's dog over shoveled driveways and mounds of plow-piled snow.
The G1000 Original fabric, treated with Greenland wax, puts up a tough front in the face of cold winds and bitter drizzle. The jacket is insulated with 500-fill down so your young man stays warm throughout his arctic adventures. Goose down plumules, a mix of feather and clusters, create an intricate lattice of air pockets. These air pockets trap warm air leaving your son's boy, essentially covering him a thermal blanket to protect him against cold air. The two-way front zipper hides beneath a snap-closed placket to further minimize your child's exposure to chilly winds.
While you care about keeping him warm, your boy cares about functionality, namely storage and ease of wearing. Adjustable sleeves and hem mean this parka won't get in his way, and bellow hand pockets will hold mountains of treasures or snowballs. The detachable hood gives you one line of defense against the cold, but only if your son wears it. You get to stay inside knowing that your cold-weather adventurer will stay warm in the Greenland Down Parka.
G1000 fabric, 65% polyester and 35% cotton
500-fill down, 80% goose down and 20% feather
Greenland wax treatment, water and wind resistant
2 hand bellow pockets
2 chest pockets
Detachable hood