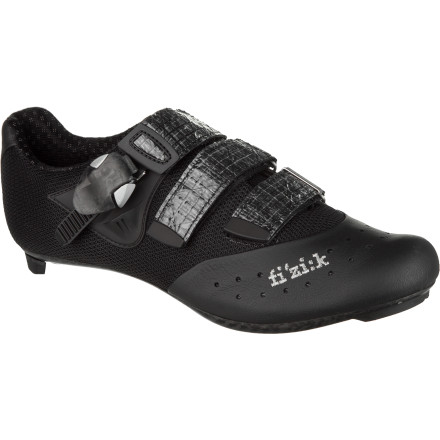 Colors

Detail Images
The ultimate.
Fizik is known for its attention to detail in all its accessories. The R1 Uomo Men's Shoes are no exception, with the finest of leathers and the stiffest of soles to keep your feet swaddled in comfort mile after mile.
First, unlike so many shoes that are constructed from synthetic leather, the R1 Uomos are crafted from Kangaroo leather. Kangaroo leather is an ultra-soft leather that conforms to your feet to provide almost slipper-like comfort. The uppers are secured with Fizik's Hex/MC carbon fiber ratcheting buckle, which is adjustable on-the-fly, and two hook-and-loop closures for a customizable fit. The lever of the ratchet is carbon fiber while its base is stainless steel. It features double-click adjustment and a full-release for easy removal. The tongue features a removable pad to adjust the internal volume of the shoe.
To further wrap your feet securely, the R1 Uomo has received a heel cup that is shaped to hold your foot from slipping during the up-stroke as well as while climbing. Additionally, the sole has been given variable thickness and stiffness. While the base layer is carbon fiber, the second layer is Tepex and is positioned closer to the heel. Tepex is slightly more flexible than carbon fiber and it means that it is able to accommodate multiple heel and arch sizes. Finally, the Mobius rail works with the insole to keep the heel in place, and Fizik uses a 3D Flex insole that is heat moldable.
Kangaroo leather uppers
Fizik's Hex/MC carbon fiber ratchet and two hook-and-loop closures
3D Flex Insole with Podiaflex, Ortholite, and Transflux
Compatible with 3-hole road cleats
Beautiful shoes but with a curious issue
Familiarity:

I've used it several times

Fit:

True to size

Size Bought:

45.5
I personally think they are amazing looking cycling shoes, and I was super stoked to get them on sale since they were originally $400. They fit great, and true to size, but I was completely dumbfounded when I could not clip them into my Dura Ace SPD-SL pedals using the blue cleats. They would clip in, quietly, but then pop right out. I experimented with the cleat angle and got them to work somewhat better, but they still don't clip in with a convincing loud click that every other shoe I had did. They also clip out extremely easily, regardless of the cleat tension, which I assume is because they don't clip in tight. That may not necessarily be a problem as long as they don't unclip when climbing...I have used them on four long rides so far, and knock on wood, they have stayed clipped in just fine.

I called Competitive Cyclist and reported the issue, and was told they had never heard of this problem. Well, my girlfriend bought a pair of the Fizik R5 shoes today, and guess what? She's having exactly the same problem, this time with the Shimano Ultegra SPD-SL pedals and yellow cleats. Clearly this is something to do with the sole shape. I'm surprised more cyclists don't report this problem. Seems like a design defect of some sort, even if slight, and should be corrected, especially at this price point.
Mark
Height:
5'8"
Weight:
160lbs
Too small...
Familiarity:

I returned this product before using it

Fit:

Runs small

Size Bought:

48
Too small. They did look pretty. I'm a 48 for most other cycling (and normal) shoes. These were a half-size too small for my feet. Sent back and out $6 for return shipping.
Jed M.
Height:
6'4"
Weight:
205lbs
Fizik R1
Familiarity:

I've used it several times

Fit:

True to size

Size Bought:

44
This older model of the Fizik R1 is a nicer shoe in my opinion than the current R1 all synthetic microtex upper. The shoe is really a step above in materials and craftsmanship over Giro and Specialized shoes. Fizik's have more room in the toe box then the narrower Giro lasts and hold the heal better than the Specialized shoes. For me, comfort is paramount. The Fizik's are the best fitting I have owned and the superior materials and Italian styling put it a notch above other shoes available.
Jason W.
Height:
5'11"
Weight:
175lbs
Dreamy
Familiarity:

I've put it through the wringer

Fit:

True to size

Size Bought:

42
I absolutely love these shoes. They fit true to size and are extremely comfortable out of the box. The kangaroo leather is super soft and molds quickly to your feet. They are also incredibly light which makes them dreamy to wear on long rides. I also love the carbon soles. They're super stiff, allows for a great power transfer. I have no complaints at all with my decision.
Tommy Flitton
Height:
5'10"
Great and Comfy but the details!
Familiarity:

I've put it through the wringer

Fit:

Runs large
The Shoe reminds me of a FIAT car, looks great performs well but try to replace a part, the skid plate is a flawed design, keeps getting lose and wears out fast without much walking. Fizik has the audacity to charge you 48EURO!!! on their Webpage, = 55$ - sounds like a bad joke! Also they have never heard that you don't charge VAT when you sell to the US….any specialized shoe part will cost you a fraction of Fizik. Made in italy - no thank you on this one. Maybe competitive cyclist can source the part cheaper ?
Michal K.
Kangaroo leather is Awesome
Loved the softness of the leather. Great looking and sheik.
Lyon
2 years later
Familiarity:

I've put it through the wringer

Fit:

True to size

Size Bought:

44
This shoe is very strong and durable! I have my One for more than 2 years and its much beter than when is new! The kangaroo Leather ned some time to fit on your feet, after that is like heaven! Its not hot ( I am living in Brasil) and is very confortable. I use 44 in SIDIS and bought 44 in This fizik, the fit is beter for médium volume feet, but it have a lot of regulations, so I dont think narrow or wide feet Will have trouble. After two years its like new, and I am not a carefull owner.
Alessandro D.
Height:
5'10"
Weight:
176lbs
Back to the drawing board
Familiarity:

I've put it through the wringer
Sorry fizik two big problems with these shoes

1. The molded carbon sole curves up along the outside of your foot creating pressure points along the outside of your foot.

2. The ratchet housing fell out after a dozen rides and I have not been able to find replacement parts. Is it too hard to put a little lock-tite on your screws?

On the plus side I do like the large toe box which allows your metatarsal arch to spread out comfortably.
Jack M.
How are these in hot weather (90*+)? I...
How are these in hot weather (90*+)?

I have pair of Fi'si:k R3 Uomo and my feet overheat in them in hot weather. I am hoping these breathe better.
Plays with the big boys and wins
The Fizik R1 and R3 shoes both have uppers made of kangaroo leather and breathable mesh. The R1 actually uses more leather over the arch an instep of the shoe than the R3, This makes for better support and fit, but it will probably not translate to cooler feet on a hot day. Here is a top view of the shoe from http://www.fizik.com/shoes/road-shoes/r1-uomo/



If your feet are suffocating on super-hot days, look for a road shoe with a vents on the sole and a lighter synthetic upper with more mesh.
Mike Nelson
239 gram per pair? Thanks.
239 gram per pair? Thanks.
Sungho K.
Best Answer
Hello gesp352127,



Thanks for your question.



Yes, that will be the weight measurement for the pair.
Grant Kates
Incredible Shoes!
Familiarity:

I've put it through the wringer
What a fantastic investment, Kangaroo leather really is all that. I got the R1's about 6 weeks ago and have put at least 800 miles on them. No more hot spots or discomfort whatsoever. Took my feet a few rides to get used to them but it's pure love. Never did mold the insoles either. Love the retro, simple logo look too.
richcoast
Backcountry Video