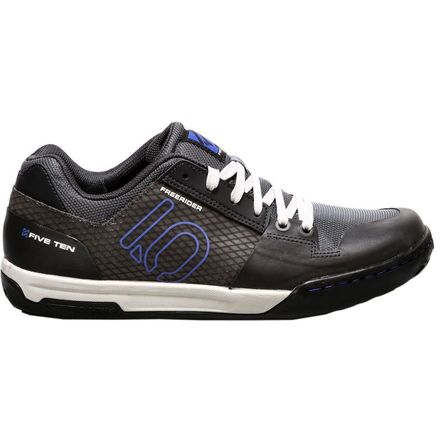 From park to trail.
If the Freerider Contact Shoes look and feel like an old friend, that's because Five Ten based its design on an updated version of the VXi chassis. The big change from VXi to Contact is the addition of toe protection in the latter the equivalent of ensconcing your little piggies in a brick house instead of just the synthetic leather of the VXi. With this additional armor, the Contact's capabilities encompass a bit more of the DH spectrum while also improving the outcomes of mishandled landings.
The sole's flat metatarsal section of Stealth Rubber carries over from the VXi to the Contact, giving you secure grip on flat pedals that still allows you to freely reposition your feet similar to road pedals with a high degree of float. The durable, synthetic uppers and mesh ventilation also return, making for shoes that rock the park, cruise the DH circuit, and clean lines across all manner of all-mountain riding.
Cop yourself a pair
Familiarity:

I've used it several times
If you're a fan of fiveten then you're probably a fan of the freerider. This hold up similar but with a few added touches. The toe box seems wider by feel and appearance which will give you more surface area to work with on your pedals. The rubber stuck to my peddles so well I could hardly tell I wasn't riding clipless. The only downmark in my opinion is the appearance, and I probably wouldn't wear them anytime I wasn't biking. That is such a minor thing though, and they perform every way they should when riding. Hopefully, I can get another season out of them.
Augi
Don't get these
Familiarity:

I've put it through the wringer
The rubber shreds to bits unlike the original free riders and the fit is too narrow. I rode them for a few months hoping they would stretch out and not pinch my little toe but they never did. By then the soles had shredded almost all the way through. Also zero traction for hiking. Add it all up to a fail for 5.10. The original free riders are pretty good tho.
t from tke
Best flat shoes out there
Stealth rubber makes these shoes super grippy on the right pedals. I like these shoes since they feel a bit more substantive than the base freeriders. This is my 3rd pair of Five Tens and I've had no complaints. Runs pretty true to size, I'm an 8.5 in casual shoes and an 8.5 in these
Peter N
Looking for flat shoes? Look no further
Familiarity:

I've put it through the wringer
If you are looking for a great shoe for flat pedals, this is the one and only. Stiff soles and sticky rubber will make you instantly into a world cup winning shredder. On a boyz trip to Fruita, a girl even told me once these are "Hot guy shoes". The Stealth rubber that Five Ten is known for will keep you planted like an oak tree. Even when you huck to flat.

I frequently switch between these and my Shimano AM9 clipless shoes and feel just as confident in either. They work great for when your coffee wears off and you have to start hiking, good tread and solid construction keeps you stable in all sorts of conditions. Best part? They look good so you don't look like some teched-out bike shop nerd when you're grabbing those post-shred beers ferda boyz.
Ryan Lee
My first flat pedal shoe is 👍
Familiarity:

I've used it once or twice and have initial impressions
I've been riding clipless for 20 years but decided to change my trail bike to platform pedals for skills stuff like wheelies... These are great shoes that have made the transition very easy. Super grippy and stuff power transfer. I can see why Five Tens are so popular.
John S.
Good shoe with Bad quality
Five ten fits perfect and feels good. The grip is okay too,... but the durability of this shoe is nothing we are used to from this company, very poorly, better but the five ten free rider pro
Matthias M.
They make a difference
Familiarity:

I've used it several times
I've been riding regularly for only about 1.5 years, and outside of dropping some money into a decent bike, I haven't poored much into supplementary gear. I'm not a clip-less guy - yet - because I almost killed myself once with them, so flats all the way goiven my current skill set. I was using basically any old athletic shoe or sneaker for my riding, but finally decided to get a riding specific shoe mostly for improved peddle grip. They definitely perform there, but wow was I surprised by the additional performance overall. Literally improved my riding over night. More power on the peddles, better control and confidence through turns and chop, and over drops and jumps. I'm not suggesting this will be the case for any rider, especially someone more experienced, or someone already using a proper riding shoe, but for those of you like me on the fence about using a proper shoe versus your Nikes, these do what they say. Comfortable, keep your feet protected and cool, great peddle grip, and enhanced performance overall for my riding. They've been a great decision. Only drawback - and I've seen others mention it - is the flat area of the sole can be a little sketchy on wet or muddy surfaces when off the bike. Otherwise, been great for me. Very happy!
Vintagehue
I use these as my daily shoe and prefer them for dirt jumping vs trail or DH riding. I have been using them recently on the trail and want a slightly stiffer shoe. I like the big flat rubber section but after wearing mine to the point of disintegration, I noticed my new pair took a ride to break in. Love them!!
Christine D
That Rubbah tho
Familiarity:

I've put it through the wringer
The stealth rubber sole makes these shoes super sticky when paired with a nice set of flat pedals. Usually ride clips but for those muddy times when you wanna go moto style and let the foot loose as you destroy the corners you are gonna want a pair of bomber shoes like this!
John E.
Sticky!
Familiarity:

I've used it several times
Just undergoing ACL reconstruction 8 weeks ago I needed to ditch the clips and learn how to ride flats. Was a bit hesitent at first, but after picking up these shoes... I am absolutely in love! Typical FiveTen design and style so not the lightest shoe out there and has a wide toe box, which I love! But the Stealth Mi6 rubber though, so grippy. Very well surprised. Feel like I am clipped in and super comfortable on the minimal downhills I can ride for right now. Really can't go wrong with this shoe.
Kyle Laudenslager
Unanswered Question
Do these run narrower, the same or wider than the freeriders?
JB
Great Five Ten shoe
Familiarity:

I've used it several times

Fit:

Runs small

Size Bought:

10.5
Really like the shoe. Very durable and stick to the pedals of my trail bike very well. I think the shoe runs a bit small to size, but that may also have to do with the stiffness of the shoe itself. Originally bought a size 10, but returned them for a size 10.5
tokagesan305004
Height:
5'10"
Weight:
170lbs
Perfect shoes
Familiarity:

I've used it once or twice and have initial impressions

Fit:

True to size

Size Bought:

9.0
Great fit, soles are super tacky. Can't buy a better shoe for mountain biking. Arrived quickly and was best price I could find.
Wilfred S.
Height:
5'6"
Weight:
160lbs
Sticky, Durable, Comfortable
I have 6+ months on these, they do require a week or to to break in but once that is over they are golden.

I've been impressed and I'll be picking up another pair when these ones wear out. From the looks I have another few months before I need a new pair.
Blake T.
Good, but may need some break in time
Familiarity:

I've used it several times

Fit:

True to size

Size Bought:

10.5
Overall I'm happy with these shoes. Excellent grip and they just feel solid. But I do have a bit of an issue with fit. I have a high instep and the seem to put pressure on the top of my foot. I have to fool arou d with alternate lacings, and maybe they just need to break in a bit.
paul F.
Height:
6'0"
Weight:
175lbs
Good shoe, runs a bit narrow
Familiarity:

I've used it several times

Fit:

Runs small

Size Bought:

9.5 M
Overall, I liked this shoe right out of the box. It has a great sole, super sticky, flat in the ball of foot area (lightly treaded elsewhere), and appropriate stiffness for us flat peddlers. The shoe looks and feels like good quality. My only beef is the width. This is not entirely the shoe's fault. I normally wear an E/EE width shoe. However, many D width shoes will stretch to accommodate especially for shorter periods of time where specialized shoes. That said, don't count on this shoe being able to do that. Not gonna happen. In 20 mins my feet go numb from constriction, even with the laces fully stretched and open. So, I am disappointed in the end and will pass a nearly new pair of shoes onto my son. Kinda bummed,
Brian M.
Height:
6'1"
Weight:
195lbs
Exceeded expectations
Familiarity:

I've put it through the wringer

Fit:

True to size
Initial fit involved a little toe bang but that quickly went away after break in. 3 months on them and I'm impressed.

Super grip, great support and very durable so far.
Blake T.
Height:
6'2"
Weight:
220lbs
Hold Up Well
Familiarity:

I've put it through the wringer

Fit:

True to size

Size Bought:

9.5
I'm on my second season in these and they have held up pretty well. They definitely are showing signs of wear, but this is to be expected with how many miles I've put on them. The Stealth Mi6 sole keeps me on my flats in hairy spots and they are burly enough to protect my feet from rockier trails. I really couldn't ask for much more in a mountain biking shoe. I am a size 9.5 in most shoes and found this to fit true to size.
Nick Johnson
Height:
5'10"
Weight:
165lbs
ok shoe, not great, expensive
Familiarity:

I've put it through the wringer

Fit:

Runs small

Size Bought:

9.5
A bit about myself to put my review in the context. For many years I have been road cycling and when I moved to Colorado in the 1995 I started to Mountain bike mostly cross-country with stiff shoes clipped in. About 5 years I got a bit more seriously into the trail and all mountain biking with jumps etc. Last year I switched to flat pedal setup on my all mountain/trail rig. I have been using an old skate boarding Nike shoe since my purchase of the 5-10.. It worked ok, but fairly inefficient and my feet were sore after extended rides over a couple of hours. My foot generally is very stiff, square and high arch so I need a lot of support or my feet take a beating.
About a month ago, I decided to upgrade to a real dedicated flat pedal shoe . I have tried the 5-10 originals but found them to have too much padding , bulky and making my feet too hot. They were a little stiffer then my old skateboard shoes but I was not comfortable in them. Because of that, I settled on the Contacts. In comparison to the originals, they were fairly light, low profile, supportive and vented well, a closer match to what I expect in a biking shoe.

Off the bike they are very comfortable with decent looks, but runs about half size too small, because of the toe box reinforcement. I anticipated that due to other reviews .
On my bike setup I am am not finding the amazing grip that everyone rave about. Don't get me wrong, they are ok in terms of grip but not mind blowing. Similar to the grip I got with my old Nikes. Perhaps its the combination of OEM pedal pins, and my pedaling technique.... Their shape is also little narrow for my pedals so its making uneven contact. Because of that, I find that my shoe slips more then I like. Also the transition between the very flexible front, and the very stiff EVA midsole is too drastic. The back of the shoe feels like a piece of wood but the front under the ball of my foot is very soft and flexible. Just strange sensation and its hard to explain unless you try the shoe. I wish the bottom front of the shoe was a bit more stiff .and and closer match to the back. Perhaps that is what I am used to from riding many years with in clipless setup.

The durability on these Contacts is very good so far,, after about 30 rides, through mud, water, rock gardens, sand, gravel etc, they still look new. Time will tell if they last more then a year. A general consensus is that this is a one season shoe. I will continue using them til they wear out, however I am not sure if I will buy them again.



Vadim N.
Height:
5'7"
Weight:
170lbs