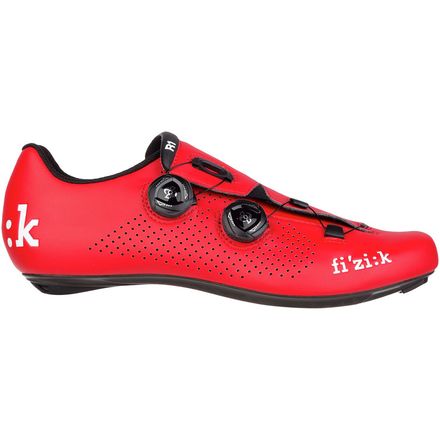 Colors

Detail Images
Red is the new fast.
The Fizik R1B Uomo Boa Limited Edition Men's Cycling Shoe carries a pedigree that's seen time in everything from time trials to spring classics to weeklong stage races at the highest level of our sport. This particular version takes the standard R1B and pairs it with an eye-catching colorway that'll add a pop of intrigue to any race kit.
The R1B incorporates Fizik's Volume Control system to prevent hot spots with two independently wired Boa IP1 dials, an adjustable heel cup, and a pull-over flap that's shaped to wrap the foot rather than just strap it in. This partitioned adjustment construction is fairly standard with most high-level shoes these days, but the Volume Control design really departs from other shoes at the upper Boa dial. It not only wraps the mid- and upper-foot for a secure fit from afore, but it also adjusts from astern, dialing the heel cup's fit to ensure the kind of customizable security that keeps your feet in place for more efficient power transfer throughout your pedal stroke and less danger of heel irritation and blisters.
Instead of its predecessor's Kangaroo leather, the R1B's upper is Fizik's all-purpose microtex synthetic. It's the same, well-tested material found across the manufacturer's shoe and saddle lines. Barring a series of tiny, ventilating perforations, the uppers are a single, clean piece, adding to the shoes' understated profile and validating the aesthetic praise they received in virtually every publication that wrote them up after the latest round of industry trade shows.
A race-ready road cycling shoe
Stiff, responsive carbon sole with cooling vents
Highly durable, ventilated synthetic uppers
Adjustable heel cup improves power transfer
Streamlined, next-to-skin fit from dual Boa dials
Fizik proves that subtle form can coexist with pronounced color
True to their sizing so when I order the same size shoe from them in any model they always fit perfect! These are comfortable and very easy to use retention system.
Cheryl K.
Nice but a couple of issues
Familiarity:

I've used it several times

Fit:

True to size

Size Bought:

43.5
I got these as replacement for a pair of Louis Garneu Course air lites. I loved those, but the tongue separated after 355 days. CC didn't have those in red, so I paid a bit more got these as a replacement. They are comfortable, but not quite as nice as the LG. The boas open and close very well. Lengthwise and WRT to box width the fit is good, at size 43.5 for me in both. However, my foot shape must be a bit different from their standard as I get a wrinkle in the leather along my first metatarsal (inside edge) behind my big toe for about 3 inches. It doesn't affect the fit or comfort but looks a bit odd. Second issue is that my heel occasionally rubs against my frame and there is no plastic protection by the heel, so within two rides I had worn a spot there. A piece of red electrician's tape covers it and has prevented this from growing, but better design would anticipate this and put a little bit of something hard there. I'm still trying to decide on the foot beds. So I like them, but they could be a bit better.
Steven K.
Amazing looking show but one big flaw
I was so excited about these shoes. Purchased them direct from Fizik and was thrilled when they arrived. Beautiful construction, great fit. However, they have one huge flaw (though it may not relate to all riders). For some reason Fizik has placed the cleat position VERY far forward. Had it tested against my Specialized S-works and the max rear placement is a full 2 MM forward. So for those who ride with their cleats towards the rear of the mounts, these shoes may not work. Unfortunate because everything else seems to be on point.
John N.
Are these shoes good for wide feet? Especially the front part of the foot.
Beverly D.
Hi Beverly,

These shoes are not going to be "wide" in the toe box, and most experience they run smaller than normal.

I would suggest looking at either Shimano, or maybe the Sidi mega models, as they will offer more room in the toe box.

Please feel free to reach out to me directly with any other questions you may have.

Thank you
Scott Golsan
When it comes to shoes I have serious issues. If there is the littlest imperfection in the fit it finds a way to explode onto my foot somewhere. Having fought plantar fasciitis a few years ago I have learned the hard way that one of the most important pieces of equipment for a rider is undoubtedly shoes. The new fizik R1B is not only one of the most comfortable cycling shoes I have worn, but one of the most comfortable shoes I have worn.
Fizk calls it Volume Control technology with some micro-adjustable Boa IP1 closure controls...I call it a comfortable shoe.
As soon I slide my foot in I knew it was going to be a good fit, even without putting in my own insoles. Surprisingly the insoles are really good with a good amount of arch support and dense cushion. Nothing I hate more than spending a few hundred dollars on shoes and the first I do is throw the footbed away. Not saying these shoes will work for you, everyone is different when it comes to shoes, but I have worn a lot of different shoes and these are at the top of the list right now. Feel free to reach out if you have any questions and/or concerns about fit.
Size Purchased: 42.5, I could wear a 42, but like the extra room.
For reference I wear a Specialized 42.5, Shimano 42.5, Giro 43, Adidas 42-¾, Nike 42.5, Sidi 42 / 42.5
Bill Sherman
Customer Account Manager-Bike
Office: 801-204-4545
bsherman@backcountry.com
Bill S.
Sweet Shoes
Fit:

Runs large

Size Bought:

42
They shoes are awesome and really comfortable. They fit really big though. I would normally wear a 44, but I fit a 42 perfectly.
Clayton Otto