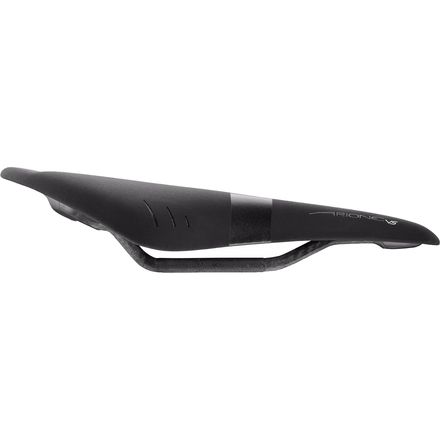 Find your fit.
Sacrificing race-ready style for comfort shouldn't be a requirement when deciding on a saddle, and with Fizik's Arione VS Carbon Braided Saddle, it doesn't have to be. Known for ultralight, minimalistic saddle designs, Fizik took engineering strategies from its racing line and adopted them to newer models that aim to provide comfort to a wider range of riders without abandoning the streamlined shape and effective construction that have long described Fizik saddles.
The Arione Versus follows the same shape as its race-ready cousins, but its Versus distinction signifies that it was constructed with both thicker foam cushioning and a pressure relief channel along the center of the carbon-reinforced nylon shell. The channel was specifically shaped to provide relief without compromising the stiffness and structural integrity of the saddle, and the low-density foam that surrounds it offers softness without bounce, so it doesn't tax power transfer during your pedal stroke.
The saddle's 132mm rear width suits it to riders with medium-width sit bones, and according to Fizik, the saddle works best for riders with flexible spines in reference to its Spine fit concept. The Arione Versus rests atop braided carbon rails, which lend stiffness, vibration dampening effects, and low weight to the saddle. The whole package is wrapped in a Microtex cover, which lends ample durability in the face of rain and sun exposure.