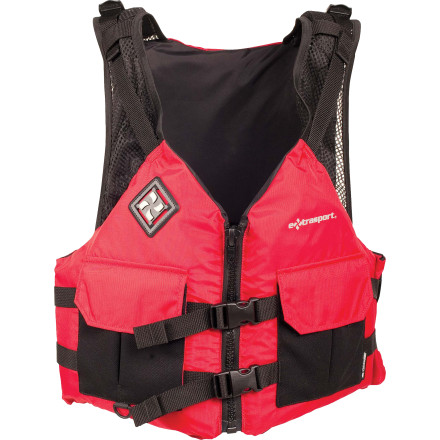 Colors

Detail Images
Fish safely and comfortably.
Fancy a day spent fishing from your sit-on-top angler kayak? Since you already have the necessary tags and permits, why risk incurring the wrath of the DWR officer by not wearing your Extrasport Eagle Personal Floatation Device. Designed with fishing enthusiasts in mind, this lightweight PFD has wide armholes for free-range casting and ample adjustments for a finely-tuned fit. Glide Fit foam construction ensures a personal fit and easy paddling, so you can find the fish's favorite hiding spot without too much physical agony. Find fishing offensive? The Eagle lets you soar over slow-moving lakes and rivers for years on end.
A Type III vest, the Eagle stands ready to keep your head above water if you stretch a little far overboard in your efforts to net your catch. The 200D ripstop nylon should survive more than a few seasons of intense weekend paddling. Glide Fit technology uses two different sized pieces of foam to provide buoyancy, but tweaks the pieces for maximum comfort. A larger piece of foam wraps lies closest to your body and conforms to the shape of your chest. A smaller piece of foam takes the outer side, and is wrapped in a patented sleeve to help the foam pieces slip n' slide over each other. When you're not fighting the floaty stuff, paddling becomes entirely pleasurable.

The Baja Back makes sitting in your kayak seat sweet by using a skinny piece of foam at the bottom of your back. The front zip entry keeps the PFD on your body and two front buckles keep the vest close to your chest. Adjustable shoulder straps reduces the chances the vest will cramp your casting style, while the mesh below lets your shoulders breath. Two oversize front pockets on this Extrasport PFD provide easy access to sunscreen and angling accoutrement.

Type III, design floatation: 16lbs 6oz
UL, USCG, ULC certified
200D ripstop nylon
Glide Fit foam
Baja Back
Front-zip entry, dual buckle closure
Adjustable shoulder and side straps
Mesh shoulders
2 oversized front pockets