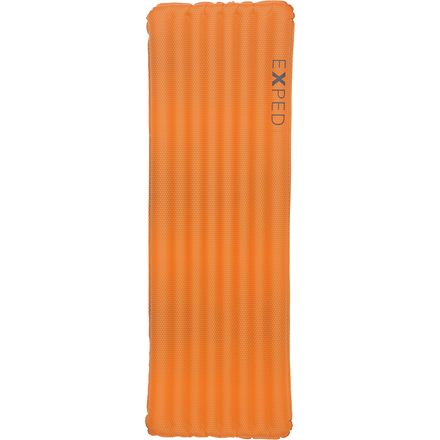 Colors

Detail Images
Add the SynMat UL to your ultralight arsenal.
The ultralight SynMat UL provides some serious insulation when you're counting grams and cutting the tags out of your undies to cut weight. The welded baffles of the SynMat are filled with microfiber insulation to eliminate cold spots and provide a comfortable night's sleep in the backcountry without going over on grams.
Ultralight material provides abrasion and puncture resistance
Compresses to the size of a 1/2-liter water bottle for easy packing and transport
2011 Outdoor Gold Award from OpPad in Sleeping and Innovation category
Stuff sack and repair kit for quick field maintenance
Unanswered Question
Does this pad come with the Schnozzel bag included?
Benjamin T.
good ultra light comfort and ease.
Familiarity:

I've put it through the wringer
I have had A Synmat UL for about 6 years now. It is small and lightweight and pretty darn comfortable considering what it is. With the vertical baffles I have occasionally had issues sliding down and I feel like it is partially due to the vertical baffles. As a side sleeper it does perform better than any other lightweight sleeping pad i have tried in the past. All in all its a favorite of my backpacking and camping gear.
Matt Weinberg
Comfy, Fragile, Great Customer Service
Familiarity:

I've put it through the wringer
I agree with the best and the worst reviews here. It is the best mattress I have ever used. It lasted for something between 25 and 30 nights (a few years worth) of use before the baffle delaminated. I used it primarily in a tent but also in a hammock and folded it into a sling that turned it into a chair, I suspect the latter may have been a little heavy handed for a UL product. Anyway, I called support, who gave me an address to mail it to for inspection. $13 for postage and two weeks or so later I had a brand new mattress, despite being passed the 2yr guarantee.

This is definitely not bomb proof, but it definitely IS compact, light, and super comfortable. If it weren't for the customer service, I could not recommend this mattress.

I wouldn't recommend using this for a long through hike since it seems prone to delaminating at anytime.

Best for light weight, comfort, short trips.
Greg B.
The Perfect UL Pad
Familiarity:

I've put it through the wringer
When weight matters but so does being comfortable, this is your pad! It is not the lightest pad on the market but it is light enough if you like to sleep. Other UL pads give a beautiful crinkly noise when sleeping making it terribly uncomfortable to sleep on. It is easy to blow up and deflate. Its stuff sack is about the size of a 20 oz water bottle. I use this pad for backpacking and it works perfectly. It is UL meaning it cannot take a beating so don't expect this thing to be bombproof. It works well on Alpine Lakes in the Cascades too! As long as you're not looking for super ultra light and a high R-Value, then this is the pad to get! I



Let me know if you have any questions on this pad or any others and I would be happy to help!
Zach Higgins
Never again
Familiarity:

I've used it several times
Very light, compact and comfortable sleeping pad, but the design is flawed. After using it for only 12 nights, the pad delaminated and is now in the land fill. I live in Europe and there is no repair service available over here.

Exped Ultralight Products have 2 years warranty; mine was almost 3 years old. The heavier Exped sleeping pads have 5 years warranty, so I suggest you buy one of those if you really really want Exped. But they have the same tube design which I no longer trust for field use. I've moved on to Therm-a-rest Xtherm Max and I will never go back to Exped again.
Thomas Leland
Easily bursts. Baffles break.
Familiarity:

I've used it several times
I purchased two of these mats. Both were not durable. The first one only lasted 6 uses before it burst after dropping a book from 6 inches onto it. Our fault, but I hoped it would hold up better. The second one started to unravel at the buffles after about 15 uses. They are expensive mats, and not worth it. Very comfortable and warm when they do work. But they were expensive sleeps! I would not recommend this mat.
TIERA M.
Unanswered Question
Are there any temperature restrictions for this pad? For example, is it safe (for the pad itself) to use it in low temperatures, like -15°C or so?
Kseniya
Great camping mattress!
Familiarity:

I gave it as a gift but have feedback to share
This mattress is super light-weight compared to other mattresses that I've tried in the past. In addition, it is easy to deflate, roll up and store into the bag that comes with it. Would recommend this as a great mattress to bring on camping trips!
Hanh H.
Baffles break down. Buy another brand
Familiarity:

I've used it several times
The information on Backcountry is incorrect. Warranty for the UL series is only 2 years, not lifetime. The baffles break down, air and instead of a cozy ridged mattress, you have a lumpy mess. Buy something else.
William K.
Baffles break down/de-lamination
The mat baffles break down leading to an a lumpy, unusable mat. You'll be buying a new one in 2-3 years. That's why the warranty for the UL series is 2 years.
If you're happy to outlay the cost for a new mat at this interval, buy this product.
Michael E.
more like a UL mattress!
Familiarity:

I've put it through the wringer
one of the best purchases I have made that makes everyone I camp with jealous. This thing is ridiculously warm and thick when inflated. it packs down to a typical small mat, but once inflated provides enormous amount of comfort and insulation- it's like bringing a mattress to a campground! I l love it so much that when my friend's dog punctured it and my first patching job was not successful, I just felt devastated. I patched it the second time following all instruction again but with a larger patch and it worked! I recently look it on a long camping trip to Indian Creek and it stayed inflated the whole time ( some of my friends had issues with Big Agnes mats deflating over night). While many complained of being chilly in 10 F weather, I was toasty warm with this mat and Nemo 0F Down bag. Camping in a cold weather is a bliss now!
iryna
Great sleeping pad
Familiarity:

I've put it through the wringer
This pad is lightweight, inflates, and deflates quickly, and is a great combo with the Big Agnes bags - the UL7 fits into the sleeve on the bottom of the BA Lost Ranger bag no problem. I like how the two outermost tubes are slightly bigger than the middle ones which creates a slight cradle effect keeping your body centred in the middle of the pad. For me the Exped is a great side sleeper friendly pad. I have had no issues with leaks or tears. Pad seems robust enough. Used in a bivy and in a tent. I really like this pad!
Like some of the other reviewers note - this pad is quiet. Some pads are crinkly like potato chip bags!... this one is not like that at all.
j_m4660854
Sleep well
Familiarity:

I've used it several times
This is a very comfy mat. I am a side sleeper and a toss and turner. It is not crinkly/noisy! Blows up easy, rolls down easy.
Denise H.
Review of the UL 9
Familiarity:

I've used it several times
OMG OMG OMG. I love this thing so much. I have a perfectly functional sleeping pad (BA Core Insulated) that I like very much, but I've been eye-f#$king the Expeds for awhile now and since I was going on a solo trip to Alaska for 10 days, I decided to spring for it. Best decision ever.

I got the long/wide because I have a wee solo tent that the dimensions are perfect for . Even in the long/wide it packs down very small and light... about to the height of a nalgene and just a bit wider. I am a sleep-thrasher, but no matter how much I shimmied and rolled around, I couldn't find my way off of this thing. If you can afford the extra space and weight (and cost) for the L/W, it's so damn luxurious.

Though I sleep hot in bed, I tend to get a little chilly camping... which is why I really wanted to try out the UL 9 for the bomber r-value. It really IS super toasty. I did not once get cold.

As for comfort, it truly was out of this world. I was a little skeptical because I've slept on tons of pads from the accordion that everyone has to self-inflating to some inflatables, and nothing was reeeaaaaally comfortable (I sleep on my side and roll around a lot)... until this thing. I seriously slept like a baby every night, on my side or on my back it was equally comfy.

My big concern was durability because it's ultralight and the material does feel a little thinner than I'm used to. I've also heard some horror stories about chambers failing when it's over-inflated and getting a huge bubble in the middle of the pad. I'm happy to say that after 8 nights of sleeping on it on cold nights and warm nights and downpouring rain and not being particularly delicate with it, it was totally fine. If you use the schnozzle to inflate it, it's practically impossible to over-inflate. During the day I'd just let a little air out of it in case it got warm and swelled up. And the schnozzle is SO fun! It takes like three minutes to inflate it with that thing and then it's not full of hot swampy people breath. The one thing I'd say is that at the price point they're charging, I really think the schnozzle should be included. But definitely not a deal breaker.

I'll update on durability in a few months!
BexOnHood
Ultralight, ultra comfy and quiet!
I have dragged this thing all over the place for the last year. I've slept in the tent overtop grass, dirt, rocks, sand ... You name it. It's gotten as cold as below 10 degrees and this pad has been the bomb. The look on my daughters face when she woke up on a 10 degree morning and slipped out of her sleeping bag onto the cold tent floor was priceless- I think she thought the Expeds were a comfort only item up until then. The trick with these is to get a pump bag to blow them up with and carry them in. They blow up fast with the pump bag. For the price they are Exped should include one. The mini pump is useless, save your money. They are unbeatable for comfort. I'm a side sleeper and am truly comfy on the trail.
Teresa D.
I sleep comfortably on my side and stomach with this pad. Awesome pad! Was concerned about the vertical baffles feeling "bouncy like" before I bought it, but it hasn't been an issue at all. In fact it may be an advantage in holding me on the pad - I don't roll off like I did my last pad. Just got back from Yellowstone and this kept me comfortable in temps down to 26 degrees. I do recommend buying the schnozzle - makes quick and easy work of inflating this.
Jeff Rabbia
Care of Exped sleeping mats
Adam Saucedo
Who ever regretted a better sleep?
Familiarity:

I've used it several times
All my friends were crinkling noisily on their NeoAir's, driving me nuts! Sooo this big beauty makes them green. It's quiet.

So you're looking for a 4 season pad, and snow caves are on the menu perchance. GET the 9LW! So your legs, feet and bag don't overhang into the snow.

With winter camping, you want to also purchase the pump bag (also light, and a stuff sack) so your breath moisture doesn't condense inside as ice. But you can give it lung love if it's warm at night.



I'll never regret the 9LW becuase it's still so light, (lighter than most cheap summers pads) and who did you ever hear complain about their great night's sleep?


WinterBean