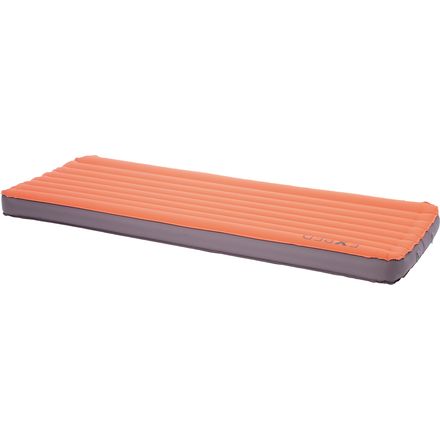 Colors

Detail Images
Camping doesn't have to be a nightmare.
Sweet dreams come from a night spent under the stars on the Exped Synmat 12 Sleeping Pad. This pad raises you almost five inches off the ground, so creepy crawlies, other than your sweetie, won't wind up snuggling with you through the night. Rugged 75D fabric withstands the wear and tear of being dragged in and out of the car, being pumped up and then deflated, and being jumped on by the kids.
Car camping need not be an exercise in frugality or suffering, and it doesn't need to be restricted to the warmer months. Microfiber insulation on top and bottom minimizes the amount of cold air reaching your slumbering soul to keep visions of sugar plums dancing in your head. I-beam baffles not only keep you comfortable but also ensure the air inside doesn't get crammed into corners by morning. Air elevates your sleeping experience, and works as insulation. The 5.3 R-value offers warmth so you might only need a sheet when heading out for some summer fun. Some professional basketball players might find their feet hanging off the ends, but most other folks will stay tucked in, nice and tight. At 77.5 inches long and 30 inches wide, this pad might tempt you, even when you're not at the campsite. The Schnozzel pump bag makes blowing this baby up a snap. When you're not pushing air, the pump bag does double-duty as either a gearbag or sleeping bag stuff sack.
150D/75D polyester with TPU laminate top
75D polyester bottom
200g Texped loft microfiber insulation
Includes Schnozzel pumpbag, packsack, and repair kit
Plush
Familiarity:

I've used it several times
Great for car/campground camping. Plush, comfortable, well-made. No problems with deflating. Perfect for a tent, the back of a truck or a trailer.
Jason Wanlass
Well designed sleeping pad
Familiarity:

I've used it once or twice and have initial impressions
Hi everyone, this is a review of the Exped Synmat Mega 12 sleeping pad. The first Exped mat I bought was the Megamat 10. The Megamat 10 is almost like sleeping on a memory foam mattress; it's perfectly comfortable! The Synmat Mega 12 is not as plush and comfortable as the Megamat 10, but they are both nearly the same dimensions, and because the Synmat Mega 12 is an air mat (not a self-inflater with internal foam support), it is lighter than the Megamat 10 and packs down to a much smaller size (easily fits inside a backpack). I bought the Synmat Mega 12 for the pack size, it's lighter weight, and ease of inflation and deflation. I'm looking forward to taking this pad on my next Colorado hunting trip, where I will be hiking several miles into the backcountry to set-up camp. Hopefully the material is durable enough to withstand the Rockies. To all the hunting fanatics out there, HIKE HARD, HUNT HARD!
Dallas B.
Sleeping at its finest
Familiarity:

I've used it several times
Since i discovered ExPed a few years back its always been my mat of choice when camping. I own four different Exped mats for different occasions and thy never cease to amaze me. This Mega 12 is no exception. I just recently took it on a backpacking trip to Havasupi and i had the best sleep. It packs to a decent size (id say no bigger then an NFL size football) The pump bag makes it quick and easy to blow up. I have a hard time sleeping when i camp because i cant get comfortable but not with this sleeping pad. It has so much room to move around and i don't feel like I'm gona roll off. Its not the lightest or smallest mat for extreme backpackers but i can guarantee is the most comfortable. If you don't mind a little weight and bulk then i would recommend the Mega12. Best night sleep I've had while camping.
Shone
For a backpacker switching to carcamping
Familiarity:

I've used it once or twice and have initial impressions
I'm a former backpacker whose fibromyalgia has finally caught up to her. I'm not 80, but I feel like it, so this one goes out to fellow chronic pain sufferers and seniors!

While I'm trying to get my persistent pain under control, I really would like to go car camping at least... but a night on my old ThermaRest Trail Pro isn't happening with a daily 5-6/10 full body pain—even with extra blankets.

I eyeballed the Exped Megamat 10, but besides the fact they're very sold out everywhere, it wouldn't have fit in my backpacking tent (40" across) and allowed another camper. Plus, I'm also hopeful of working up to some "mini" backpacking (like a mile in) trips as I recover, and the Megamat was just impossibly heavy. At 3lbs, the Synmat isn't a backpacking pad, but it's doable for a short foray deeper into the woods. (Key when one lives near so much great wilderness). Further, I have a small car, so if I'm driving, space becomes an issue. And I hate to be that guy who brings something massive on the roadtrip.

So, I turned to the Synmat as a lighter, more compact alternative to the Megamat. I also compared it side by side with the Nemo Astro and Tensor (because I wanted to see how far the new tech had come. If a backpacking pad was just as good, I figured I'd get that and hope to fully recover!). Ultimately, while I would have loved either Nemo for backpacking, this simply felt more comfortable and bed-like for car camping. (Although if you don't have a ton of issues, the Tensor seemed like an awesome all rounder even for frontcountry.) Plus, the Synmat felt more durable and bombproof. The Nemo's are rated high on durability, but they still felt like the kind of whisperlite gear I'd have to baby.

Finally, I'm backpacking in Montana, so a higher R-value is required. Summer nights in the mountains can easily be 30, and are regularly 40-50. Yes, I know this is rated for a bajillion degrees below that, but I'm a girl and don't want to freeze. Plus, I also am not ready to upgrade my old bag...

Some testing notes:

I've never used anything like the Schnozzle before, but I liked it. Once I figured out not to inflate through the deflate valve...

Being such a tall pad, this does suffer from a certain degree of wobble factor. I honestly would not have minded if it came in the 9-10cm height option, esp with my small tent and smallish frame (I'm 135lbs, so not bottoming out). But, the Synmat 9 was more expensive, and even on sale this was majorly pushing my budget. And, this was still more comfortable than the 3" Nemo pads.

There was one final thing I was asking this pad to do, and that was serve as a travel-friendly air mattress for visiting friends with no guest bed. 3 lbs and the size is pushing it, but it will fit in my checked bag and save me from having to grab a hotel.

For extra plush factor, I cut a cheapo foam topper from Target in half and stuffed it into a compression bag. It's linty and a lightening storm of static between the mattress and the sleeping bag, but I'm hoping it will add the little something something that the Megamat 10 might have had. Still, I tested it plenty just on the hardwood floors without a topper and still felt it was comfy enough. It basically feels like a wobblier, narrower version of the kind of air mattress you'd have for guests.

So, long story short, I asked this pad to be a total all-rounder: a car camping mat that fit a backpacking tent, a travel pad, durable but not too heavy, an occasional easy backpacking pad, and as comfy as humanly possible. While I think that's way too much to demand of one piece of gear and having a "quiver" is always nice, I'm excited to see just how many boxes the Synmat can actually check off. From the living room test, it actually seems pretty promising!
Kira S.
Doesn't get more comfortable
Familiarity:

I've used it once or twice and have initial impressions
Love how far off the ground these are. The cushiest way you could possibly car camp!
Megan Allyn
Granite
Granite