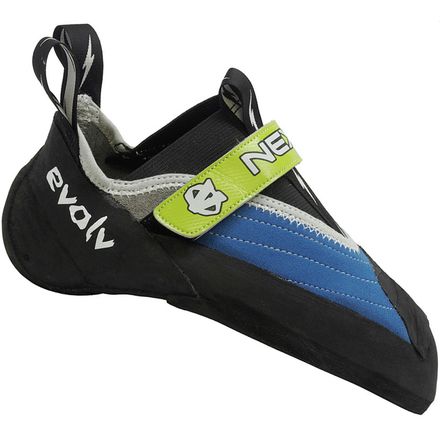 Blending power with sensitivity.
Evolv and Chris Sharma took a new approach to designing the Nexxo Climbing Shoe so you can tackle the steepest routes around with precise power and soft comfort. EPow is Evolv's newest system that ensures tension and power throughout the shoe in order to maximize your climbing potential. It has an aggressive downturned, asymmetric profile so you can grip foot holds on roofs with ease, and both the Love Bump at the bottom of your toes and the Knuckle Box at the top put your toes into a powerful position that's also incredibly comfortable. While the synthetic forefoot remains rigid and sturdy for the ultimate performance, leather from the mid to the rear keeps your foot super comfortable for long training days at the gym.

A hook-and-loop strap seals your foot in the shoe while the elastic band around your ankle provides a secure fit. Evolv placed a microfiber lining in the forefoot for comfort and left the rest unlined for optimized sensitivity and precision. Its MX-P midsole has an additional semi-crescent nylon support that maximizes the shoe's downturned tension so it doesn't flatten within a few months. Evolv took its proprietary Trax rubber and shaved it down in critical areas to give your foot the dexterity it needs for precision on technical climbs. And a VTR rand increases the shoe's longevity so you can climb in this pair of Sharma-worthy shoes for a long time.
EPow system
Synthetic forefoot with leather in rear
Hook-and-loop strap with elasticized closure
Aggressive downturned asymmetric profile with Knuckle Box and Love Bump
Trax rubber with new variable thickness half-sole construction
Microfiber lining in forefoot, unlined in rear
MX-P midsole with semi-crescent nylon support
VTR rand
Runs small, the hook was way more aggressive than I thought it would be. Overall a decent shoe though
Jason Zavala
edwin Y.
StiffISH, but flexes where they need to!
Familiarity:

I've used it several times

Fit:

True to size

Size Bought:

9.5
There is nothing out there quite like these. . They are the only shoe that completely hugs my arch and it also points that powerful down-camber right into the big toe. The toe-box is low profile enough to toe in on anything and the stiffness of the edge of the shoe is great when combined with the super soft middle of the shoe and the wrapped last, like a lot of the Sportiva shoes.

Certainly worth the $70+ bucks, and I'm a bit bummed they are being discontinued. . I wouldn't be surprised if a NExx2.0 comes out eventually cause these edge, toe-hook, and heel-hook like a boss without sacrificing good sensitivity. The break in isn't quick, but the toe-box is lined with this super smooth white material that has a bit of cushion and molds to your shape real well and the upper is real soft and packs out to fit your shape.

I got em in 9.5 and they fit my foot very snugly in the toe-box and heel. My foot is 9.5 inches long and my big foot is slightly larger than that and gets a minor hot spot on the top of the big toe. I'm not certain that I could get my foot into a 9.0. . and I wouldn't even be interested in trying. These are performance at foot size and ever so slightly wider than my Solutions (size 6.5) which have the same length as my Nexxo's.

It's been mentioned before that these aren't very downturned, but do function likea downturned shoe due to the extreme downcamber.
Brent Allen
Height:
5'10"
Weight:
148lbs
These are an ultra aggressive shape and super stiff for when your pumping out before you hit the crux. Defiantly size up 1.5 to 2 full sizes depending on how much pain you like. Some people love it, but it's not for me. I had to return them.

This is a red point shoe and I wouldn't wear it for craggin around and getting mileage in.

Generally I like a stiff shoe like this to fit comfortably while standing.

My softer shoes I'm willing to size a little more snug.
Greg Bobetich
Height:
6'2"
Weight:
165lbs
Great but small
Familiarity:

I've used it once or twice and have initial impressions

Fit:

Runs small

Size Bought:

9.5
I wear a size 9 street shoe and assumed I could get them into a 9.5 but it is too small need to go up about 1 size from street shoe size. GREAT SHOES other than that. Believe the reviews get a bigger size!!!!
BB
Height:
5'6"
Weight:
135lbs
We ran out of these before I could get the sizing right.

My street shoe is a size 10 and I tried these in a 10, 10.5,11 and 12 (we didn't have the 11.5's which were the size i needed).

But in the 12's, my toes were snug but I figured with a little climbing, the shoes would get just enough stretch and then wouldn't fit properly. The 11's felt like torture boxes and I could only stand in them for a couple minutes.

I'd have gone with the 11.5's if we had them in stock.
Jared Downs
Height:
6'0"
Weight:
180lbs
Great Shoe! Very Aggressive
Familiarity:

I've put it through the wringer

Fit:

Runs small

Size Bought:

12.5
This was my first aggressive shoe and I love it! I sized up 1.5 sizes (normally wear size 11) and the shoe fits pretty well. I climb 2-3 times per week and haven't experienced much stretch in the shoe. Good for technical climbing and overhung routes - not a shoe to walk around in and wear all day.
DavidKuebel
Height:
5'10"
Weight:
165lbs
Aggressive, stiff toe
Familiarity:

I've used it once or twice and have initial impressions

Fit:

True to size

Size Bought:

10
So I've only had a few sessions in these so far and they are pretty rad. They fit super tight (I bought my street shoe size), but that's what I wanted: a tight fitting performance shoe. I could probably go half a size larger and still have good performance, but I think what I'm working with will be good, especially if they stretch a bit more. The toe is stiff, which I really like. All in all, if you want more comfort, go with a half or a full size larger.
Max B.
Height:
6'2"
Weight:
175lbs
Size em up. Great Bouldering/Gym Shoe
Familiarity:

I've put it through the wringer

Fit:

Runs small
For the price, these are a great high performance bouldering gym shoe -

Make sure you size them up at least a full size. And if you want that comfort for gym sessions - GO FOR A SIZE AND HALF LARGER THAN YOUR NORMAL STREET SIZE.
Alex Quitiquit
Height:
5'10"
Weight:
165lbs
I wear size 8 in normal shoes. These in size 9 fit really tight.
PotatoesSE
Height:
5'7"
Weight:
140lbs
I wear a 9.5 street shoe, I ordered these in a 10.5 and they were still half a size too small. They are so aggressive that the back side of the box is almost touching the heel, it's wild. Definitely not my cup of tea but if EXTREMELY aggressive is what you're going for then run it while they're on sale.
Cody
I ordered these in the same size of my Madrocks and my normal tennis shoes but I couldn't even get my foot in.
Hunter J.
Height:
6'1"
Weight:
165lbs
Unanswered Question
how is the return policy for this product. I am planing to buy 2 in different sizes. Then keep one, return the other one.
Xiu C.
Do these shoes stretch at all?

Leah A
Hey Brekken,



When a leather upper is lined, such as these shoes, stretch is reduced to a half size or less. Sometimes manufacturers line only the toes since it saves money and impacts where stretch is the biggest problem. Hope that helps!
Adam Saucedo
The all new, Aggro from Evolv... Get psyched!
Jonathan
Good but not the best.
Familiarity:

I've used it several times

Fit:

Runs small

Size Bought:

12.5
I've been using these for roughly 4 month, 1 to 2 times a week in the gym and couple time limestone/granite bouldering (I don't boulder a lot outside). They're great shoes, no doubt! I've also had the solutions so I'll be comparing the 2 shoes.

PROS:
1) Great edging on overhung rock with thick rubber
3) Durable Rubber and design
The soles almost look new, very impressed by durability. Looks like the upper will survive long enough to be resoled a couple times.
4) Comforms but not too much stretch.
At first there was extra space in the heal cause my heal didn't fit all the way, but after breaking them in, it stretched/conformed and now there is zero dead space. The result is rubber sock with a stiff edging platform. (stiff under the toes, soft/flexible under the arches of the foot)

CONS:
1) not sensitive
The thick rubber doesn't seem to offer much feeling you want on those tiny limestone edges. for a bouldering shoe I felt this was a major drawback. (note: the midsole doesn't seem too stiff so I'm sure when these guys are really worn down they'll get more sensitive)
2) Not very sticky rubber (comparatively)
I would put evolv trax rubber on par with vibram XS edge, very durable but not nearly as sticky as Vibram grip2 or stealth C4/HF. Which again seems like a big drawback on a bouldering shoe.
3) uncomfortable: I know it's a performance shoe and it's not supposed to be comfortable by any means (sooo this is kind of a moot point). But usually by the end of an indoor bouldering session, the top of my big toe is crushed. I only say this because the solutions I have in a comparable fit don't cause this much discomfort after I'm done.

SOLUTION COMPARISON:
The Sportiva Solutioins have stickier rubber. The solutions also have a downturned toe but maybe a little less down camber (where as this shoe is crazy 'down cambered' but has a flat toe box [zero 'downturn']. The heels are widely different. The nexxo heel conforms to your foot but the Solution heel is very protective. I think the biggest difference between the nexxo and the solutions is the solutions ability to more comfortably use footholds the closer you get to vertical due to the difference in down camber, even though the solutions are not as stiff. Also I think the toebox on the nexxo is less prone to stretch/molding which means the solutions are actually (marginally) more comfortable.

SIZING:
size 12 street shoes with narrow feet AA (brannock device)
43.5 solutions (aggressive)
a 12.5 Nexxo is an aggressive fit (comparable to 43.5 solutions), I usually have to pop them off and give my toes a break every now and then. Any smaller would have been toe suicide and any larger would create dead space.

IN CONCLUSION
these are great shoe that edge exceptionally. But in my opinion, the not sticky(est) rubber and not the most sensitive sole means boulderers might find other shoe preferable. That being said, FOR PEOPLE LOOKING FOR A TRAINING SHOE, THE DURABILITY OF THE RUBBER AND AGGRESSIVE CHARACTERISTICS MAKE THIS SHOE UNBEATABLE FOR SEVERAL TRAINING HOURS IN THE GYM PER WEEK. those looking for an outdoor bouldering shoe may appreciate the sensitivity of the solutions.

warning, this review may be affected by the simple fact that the solutions in general probably fit my foot better.
DGraham
Height:
6'1"
Weight:
170lbs