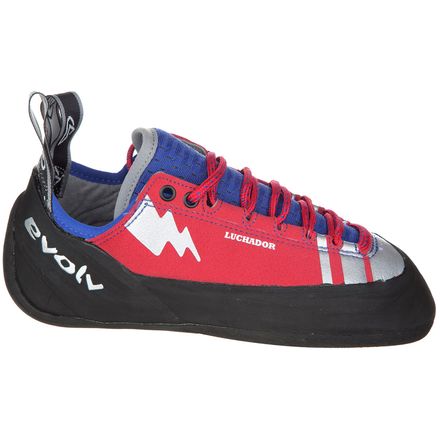 Colors

Detail Images
Throw the Luchador in the ring, and you can expect a send.
As a part of the Sharma series, you know Evolv's Luchador Lace Climbing Shoe will wrestle its way to the top on any climb you set your mind to. Evolv built this fighter off a slightly cambered last with a semi-asymmetrical toe for great control on small edges on techy vertical routes, and a downturned toe gives the performance you want on overhung boulders. The Luchador also has a padded non-shifting tongue that feels cushy in cracks. A full-length MX-P midsole gives this shoe a rigid performance, and the VTR rand thickens at the toe for long-lasting durability. Trax rubber keeps the sole sticky for seasons.
Synthratek leather upper
Non-shifting padded tongue
Full-length MX-P midsole
VTR rand
Trax high-friction rubber sole
Good shoe but has its cons
Familiarity:

I've used it several times
In my opinion the shoe performs very well... if you can get the right size. These are a pair of shoes considered severely undersized based on multiple reviews. I had to go half a size up from street size in order to make climbing in these bearable. The synthetic leather will hardly stretch at all. The best thing about these shoes are edging in them. but if you don't have the right size its painful and the toe box is smaller compared to other shoes I've worn.
Jetty S.
Great for people who love STIFF edging!!
Familiarity:

I've used it several times

Fit:

True to size

Size Bought:

9.0
The Luchador laces are great I am almost tempted to buy several pairs since they're discontinued!

9.0 was pretty tight on my 9.5 inch foot, but I wouldn't wanna try and cram em into an 8.5 cause they take too damn long to get on and off, but that being said I can keep em on for 30 minutes without too much pain so there's the possibility of a smaller size if you want your foot bound and unable to flex.

The Luchadors have a lot of padding inside and the sole is STIFF, but the precision angle of the toe and downturned edge really make em amazing for even stout overhangs.

Get em if you want a supportive and stiff shoe for those micro edges, overhangs, and any other style of climbing you can throw at em! They are really similar to the Katana laces btw.
Brent Allen
Height:
5'10"
Weight:
148lbs
Do these come with the magic eagle powers found in Nacho Libre?
Taylor Gemperline
Megan Davin
Laced version for added comfort
Familiarity:

I've used it several times

Fit:

Runs small
I've always climbed Evolv shoes so I made sure to size up as always (Evolv runs very small), but this was the first time I purchased a laced shoe from Evolv. For my foot the laced model was a lot more comfortable than the velcro version. I am able to dial in the shoes and avoid painful pressure points. The one piece tongue in this shoe is incredible and so far I am extremely happy with the shape of the shoe.
Rich F
Height:
5'6"
Weight:
160lbs
Comfortable and High Performing
Familiarity:

I've used it several times

Fit:

Runs small

Size Bought:

11
I bought a pair of these recently to fit the gap between my "climb all day" multi-pitch shoes and my super-high performance downturned bouldering shoes. Since then, I haven't worn either my "all day" shoes or my "high-performance" shoes because this pair combines the best of both those.

I can wear this pair of shoes for more than an hour comfortably and they fit me like a glove. No toe damage or numbness yet they're really precise for toeing and edging. I give credit to the excellent lacing system for making them highly adjustable and comfortable while still performing at the top level.

I have two pairs of Evolv shoes and both ran a full size small. By that I mean I wear a 10 and had to buy 11s for a good fit.
Andrew R.
Height:
5'9"
Weight:
175lbs
Aggressive, comfortable, do it all!
Familiarity:

I've put it through the wringer

Fit:

Runs small

Size Bought:

11
I wanted a comfortable shoe for multi-pitch that was still somewhat aggressive and comparable to the Muira, Anasazi, and Katana lace. I read the reviews here and decided to give the Luchador a try. I chose the lace version over the Velcro because it just felt better and seemed to edge better than the Velcro. Plus, like everyone else stated "with the laces, you can really dial these in."

My street shoe is a 10 and I settled with an 11 in the Luchador. It is nice to find a shoe that actually works for my feet. I could of gone with a 10.5 but no smaller.

Super comfy, plenty aggressive, great rubber, great edging, and confidence inspiring. Not bad in cracks either. These shoes routinely go on sale. Very reasonably priced.
Arin
Height:
5'9"
Weight:
160lbs
Edge like a Pro Wrestler
Familiarity:

I gave it as a gift but have feedback to share

Fit:

Runs small
The Luchador is an awesome shoe for those problems that have those delicate feet. These shoes have a solid rubber that will help you edge like a pro. Also the lace up take customized fit to a new level. You are able to make areas tighter in an instant. Not to mention the high rand makes it a bomber shoe to climb cracks with. If you are looking for an awesome LCC shoe this is it! Runs a bit small get a half size up.
Jane Hwang
How do these size compared to the Nexxo's? In the Nexxo's I had to get a 1/2 size up from my street shoe.
George K.
I wear a size 11 street shoe and 11's in the Luchador, Nexxo, Astroman, and Shaman's. Thus, I think you should size up a half size FOR ALL Evolv shoes if that fits well for you. With Evolv I find it's congruent to climbing to stick to one size across the line.
Jonathan
The problem pictured is a feet dependent V6. The idea is to dyno from a terrible left hand "pinch-crimp" sort of hold that's very low percentage. While the feet aren't terrible they are opposing, making the security of the shoes of the utmost importance. Its definitely a feet dependent move and I fully trust my Evolv's not to budge...

The shoes are impressive. They rarely slip while setting up to huck for the lip; a precariously dynamic move on the toes edge. With this kind of technicality and variability in a project, I always reach for my Luchador's because they're simply the most versatile shoe I've worn. The top out is a scary mantle with a heel hook well off the deck, another reason I love tying into these new bad-ass shoes from Evolv.

Highly recommend trying these! And what do you have to lose? With companies like backcountry and Evolv who stand by their gear, its satisfaction guaranteed, a decent warranty, or a replacement product/return. Bam!

Jonathan
Rad Shoes!
Familiarity:

I've used it several times

Fit:

True to size

Size Bought:

11
Evolv just sent my Luchador lace and I'm thoroughly impressed immediately out of the box. I projected an over hanging problem that tops out on technical slab and the shoes performed AMAZINGLY well for both mediums. They heel hook well, are super comfortable and amazing for precise edging. I love them!

They are slightly less aggressive than the Shaman. They are Evolv's version of the "Muira" or "Anasazi." The reviews are true. And contrary to most peoples opinions I actually find them quite stylish; ugly as hell but stylish if you want to "pop," whilst climbing...

Great shoe, try them and you won't be disappointed!

For sport and trad climbing I can only imagine they'll be great as well... The tongue is super padded for cracks and quite unique to the Evolv line.

I wear an 11 in all Evolv shoes. (Shaman, Nexxo, Astroman & Luchador) My street shoe is size US Men's 11 as well. Size accordingly.
Jonathan
Height:
6'2"
Weight:
175lbs
Comfortable Precise Edging Shoe
Familiarity:

I've used it several times

Fit:

True to size

Size Bought:

10
These shoes definitely surpassed what I was expecting; the blue stretchy material for the tongue and the footbed are both really soft and conform to the foot quickly, and the lacing allows the lateral tension of the shoe to stay snug. Pretty stiff and pointy at the toe, and the rubber is sticky enough that direct edging on any holds feel good. Downturn is very minimal; feels essentially like a high-performance flat lace up (think Anasazi Lace-up or Miura). Only detraction is that the laces get in the way for toe-hooks...but that's any lace up. Feel ideal for most sport and trad climbing, especially if you are really standing on and weighting your feet. Still soft and sticky enough for overhanging routes where you need to pull in with your toes or heel. Style/color points are all subjective (and really don't matter when you send!)
mike
Height:
5'7"
Weight:
150lbs
What's the deal with this shoe? Anybody have a review??
Derek R.
Best Answer
Only one review each on Amazon and REI, but they're both 5-stars. Worth checking out, it might help with your decision.
Angus Bohanon
I've been using the velcro version of this shoe, which may be a little different in some regards, but I've been liking them. Sizing was the exact same as the Shaman but feels super soft on the foot (not that the sole is super soft feeling, but that the lining and inner materials feel very soft). Ideal climbing scenario feels like small hold face climbing, but feels fine on steeper, more gymnastic stuff as well.
mike