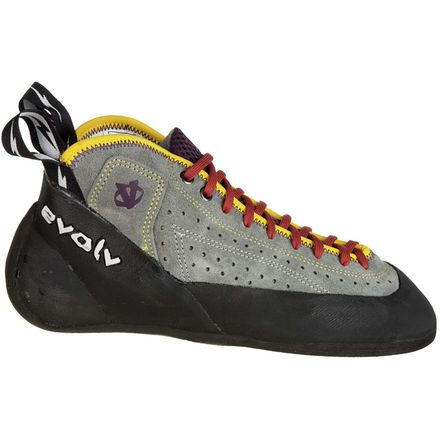 Colors

Detail Images

Videos
Climb Mars.
The Evolv Astroman Climbing Shoe's name implies sub-orbital excellence, and this shoe delivers. Although we don't actually recommend using this shoe in space, we trust that the input of trad climbing stars Peter Croft and Matt Segal means this mid-top shoe can handle any traditional Earth-based route you throw at it. The Astroman proves that you can still have ankle protection while maintaining mobility, and a comfy microfiber lining complements a rugged leather upper for multi-season durability.
To Infinity and Beyond!
Familiarity:

I've put it through the wringer

Fit:

True to size
I climb mostly in the SE with forays into the western frontier and after one re-sole in two full years of consistent climbing, I finally caved and bought yet another pair of Astromans. I have joked that these are the "poor man's TC Pros," but I believe they hold their own, on their own terms. At first they feel like climbing in alpine boots but once you break them in... oh, baby! Far from being "just a crack shoe," I have worn these for everything from my longest days in the Linville Gorge to even my hardest boulders at LRC.

Getcha some!
Chet B.
Runs small and narrow
Familiarity:

I returned this product before using it

Fit:

Runs small

Size Bought:

10.5
Assuming the shoe ran small, I purchased it a full size larger than I needed but still couldn't get my foot inside the shoe at all. I would assume that it runs two full sizes too small but wasn't able to find that size available. Otherwise, this is a great shoe; and I wish I had been able to find it in a size that fit me. Because I needed a shoe sooner than Backcountry could accommodate, I went to a different brand am as thrilled as I would have been had I been able to get this one in the right size. Maybe next time.
Michael B.
Height:
5'5"
Weight:
155lbs
Worthwhile Boot, Size Up
Familiarity:

I've put it through the wringer

Fit:

Runs small

Size Bought:

10
I've worn this shoe for most of the season in Vedauwoo, about 3 months. Thus far this is the go to shoe for any off-width crack or cracks down to fingers. Stiff sole makes heel-toes pleasant and the high top protects the ankles from the crystal lined cracks. The show does just fine in hand size cracks as well. I can really crank down on these shoes without biting pain from edges.

However, the things that make this shoe great for cracks makes them frustrating in other applications. The stiff sole prevents the sensitivity you would get from a moccasym or a mythos, which makes delicate smears and balancey moves feel even more tenuous. It may be selective perception, but I swear that my Mocc's grab everything better than the Astroman's.

Finally, the fit. True to other reviews this shoe fits small. I'm normally a US 9 for climbing shoes and had to settle for a 10 in these. I have wide feet and found that the size 10 accommodates my feet nicely, but if I had to choose again I might pick up a 9.5. The shoe is NOT comfortable after an hour and tends to bite down on the big toe where the rubber meets the leather upper. This may be unique to my foot profile, but it becomes debilitating after a while and makes even easy heel-toes quite painful.

Overall, a solid shoe for cracks and trad. Stiff sole keeps the shoe from flopping at the cost of limited sensitivity. Smaller feet may do better in these.
Wilbs
Height:
5'7"
Weight:
170lbs
runs small...
Familiarity:

I've used it once or twice and have initial impressions

Fit:

Runs small

Size Bought:

10.5
I am a 9.5 length and a C width according to those foot scales, I wear size 10 - 10.33 mountaineering boots (Salewa Pro Guides, Scarpa Rebels) and have worn either size 9 or 9.5 rock shoes (5.10 Spires, 5.10 Rogue) but I ended up in 10.5 in these! I had to order 3 separate pairs. Will update after I get a bit more experience in these....
Michael S.
Height:
5'10"
Weight:
190lbs
Unanswered Question
Have any women used this shoe? Will it be too wide for a women's foot?
Christy L.
Wicked good
Familiarity:

I've put it through the wringer

Fit:

True to size

Size Bought:

13
I got these about 3 months ago, and use them 6 days a week. If you want aggressive, soft shoes, turn away. If you want a shoe that you can dance up the cracks with than get these.

It took me about a whole 2 weeks or 12 2 hour sessions to break these bad boys in, but now they got an amazing suction cup feel and are fun to use. I down sized from wearing a street shoe 14 to a 13 in these and don't regret it, my toes were not used to it at first but now I got 2 hours straight with them on and some days at work I have them on for 3 when setting. So they do take some time to break in but they are comfy.

The Trax rubber is still goo on the rock or at the gym, smearing is great and edging is good.

If you have a wider foot like me, the split tongue design does help make the shoe a little less painful.

Overall a great stiff shoe, does well out side and at the gym.
Josh R.
Height:
6'1"
Weight:
225lbs
runs small
Familiarity:

I returned this product before using it

Fit:

Runs small

Size Bought:

12.5
Seems like a great shoe and it has a nice comfortable fit but definitely runs a small. I'd get a half size larger than you had planned
Eric W.
Height:
6'4"
Weight:
180lbs
Sorry Evolv, you don't get this one...
Familiarity:

I've used it several times

Fit:

Runs small
I LOVE EVOLV PRODUCTS!

However, this shoe did not work for me...

I used them several times both inside and out and the hot spots simply wouldn't cease reeking havoc on my feet. Specifically the heel of the shoe. Evolv put a padded liner in the shoe that is supposed to aid in protecting the achilles heel, but I found this "feature" to be uncomfortable and awkward. The spot creates friction where the heel rests on stitching, eventually leading to sore spots, blisters, etc.

Also, the flat foot and flat arch was extremely uncomfortable as well. I sized correctly as I only climb in Evolv shoes. I wear an 11 in Shaman, Luchador, AND the Nexxo. These weren't for me!

True to size and color for Evolv as seen on B.C. website.

Thank you!
Jonathan
Height:
6'2"
Weight:
180lbs
Cracks for days
Familiarity:

I've used it several times

Fit:

True to size

Size Bought:

11
I got these because I was spending more time climbing trad and wasn't happy about all the wear I was putting on my high precision and price sport shoes, not to mention the fact that I liked to have my toes not be in complete agony after 30 feet of climbing. I've been wearing them for about a month and I'm thrilled, the suede leather and stiff shoe makes these great for standing in hand cracks and heel-toes like a champ. In smaller cracks, I've found that the wide toe box and thick rubber allows you to torque just the rubber pretty well into finger cracks without really crushing your toes. It's sort of hard to describe but it works well. The shoes edge adequately, but the toe profile makes it hard to feel really precise with the footwork. The stiff shoes make it easier to stand on small (but not microscopic) edges, and as they have loosened up the sticky rubber makes them great to smear on. These shoes are much more flexible than I would have thought based on other reviews.

My only complaint about the shoe is they're meant to accommodate a wide foot, and where the front of the shoe comes together it puckers into a little ridge when I cinch down on the laces. This ridge is wearing away rapidly but won't affect the rest of the shoe as it tears off I don't think. The rest of the shoe seems really durable so far. I purchased a size 11, and wear a 10.5 street shoe. It was pretty uncomfortable for about a week, but now it is comfortable enough to wear pretty much all day. I might have gotten a 10.5 if I wanted more technical fit, but the 11 is still plenty snug and I appreciate the comfort.
Ethan Chaleff
Height:
5'10"
Weight:
163lbs
Evolv Astroman Climbing Shoe
Grant Kates
Crack. Crack forever.
Familiarity:

I've put it through the wringer

Fit:

True to size
These are excellent shoes, especially for people with wide or splaying feet! Thus far, I have used these at Indian Creek, Vedauwoo, and the Front Range (Lumpy, Eldo) for the most part. The padding and stiffness is absolutely stellar for a long day of crack. I do not feel limited by these shoes whatsoever. They even perform beautifully on thin, crystally edges for which I'd normally reach for my anasazi's. They are very very stiff (board lasted) which takes getting used to if you've been using only flexible shoes. Apparently, though, board lasted shoes are much more resilient after being resoled (just what I've heard from shoe-guys).



The laces are total crap. I replaced them after a week at the Creek (which, in their defense, is pretty rough on shoes). I'm just now getting these resoled after climbing on them for about 4 months (used them at least once or twice per week and on a few longer trips, as well as the training cracks at the gym). The rubber has seemed to wear out a bit quickly, but I'm hoping some stealth C4 will solve those problems.



In terms of usage, I think these excel on thin edges and any type of crack. I especially like them for vedauwoo, as they protect my ankles and heel-toe like nothing else. They are a bit tough to get a lot of rubber on smearing, but I still feel confident doing so. They do have a bulky toe profile, so they don't really fit in thin cracks (I start feeling very shaky trying to shove them in anything smaller than a # .75 C4).



TL;DR: Great shoes, especially for wide feet. Will up your game in cracks, especially painful ones. Replace the laces ASAP.
Dscott
Sizing issue, but, overall awesome.
Familiarity:

I've used it several times

Fit:

Runs small
I had to size up 1.5 sizes. I wear a street shoe of 11.5, and ended up with a size 13 in this model. By comparison, I wear an 11.5 in the Scarpa Helix. And, no, the size 13 Astroman is not too big. I have had to purchase three pair, an 11.5,12 and finally a 13. Great shoe though, love it.

To my knowledge, the only shoe in the same league is the Boreal Golden Slipper. Those, however, are very difficult to procure in the U.S. right now.
David L.
i want to cancel my order how do i go abou...
i want to cancel my order how do i go abou that.


Robert L.
Best Answer
chat with a gearhead
Nick B
Jonathan
Looking at getting a pair of Astromans but...
Looking at getting a pair of Astromans but not sure on sizing... I have a 255mm length foot which is fairly wide and a thin heel/ankle. Are they true to the Evolv sizing on their website or should I size up or down?
Jason
Best Answer
Jason,

The sizing runs a bit tighter than other brands but is consistent with Evolv's sizing chart. For general all-day trad climbing purposes I'd recommend the US 9 as the shoes do stretch slightly over time, but the lacing system allows you to dial in the fit very well.
Micah Lewkowitz
Awesome Trad Shoe
Familiarity:

I've used it several times
Ive been climbing in the Astromans the past week. This is an awesome all day trad shoe. I wear an 11 - 11.5 street shoe and bought a 44.5. The 44 was too small. They are a nice stiff shoe but very comfortable, slightly stiffer than the TC Pros. They have stretched about a 1/4 size so far. I just crank down on the laces a bit more then when they were new. My feet are average width and find the Astromans are not too narrow and not too wide.



I wish Backcountry would list the EU size next to the US size...
Matixsnow
All day beast of burden
Familiarity:

I've used it once or twice and have initial impressions
Stiff, comfier last, great lacing system, ankle protection. Great shoe for all day climbing, I sized them a touch tighter so i can stand on granite dime edges with them, but the last is for comfier orientation of the toes, not as crammed tight. For comparison, they felt as easy to get on as my .5 size larger geshido lace ups. I am anticipating a fair amount of stretch because they are all leather. I will update this as I wear them more and more and keep you posted, but this is my first impressions.
Evan Stevens
rad trad
Familiarity:

I've used it several times
waited a long time for these to finally be out. Couldn't be happier with the fit and performance. all day comfort, sized my street shoe size. Perfect for trad climbing and long routes. Sticky and made really well.
jones mcghee