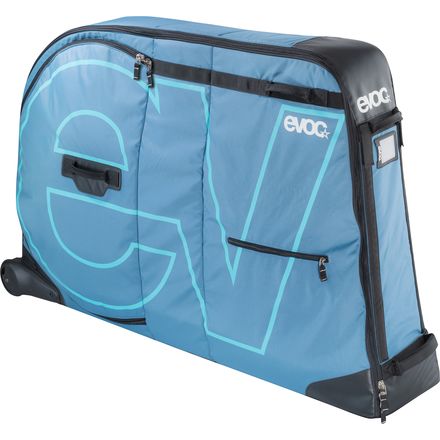 Protection for your most prized possession.
Anyone who's traveled with a bike has their share of horror stories — broken frames, misplaced wheels, cases left unzipped — not to mention the general unwieldiness of traveling with a bike. The Evoc Bike Travel Bag solves for most of these common issues, starting with its construction. Evoc found that the levels of protection offered by a hard case vs. a soft case were profoundly different until the cases were loaded with heavy items not typically encountered in airline travel, so it opted for a soft case for maneuverability and malleability.
To pack the Evoc case, you remove the wheels and loosen and turn the handlebars. Padded straps hold the frame and fork in place, and separate wheel pockets, integrated into the case, hold the wheels. The Bike Travel Bag also features a variety of handles in intelligent locations to make hefting and moving the bag easier, and there are also inline skate wheels for when you're running through the airport to make your flight. The Evoc Bike Travel Case will hold 29ers, TT bikes, road bikes, and cyclocross bikes without batting a proverbial eye, though Evoc recommends using its separately sold Road Bike Adapter if packing a skinny-tire bike.
Soft case
Remove bike wheels, turn handlebars, and you're ready to go
Inline skate wheels
53.2in long, 31.5in high, 15in wide
Great Value
Familiarity:

I've used it once or twice and have initial impressions
I used this bag for a trip to whistler last fall. I fitted a large 27.5 downhill bike no problem; as well as essential tools, pedals, pads, cheap floor pump, and shoes; under the weight limit. It did great and only shows wear in the corners of bag where the end of the frame/fork was pressed against the wall a bit. The bike was protected well as it showed no signs of wear and nothing seems to move or shift. I did not remove my rotors from the wheels and they were just fine. I only removed the stem from the fork and adjusted my controls so they would not rub anything. Also, I did not remove my derailleur. The bag wheels around just fine given the weight and shape. For short hauls between transportation its great. Especially if you keep the weight rearward and low. For long hauls (several blocks) its not bad but anything like that is gonna be a hassle. I used a small bungee to hold my tool bag and shoes between the rear lower stays. I used my knee/shin protectors (soft) strapped to the side of my fork stanchions for extra protections. Also, I used my elbow guards (soft) strapped to the side of the top tube/seat tube junction for additional protection and support for when it would be on its side. I put the pedals in the zipper pouch and the pump squeezed flat in between the foam block base and the fork lower perfectly. For the next trip I will put a small pad at the corners of my fork lowers and rear stays on the bike. This was the only damage to the bag and could have been avoided. I would say this bag is a 9 out of 10 for value. It has all the features you need and none you don't. If you pack smart and plan smart it can be the perfect bag for you.

David M.
Easy to pack, easy to re-build
Familiarity:

I've put it through the wringer
The Evoc bag is an awesome travel tool! It clearly defines how I should break down my bike, and where each part can be safely stored in the bag. Despite airlines making travelers sign a liability waiver if your bike isn't in a hard case, I have never had a problem with this case. It is also easy to maneuver as the handles are well placed around the bike (even for my t-rex arms) and the double wheels gives the bike extra balance when it's rolling.
Pip Hunt
Best Bang for the Buck
Familiarity:

I've used it once or twice and have initial impressions
I will admit, I have seen a few bike bags that I like more, but they also cost a great deal and I do not fly all that often. Up till this bag I would just rent wherever I went, but now I can fly with my bike and shred new trails on a bike I am familiar with. If only the airline bike fees weren't so expensive.
Forrest
Does the job, for a while, but flimsy
Familiarity:

I've put it through the wringer
I've used this bag for about 4 years now - it's done 6 international/intercontinental trips and probably a dozen domestically within the USA, and it's due for retirement.

PROS:
- Decent protection for minimal bike disassembly. You do want more padding than what is provided but that's easy enough to do.
- Easy enough to carry around and jam into rental cars.
- Easy access to all areas for yourself and nosy TSA agents.
- Good protection between wheels and frame.
- Good handy pockets for stashing tools and parts.
- Plenty of space for packing other gear around it.
- Easily packed down to get out of the way in a car or hotel room.

CONS:
- It's heavy, but comparable to other products out there.
- It's FLIMSY. This version will lose its shape after the first trip or two, and just become a giant pile of jello when there is no bike in it. It becomes quite unruly to drag around and store and a real pain in the A to work with.
- It will start to fall apart - more the fault of the airline handlers than the manufacture of the bag.
- Almost no protection of rear mech - a decent whack at the rear of the bag and you're impacting right on the rear D, hanger, brake etc. I always remove it to keep it safe.

All in all, decent bag, you'll get a few years out of it and then need a new one, but it's priced accordingly. I'd spend the extra money and get the Pro version as that seems a bit stiffer and like it will hold its shape more over time.
T-Rex
Unanswered Question
Does this come with the frame protector to hold your bars or do I have to order that separate?
Ryan L.
Unanswered Question
Hello - does this case fit 3 inch plus tires?
Eric S.
Great travel bag, but HEAVY!
Familiarity:

I've used it several times
At a claimed weight of 19lbs (mine is closer to 21lbs with the additional padding included) it doesn't leave much for a bike. Only my super lightweight carbon roadbike + this bag make it under airline weight restrictions. Add my 29" or downhill mountain bike, and BOOM, you're overweight.

Pity, cause otherwise this would be the perfect bag.
Ryan C.
Peace of Mind!
Familiarity:

I've used it several times
Looking for a bag i was a little skeptical about my bike fitting. Using an xl Santa cruz hightower with plus size tires i was very pleased when my bike didn't have any issues and it fits like a glove!

Before purchasing this bike i used a cardboard bike box once and my bike was damaged big time even with a large amount of bubble wrap. I have now flown with my bike several times in the evoc bag and have had zero issues whatsoever! It takes about 15 minutes to prep and pack the bike and i am very comfortable knowing my bike is packed safely in the Evoc. There are several straps to make sure the bike is secure in the bag and there is extra padding in delicate areas of the bike. I would definitely recommend this to someone who travels with a bike!
Judd Collier
Never leave your bike at home
Familiarity:

I've put it through the wringer
After trying a couple bike travel cases I decided to just splurge and go with the Evoc. It was well worth it. So far it has traveled to South America, Alaska, Canada and small trips around the United States.

The upright design makes walking around the airport with other bags super easy. There are also handles absolutely everywhere on this bag so it is easy to pick up and move around.

The bottom of the bag is hard and the rest is pretty soft so the top rolls down for easier storage.

Packaging the bike is super easy. I still found I took a lot of parts off the bike to protect them and wrapped the carbon frame and parts but they were able to stay connected to the bike and upright. I had my rotors get bent so I remove those now. Overall it doesn't take that long to take the bike apart and put it back together. After the first try it was pretty easy from there on out.

Overall I love this case. Plan to use it for many more adventures!

If you want to take road bikes there is an aluminum road stand that works with this case as well.
Christine D
Excellent bike travel bag
Familiarity:

I've used it once or twice and have initial impressions
Easy to assemble and break down for storage.
The Danny M colours look great
Travelled return with an AL full suss size L MTB. No problems packing it. I did use some extra bubble wrap, foam and cardboad just to be safe. Also plenty of room for a FF helmet, 5 10 shoes, riding kit, tools, shock pump and floor pump. Easy to haul through the airport, easily fitted two of these + two suit cases in the back of a Ford Edge SUV.
Just remove wheels and bars, plenty of straps to secure it. There is a video. Note I believe that you need some sort of adaptor for a road bike.
Padraic B.
Listen, nothing is airline proof. However, this one does pretty well.

Is it a hard case? No, that's why I can't give it 5 stars. However, it is super easy to use, and, lightweight for those on the move. In my experience, ts security checks that scratch/damage bikes on the repack anyways. Not whether its soft/hard.

Great case, 4 stars
Ryan Kiel
I'd like to know how small a road bike this can fit and still have all the Velcro points line up. (I have an XS Public R24, sized for shorties between 5'-5'3"-they don't list a cm size, but it's a tiny bike.)
Laura F.
Best Answer
Laura, the velcro may just meet the frame at a different location. But this bag should work with all frames sizes.
Sean Zimmerman-Wall
Very good case
Familiarity:

I've used it once or twice and have initial impressions
I used to have a Trico IronCase, and while it was bulletproof, it was also a royal pain to pack. I was hesitant to switch to a soft case until a well-traveled buddy pointed out that his bike is always loaded onto the plane last because they can't stack anything on top of a soft case. And the EVOC packs SO much easier than the Trico. I can fit my medium Tallboy LTc (29er) in it easily after just lowering the dropper post and removing the handlebars, pedals and wheels. I do have to let air out of big tires (29 x 2.35) before the zippers will close on the wheel pockets, but you can literally pack your bike in 10 minutes in the parking lot using one wrench. I've only used it on one cross-country trip, but the bike was well-protected and came through unscathed. Oh - and the wheels and handles make it a breeze to move around too (given its size, anyway).
Jon G.
well designed bike travel case
Familiarity:

I've used it several times
I have used this several times to transport my road bike. Well-designed well padded. Pretty quick and easy to assemble and disassemble. Good framework to hold the bike. Tighter fit with my mountain bike.
Jim Holland
Best travel case
Familiarity:

I've put it through the wringer
I travel a lot with my mountain bike (womens large frame, 29"). There is nothing more annoying than schelping a cardboard box around an airport. But this bag solves that problem. I can pack my bike in the evoc bag in less than 15 min. I've flown all over the globe with it and never had issues with it getting banged up or crushed during transportation. There are wheels on one side and strategically placed handles that make pushing it around really easy. There's enough room in the bag to store helmet, shoes, back pack etc w/o risk of crushing the bike. Highly recommended for any traveling biker!
rory bosio
What is the real weight of this? I want to make sure its really 18 lbs. Airline has a 50 lb limit and DH bike is a pig. Thanks!
Jonathan L.
Best Answer
Hey Jonathan,



The real weight is 8500 grams or 18.74 lbs. according to EVOC's website. Feel free to shoot me any additional questions directly on bike travel bags.



Kyle

Expert Gearhead

klivingston@backcountry.com

801-736-4337




Kyle Livingston
Nice bike bag
Familiarity:

I've used it once or twice and have initial impressions
Bought this bag to transport my bike to RAGBRAI. This is my first bag. I did quite a bit of research and decided on this one. Bought it during the Giro so got a great price. I watched a few YouTube videos and it worked out perfectly. Very easy to pack and seemed secure and well protected. I did use a lot of bubble wrap and it came through both ways without a scratch. I love that it is so light and packs down so small when not in use. Highly recommended. Seems crazy though to have to buy an extra adapter in order to use it for a road bike.
whaleman
Flimsy
Familiarity:

I've used it once or twice and have initial impressions
Got this bag online and when it arrived knew it just wasn't going to be enough to protect my very expensive KONA bike on a trans-atlantic flight.



And guess what? I was right! Bag was ripped when I arrived and bike frame was scratched.



Got a Scicon now, much better quality and protection.
Hilarie
Great Bag
Familiarity:

I've put it through the wringer
Purchased in June 2104 and have logged 18 flights since(3TransAtlantic). Used it for a trip to the 2014&15 L'Etape du Tour and the Netherlands. This bag does it all, easy to handle to/from/in airports, handles in all the right places, and the learning curve on the breakdown for packing got shorter each time to where i could complete in under 15min. I would recommend both the Chain guard and optional stand as the former makes it worry free to add additional items to the bag and the latter just makes the whole process easier. I only give 4 stars because the stand is not included and should be.
bikepracticer
Excellent bag overall
Familiarity:

I've used it once or twice and have initial impressions
I bought this bag to get my bike to Iowa for RAGBRAI. Did a lot of research and this one got great reviews. I liked that it folded down to a reasonable size when not in use. I watched a few YouTube videos on how to load the bike and they were very helpful. I was nervous about taking the bike apart and loading it, but it was surprisingly easy and went very well. This is a well designed bag so everything goes in according to plan. I got my bike to and from the ride without any damage whatsoever. The only reason I gave it only 4 stars is because the piece that comes with the bag that is supposed to drape over the top bar came no where near fitting my bike. I am tall and ride a 61 cm frame, but this was not even close. I can't imagine why they wouldn't make it a little larger so that it would work on all bikes? Also charging extra for the road bike adapter seems unreasonable for a bag at this price point. It is a great bag and I feel it does a good job of protecting the bike though, so I would definitely recommend. Two of my friends bought the same bag (at my recommendation) and they are both also quite happy with the purchase.
whaleman