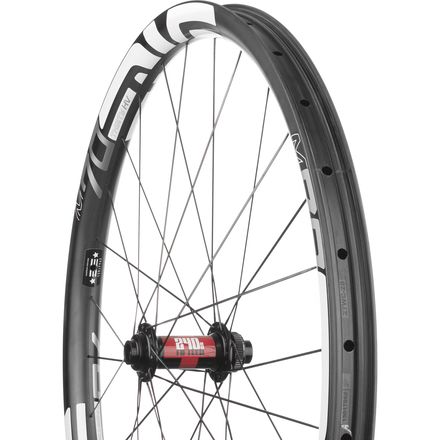 The carbon hoop for enduro devotees.
For those of who believe the toughest climbs pay off with the most rewarding descents, behold the ENVE M70 Thirty HV 27.5in Boost Wheelset in all its rigid, lightweight glory. On the 27.5 M70 Thirty rim, ENVE expanded the internal width to roughly 36mm, which offers a sturdy profile and allows you to run wider tires with maximum volume. The M70 Thirty rim has also been redesigned with a hookless bead, which allowed ENVE to save weight while reinforcing critical areas for improved impact resistance. The result is a lightweight carbon wheelset that is redefining what it means to provide a stable and responsive ride.
This wheelset also comes equipped with the reliable Boost hubs, which will help you make quick work of the most technical, craggy ascents. The lightening-quick DT Swiss 240 star ratchet also features a small engagement angle to ensure you get the most power out of every pedal stroke.
A wide-rimmed wheelset for aggressive enduro runs
Rims fit plus-sized tires for ultimate traction and cush
Peerless carbon construction embarrasses alloy wheels
Hookless bead increases strength and reduces burping
Hub spacing boosts stiffness for tracking and pedaling
Eliminating post-production drilling increases rim strength
DT Swiss freehubs are the standard for durable bling
ENVE continues to serve as the cycling industry's signpost
Very strong, quality wheel set.
Familiarity:

I've put it through the wringer
Put these on my Pivot Mach 6. Not much lighter than then wheelset that came on it. Massively stronger though, very noticeable in the berms. Incredible price from Competitive Cyclist.
Randy P.
Unanswered Question
Can you state the weight of this wheel set? Also, what spokes are used? Thank you.
Aaron Paul
Totally awesome!
Familiarity:

I've used it once or twice and have initial impressions
Just had my first ride on these guys today. What a difference! I felt like I could motor uphill a little bit easier because of the stiffness and the lower rotating weight. I'm fat and slow so I had time to think about that. Downhill was awesome too. I don't feel like I got bounced off line or any of the other complaints I read about in the online reviews. The ride was not harsh at all. I felt as comfortable or more comfortable on these guys. I definitely could track better in bermed turns and felt more solid and in control at my little jump park. I'm looking forward to getting more time on them.

I ride a 2016 Santa Cruz 5010 C. I upgraded from the stock alloy 24mm internal width rims. Running 2.4 maxxis highroller 2 front and rear. I did 20psi front and 25psi rear. I'm about 240lbs with camelpack and am not fast or elegant with my line selections (though I felt a little more of both today).

I agonized over mounting these or sending them back because they are pricey and conspicuous. After a week of looking at them in box in my living room, I'm really glad I mounted them and ran them. I read every review and comment board available about these things and just decided to take the plunge.

Like Ferris Bueller says, "if you have the means, I highly recommend picking one up."
Christopher D.
hey there is this the wheel set with the new 'rim tape' to eliminate pinch flats, or is that why they are so heavily reduced???
jimmy
Yep, they're the version before the newest M730/M735s so they will not have the protective rim strip.




Tommy Liao
Are these 28 or 32 spoke wheels?
Tom G.
Tom G.
I had the same question, they told me over the phone they only stock the 28 spoke versions as ENVE doesn't make large quantities of the 32. From what ive been told the difference in stiffness/strength is only about 15-20%, and given how strong they are already you wont gain any benefit unless you're doing serious downhill riding.
James
Incorrect info in the writeup
Familiarity:

I've used it once or twice and have initial impressions
Competitive Cyclist, you have your information wrong.

You claim "The internal width goes from 25 to an almost comical 36mm to allow for maximum volume while running 2.4 and 2.5in tires."

The regular M70 has an internal rim width of 25mm. The M70HV has an internal rim width of 30mm--not 36mm as you describe. You need to check your copy and update this post.
James B.