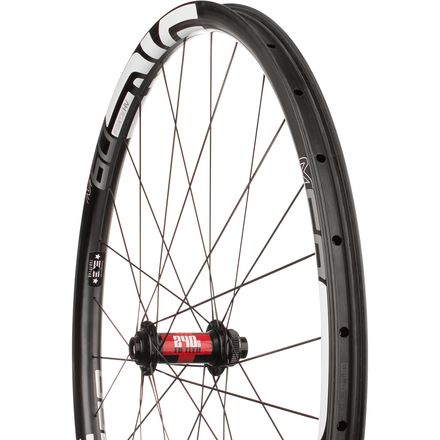 Colors

Detail Images
Bigger and better.
ENVE's new M60 Forty HV 29in Boost Wheelset provides the perfect balance of lightweight speed and beefy impact resistance, making it the do-it-all option for rowdy trail riding. For the M60 Forty HV rim, ENVE expands the internal rim width to roughly 26mm, which allows you to run 2.3 and 2.4in with more stability and improved cornering performance. ENVE also constructs the rim with a hookless bead for improved impact resistance and longevity. This also allows for a seamless tubeless setup and reduces flats and burping when you're running lower tire pressure. To boot, the M60 Forty HVs are made ENVE's Smart technology, giving it one the highest strength-to-weight ratios on the market.
ENVE laces the M60 Forty HV rims to the burley Boost hubs. The lightening-quick DT Swiss 240 star ratchet also features a low engagement angle, turning technical ascents into a breeze by ensuring a virtually immediate response the moment you press the pedals.
An ambitious wheelset for mid-travel 29er trail shenanigans
Generous rim width for plush traction and low PSI
Peerless carbon construction embarrasses alloy wheels
Hookless bead increases strength and reduces burping
Boost hubs address worries of wagon wheel noodliness
Eliminating post-production drilling increases rim strength
DT Swiss freehubs are the standard for durable bling
ENVE is the first—and last—name in reliable carbon construction
Great Upgrade
Familiarity:

I've used it several times
I finally pulled the trigger on these when CC put them on clearance to make way for the 2018s. I read all the glowing reviews but was still skeptical they would make a noticeable difference. I'm no longer skeptical and I'm so glad I invested in these awesome hoops.

I replaced the set of RaceFace Arc 40s / DT Swiss 350s that came with my 2017 Santa Cruz Hightower. I had no complaints with the Arc 40s at all, they felt super bomber - BUT - these M60 Fortys really give the bike such a lighter and improved feel. They climb better, they corner well, they feel so nicely balanced for all of my trail and cross country riding. I've pushed them up nasty loose stuff, through some classic cross country flow (my favorite), and down some rocky, nasty drops where I'm still finding my way with the new bike. The wheels have been pure goodness throughout. No pinches, no shots to the rims or tires, no problems at all. I feel no qualms taking them anywhere. Can't wait to push them even harder on race day or for anything like enduro or downhill.

No regrets. Not just bling for the trailhead, a great upgrade for your ride. Invest and enjoy. If you hate the matchy sticker trend as much as I do, take those decals off and ride with a wide smile on your face.
Stephen Novy
ENVE All Day!
Familiarity:

I've put it through the wringer
I have been riding these wheels for the past 6 months on my Santa Cruz Hightower, and could not be any happier!

The wheels have done everything I have asked of them, and have yet to flinch! I have used them when riding the lifts at Deer Valley and all-around XC riding. I keep them air up to 22-24lbs front and 24-25lbs in the rear, and no pinch flats, no rim dings, or burps after a full-season of riding.

The only issue I had was the rim tape pre-installed from ENVE wasn't allowing the tire to maintain air pressure. I ended having to rip off that tape and replace it with some Stan's tape to seal the rim. Aside from that the wheels have performed better than any expectations I had of them.

If you are looking to make a change, look at installing a set of ENVE wheels and changing the ride for the better!

Please reach out with any questions you have about any ENVE products.


Scott Golsan
The best money you can spend
Familiarity:

I've put it through the wringer
There are no-brainers, and then there are no-brainers.

Right off the bat, there is simply no upgrade one can to their bike that has such a profound impact on overall ride quality, nor such a profound impact in terms of dollar-per-upgrade - WHEELS. Nothing can improve (or torpedo) your ride like wheels can. That's no-brainer number one.

No-brainer number two is these wheels at THIS PRICE. You would be completely nuts not to take advantage of this incredible pricing right now to get what are literally the best wheels money can buy.

ENVE created this market, then the normalized it and now they have entrenched it, and there is a reason. They back their stuff up not only with their mouth, but with their product.

I'm a big guy (225lbs) and this is my second pair. The last ones, I sold on my 27.5 bike because I know I'll stick with 29 from here on. As such, I had about a month on the stock wheels before I put these on, therefore I had a direct comparison.

To say that I was shocked would be an understatement.

First, let's just get this out of the way. I took some RaceFace ARC 24/DT 350 with Maxxis Ardents OFF the bike and put these wheels with 2.35 Maxxis Ikons on and DROPPED 1.5lbs.

Second, oh my goodness, the ride quality. That's where it really is. These wheels are so stiff, so snappy and so damn light, it's just an utter pleasure to ride. These wheels literally have no fault - they are absolutely BOMB-PROOF and they reward the rider for absolutely slamming them into corners and controlling the bike. Your wheels become a solid part of your bike that you rely on - no longer something that you have to "manage". It's almost like they brighten up the fork and the frame.

It doesn't matter if you don't race, it doesn't even matter if you aren't even fast (I'm neither).

If you love to ride and you have a job, then just get over it real quick and get yourself a pair of these. They just make everything about riding that much better, and if this is what you do, then why wouldn't you make it as good as possible for yourself?

Yes - you will have that one friend who is faster, and he'll probably make fun of you for having such "overkill" wheels. But you know what? He's not having as much fun as you are on the bike and his spouse/partner probably belittles him the second he walks in the door, hence him taking it out on you.

Seriously, just get a pair. I can promise you that you will not regret.

Obviously the best decision ever.

And don't forget to re-tune your suspension (ie. soften it) after you put them on. Yes, that much of an effect!
CHRISTIAN L
Unanswered Question
Are these 32H spoke count?
bri105208262-0
Stellar Review by Teton Gravity
The short of it is that Enve wheels deserve their hallowed reputation. They change your ride as much as they change the aesthetics of your bike. They are absolutely bomb proof left, right, and sideways, and the difference they make in trail speed is plainly evident. They require an active, aggressive pilot to match the belligerent style of riding they inspire, and don't like to bother with the lazy or timid.

https://www.tetongravity.com/story/bike/teton-tested-enves-ballerific-super-stiff-m60hv-wheelset

Peter N
Get ENVE'd out, I'm glad I did!
Somehow the engineers at ENVE have figured out a way to make their super stiff layups amazingly comfy. These rail the corners, cut out excessive vibrations, totally bomber! The wider inside dimension opens up your tires allowing for more/better grip, and lower pressure which further transforms your riding pleasure. I feel way more confident in descending at speed. Paired with DT Swiss Boost hubs is a match made in trail shredding heaven. Plus they are made in the good ole USA, which is always a bonus. ENVE's warranty is second to none. Pull the trigger on these bad boys...do it!
Cam Christensen
ENVE M60 HV: Trail Strong and Race Ready
Familiarity:

I've put it through the wringer
ENVE knocked it out of the park with the M60 Forty HV 29" wheels. Stiff enough to be pushed through rougher terrain while still proving to be light enough for race day. The HV option offers a wider internal width that helps increase tire volume and adds sidewall rigidity to your MTB tires.



What does this offer for the rider?



- Increased traction by allowing the tire to be ran at a *slightly lower* PSI.

- Improved sidewall stability, reducing tire fold and burping.



The addition of Boost hub spacing this past year allows for the 29 inch wheel to perform as well as a smaller 27.5" wheel in terms of torsional stiffness.

If you have any further questions about ENVE Mountain wheels or are looking to purchase, feel free to reach out to me directly. I would be happy to help!



Trevor Linthorst – Customer Account Manager, Bike Expert

P: 801.204.4563

E: tlinthorst@backcountry.com


Trevor Linthorst