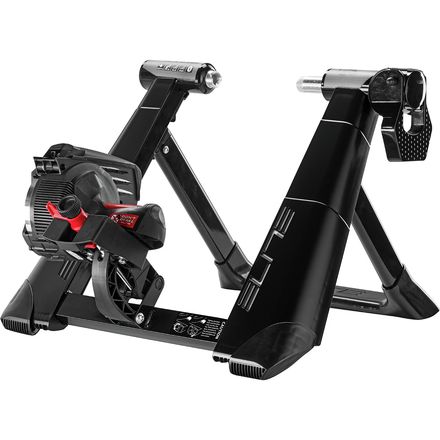 Colors
Novo Smart Interactive Trainer
We're stating it here now: if you don't have an interactive trainer, your indoor cycling is off the back. Trainers have gotten increasingly intelligent, and their ability to communicate wirelessly with a suite of devices and apps makes indoor cycling fun and effective and if you want in on the fun without breaking the bank, we present the Novo Smart Interactive Trainer from Elite. Its easy-to-use and features dependable construction and wireless integration for virtual training app compatibility so you can pedal consistently through those harsh winter days and come out faster in the spring.
Whether you're working with a dedicated training plan or prefer your workouts to consist of racing your friends on a virtual course, the Novo Force's adaptable resistance settings, controlled by a magnetic resistance unit, accommodate everything from intervals to long, slow endurance days. The trainer's steel and plastic construction provides a stable ride, even as you up the intensity, and your rear wheel stays anchored by a 30mm elastogel roller.
Elite made this support system adjustable to allow you to maintain ideal pressure between the roller and tire. If you're traveling for business or upcoming races, the Novo Force quickly folds up to allow for easier transportation, and it secures your bike quickly using a simple clamp for pre-race warmups.
Stay in shape this winter with this folding trainer
Simple, straightforward design is convenient for travel
Interactive resistance settings adapt to a range of workouts
Accommodates wheel sizes from 24 to 29 inches
The stable design doesn't shift during high-intensity efforts
ANT+ and Bluetooth signals allow you to ride with virtual training apps