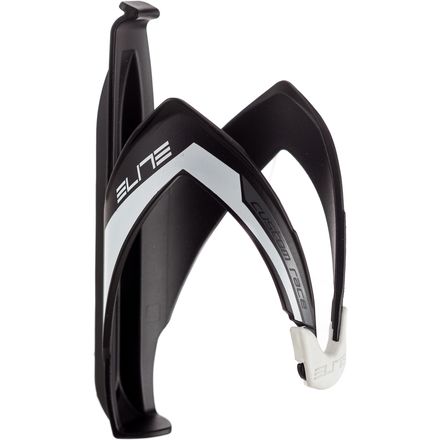 Colors
Grip it and go.
Elite's self-adjusting Custom Race Water Bottle Cage lets you focus on the road rather than fighting a poor bottle/cage interface. Constructed from fiber-reinforced polyamide makes for a light and durable bottle cage.
The key part, however is an elastomer rubber that allows the Custom Race to not only expand, adapting to different bottle shapes, but it also absorbs vibration too. The Custom Race Water Bottle Cage comes in White/USA Graphics, White/Italian, Gloss White/Blue, Chrome White, and Chrome Black.
Simple bottle cage. All black looks nice on my bike. Never lost a bottle. Easy to get bottles out to drink.
Taylor
Mix N Match
Familiarity:

I've put it through the wringer
I actually have this cage mounted to the Downtube of my road bike, and the Elite Cannibal cage mounted to the seat tube. Both cages do a fantastic job of holding my bottles, I feel like the fit of a Camelbak bottle is pretty tight, maybe a tad too tight if I am going to really pick apart the little things. But this cage holds Elite bottles, and my Specialized made Purist bottles perfectly. Not too tight, not too loose. I would recommend the Cannibal cage for mountain bikes and otherwise tighter spaces due to the ability to pull bottles out of it at more extreme angles.
Forrest
Works Well, Looks Good until it doesn't
Familiarity:

I've put it through the wringer
I have used a pair of these on my road bike for several years. I have never lost a bottle. They are durable. I chose them for aesthetic reasons and they looked good at first. But the plastic graphics wear out and they start to look ratty after a season.
Chauncey W.
Holds the bottles tight!
Familiarity:

I've put it through the wringer
I have used this bottlecage on my road bike and mtn bike for the past 2 years. These things really grip well with the design along with the little bit of rubber pieces. I have ridden lots of gravel roads on my road bike and have never lost a bottle (knock on wood).
Wil Gavato
Holds tight, looks sharp.
Familiarity:

I've put it through the wringer
I am not a weight weenie. My requirements of a great bottle cage are as follows: hold water bottle (check), look good (check). You won't find this in the pro peloton, but you probably won't find yourself there either.
Josh Spongberg
Great looking and work good. A little tight fit with my Camelback Podium bottles, but still works great.
Charissa Olsen
Industry Standard
Familiarity:

I've put it through the wringer
For me, the is THE bottle cage. It's light enough, I mean...it's a bottle cage. If you're looking for a few less grams get a haircut. It's durable and stylish, and comes in so many colors it would be hard not to find one that matches your bike. And of course, the price is right.
Marco P.
kinda brittle, but works
Familiarity:

I've put it through the wringer
I've used them for years. Honestly I'm a bigger fan of the Arundel. It's a better design and more durable but these are more attractive so take your pick.
Robert Smallman
Inexpensive, holds small or large bottles firm without being a pain to get in and out of. Excellent value.
Trevor J
Good but heavy.
Familiarity:

I've used it once or twice and have initial impressions
At over 40g this is the heaviest bottle holder I've seen. Quality is good but weight weenies should avoid.
Joseph G.
Keeps your water upright
Familiarity:

I've put it through the wringer
Put this on my girlfriends bike. it matched her saddlebag, go figure. Anyway it does a nice job of keeping her water bottles from rattling around, even with their differing diameters. All in all a nice water bottle holder that does it's job and more importantly matches your saddlebag.
brandt