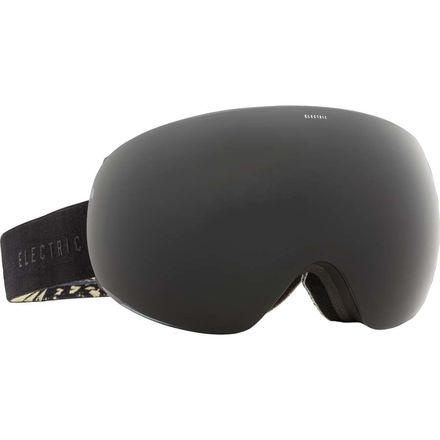 Colors

Detail Images
No more riding blind.
Spotting your landing when you're pulling around the third rotation of a triple cork is hard enough, but try it when your goggles are obscuring your vision—good luck. Electric built the EG3 Goggle with a massive lens and frameless design to help you see where you're going to stomp and hooked it up with a Press Seal interchangeable lens system so you can take out your low lights and throw in the blackout lenses when the sun pops from behind the clouds. The dual spherical lenses are treated with Super Anti-Fog and Anti-Scratch coatings to keep things crystal clear, and also block 100% of UV rays to protect the delicate flowers that are your corneas.
Proposition 65 Warning for California Consumers: This product contains chemicals known to the State of California to cause cancer and/or birth defects or other reproductive harm.
Dual spherical polycarbonate lens
100% UV protection
Press Seal interchangeable lens system
Thermoplastic urethane frame
Super Anti-Fog and Anti-Scratch coatings
Triple-layer face foam
Silicone-backed strap
Loving these
Familiarity:

I've put it through the wringer
I ski a lot! I promise I find myself complaining the least about goggles. Never foggy.

Clip in/off lenses. Super simple

Pretty fat goggles so cover a lot of your face. I'm a fan of that
JP Burkemper
Visibility comparison
Familiarity:

I've used it once or twice and have initial impressions
I tried these goggles on in a store and compared them with the EG2. I found the EG3 to have a small but noticeable amount of less vision. Keep in mind, the EG2 have the widest visibility i've ever seen. The snap on lens is simple to line up and push in, and the hold is very strong.
William Hooley
I had a pair of Oakley Flight decks which I found to be frustrating to swap out lenses on the go. EG3s are the best of the field in this regard. Mine came with dark smoke lens which are cool in strong sun but blind as a bat when heavy weather rolls in. The light green (included) or rose blue chrome lens (separate purchase) goes in in as about as much time to pop the lens off. So simple and the ziplock seal is incomparable. Field of vision, comfort, style, function all perfect. Great job, Electric.
Rick
Schweet Goggles
Familiarity:

I've used it several times
I got these for my husband. Here's what he had to say in his own words:

These goggles are awesome! I was a little worried about the oversize frame not fitting my face/helmet (I have a Smith Maze in Medium). Boy was I wrong! They fit perfectly and line up like a dream with this particular helmet. Haven't used the low light lens yet but glad it came with so it's there when I do need it. Fogging has been a non-issue and the field of vision is fantastic. Highly recommended!

Jacqueline M
new goggle
Familiarity:

I've used it several times
love the new EG3 goggles from Electric. The press seal technology is the best in the business in my opinion. cant wait for winter, yewwww!!!!!!!!!!
malik schilling
was last year's eg3 goggles wider than this year's or are they the same size?
Keith W.
THE EG3 GOGGLES FROM LAST YEAR AND THIS YEAR ARE THE SAME SIZE BUT THE EG3.5 GOGGLES ARE SMALLER.
nate frock
Unanswered Question
Can any body tell me where the ionized/mirror coating has been applied on the filtered lens - is it on the outside face of the lens or is it in between the two lens layers? I ask because on a previous goggle I bought, the mirror coating was applied to the outside face of the lens and it wasn't long at all before this coating became scratched to the point where the lens was trashed. This was a little upsetting so I wont buy another goggle with an ionized lens unless the lens is coated between the two lens layers. Hopefully that is the case with these!
Ethan S.
could I choose color of bonus lens?
you jina
They come prepackaged with the bonus lens so we cannot swap them out; but I do know that they come with a high light and a low light lens so they will work in both conditions.
Nicholas Dey
so the google only comes with one lens not an additional night lens on top of the chrome lens..?
Keith W.
This goggles comes with two separate lens colors. The lens pictured on the goggle should come with that colorway and then they also provide a low light lens so they work in both conditions. For night riding i recommend that you get a non-filtered lens (clear) because getting a colored lens for night time can mess with your eyes and may make you feel disoriented if you take them on and off.



Colored lenses basically change the light waves before they hit your eyes. In very low light or artificial light conditions it takes more time for your eyes to adjust once you take your goggles off, or put them back on.
Nicholas Dey
Big improvement on EG2
Familiarity:

I've put it through the wringer
Jimmy's reviews were spot on. I also owned the EG2 and these EG3's are a continuation of what I liked about the EG2: huge lens. Additionally, the seal on the edges are much better and the advertised easy lens change is true. Typically companies try to do to much to improve a line of products, but Electric did a great job on the EG3.
Rodel H.
Great new additon to the Electric goggle
The EG3 the similar in size and new version of the EG series from Electric will not disappoint. The big difference from the EG2 and the majority of the electric goggle line is that the EG3 uses a suction technology to hold the lens into place on the frame. This is fairly easy to pop in and out and change lens and just as any goggle once the frame it self breaks in a little, it gets easier with everytime you do it. I have the EG2 since it's inception and this is for sure a great new version. You won't be bummed and the fit is as good if not better. Fits with any helmet and i've never had a problem with either lens and frame. Foam is comfy and provides great perif vision. I hope you enjoyed the review and helps you make a decision.



-Jimmy


Jimmy McMenamin
Hi, I can't seem to find these goggles in my home town and was wondering if anybody has tried the fit with a Smith Vantage helmet. Thanks!
Cap. Benz
They have no flange on them and fit snug to my Giro Bevel. I imagine you'll have similar luck.
hec105709809-0
EG3 Goggles
Familiarity:

I've used it once or twice and have initial impressions
Great goggles! Super comfortable and a huge range of view. The jet black/tropic color are extremely dark, but the bonus lens (which is light green) is a good alternative for darker days and night riding. The lenses stick out a bit far from your face which helps to keep the view angle wide.



The head band has rubber lining the inside which helps to keep the goggles in place with out having to tighten them very much. I would definitely recommend them!
Tyge Johnson