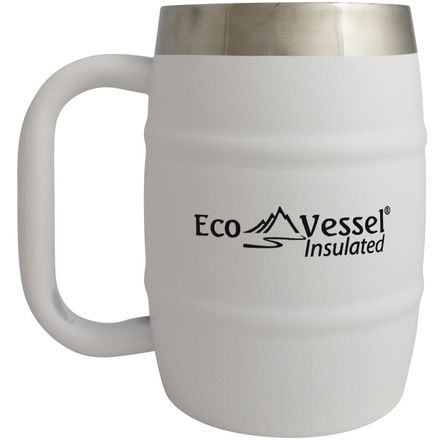 Colors

Community Images
Coffee, beer, or coffee-flavored beer.
Coffee, tea, cola, or stout all stay the way they started when you pour them into the Eco Vessel Double Barrel Beer Mug with Lid. This stainless steel mug is fashioned like a beer barrel but isn't just for carbonated hops and malt. Hot coffee stays hot and cold suds stay cold, and you won't wear either with the open/close slider lid.
Stainless steel mug
Chemical-free lid, open/close slider
Works with hot or cold beverages
Nice mug, but...
Familiarity:

I've put it through the wringer
The mug itself is quite nice. Not quite as large as it appears and the insulated interior keeps your drinks hot or cold for a good while. The lid is a piece of junk, however. Mine didn't fit snugly enough to stay on (I added to the gasket with a rubber band to make it stay in place), and the sliding hatch to open/close the drink hole slides shut everytime I go to take a sip. I haven't been able to figure out a fix for that one yet. Seems a lack of attention to detail. Glad I have it because it doesn't tip over. But I wouldn't buy one again.
Matt W.
MUG
Familiarity:

I gave it as a gift but have feedback to share
Gave mug as a gift...
Woman who received it says she love's it and uses it everyday...
layne crosby
On the big side
Familiarity:

I returned this product before using it
I didn't like how big this mug is. I previously bought the smaller version that was really small and this size is too big for my liking. Other wise it was well put together and would make for a great mug if you need something so large.
Greg E.
Rad little vessel
Familiarity:

I've put it through the wringer
I've used this thing around the house and on camping trips. It's worked great at keeping the french pressed goodness warm in the cold desert mornings, looks good holding some wine during those crispy cabin get togethers, and won't break!
Douglas
You need more than one
Familiarity:

I've put it through the wringer
Really digging the new colors! The Matte Black looks so nice in person! I had to buy more of these.. One for the house, one for the office, etc. Also, the copper color is a hit! Shiny and "one of a kind". Go get yourself one!
Jaclyn Richards
I have purchased two of these because I love how hot they keep my coffee. They are easy wash and take anywhere .
RAQUEL L.
Easy to clean. Keeps my coffee hot for a long time! Love the handle.
RAQUEL L.
Cant ever complain about a beer mug. I fill it up and drink it down.
Sully
My favorite mug for drinking beer!
Familiarity:

I've used it several times
I am sooo happy with this mug, it keeps the beer cold for hours. During warm days (100°F) insulation works perfectly, I remember my friends complained because beers got warm in minutes, but that was not the case for me thanks to this mug :).
Agnes Vanessa Alvarez Torres
cool mug
Familiarity:

I've used it several times
I bought this to drink beer out of. I like it a lot except for one thing.... the dainty handle. It needs to be at least twice as thick to be able to actually keep a good grip.
Douglas W.
These mugs are great and keep coffee/tea warm for hours. I recommend for camping use but not a great travel mug as the handle will not fit most car cup holders.
SpaceMac
My go to coffee mug every morning!
Familiarity:

I've put it through the wringer
Because of that I had to buy two! This mug honestly keeps my coffee hotter/warmer an hour after a regular mug would. You can't go wrong and works well for cold drinks too! I wish they did have a smaller size for my daily coffee but on the go/camping this size is perfect.
WONKA
ToGo Mug
Familiarity:

I gave it as a gift but have feedback to share
I picked this out to replace some of my dad's old to go mugs, and boy is it a perfect fit. Super durable, love that it has a solid lid. Works on keeping your hot liquids hot, cold liquids cold. And I have to say, that huge handle is a plus as well- makes it a breeze for transport, especially when you're bundled up. Plus, it's easy to clean- definitely worth it!
Kayla Weiser
Big handle is a MUST
Familiarity:

I've used it several times
100% recommend this mug! Works great with all beverages (hot and cold) and is the perfect mug for camping. It cleans very easily and the handle is so large, you can pick it up with gloves/mittens on- major bonus! I've thrown in soup in there and it keeps warm. Love it!
Jaclyn Richards
This is the exact mug KUIU sells
Daniel C.
Hi Daniel, You're right! We actually partnered with KUIU to make them a custom mug. What do you think of it?
Jonathan Kosakow
Love this mug!
Familiarity:

I've used it several times
Works great for any liquid you throw in it (hot or cold). Works well for meals like oatmeal and noodles. Cleaning is a snap and I love the bigger handle for use with gloves. Can't wait to take this puppy on my New Zealand road trip, thanks!
Anna K.
Random questions!
What makes this mug "Eco"? Is it made of recycled materials at all? I'm looking for a mug that can do it all on the trail! Liquids, oatmeal, Lucky Charms, etc. This mug looks great, but I'm not 100% on this one yet and I'm not sure I'm prepared to shell out $35-$50 for a mug (no matter what it's made from). Thanks!
Anna K.
Hi Anna, great question! All Eco Vessel products are made from the highest quality materials available. This particular mug is made from 18/8 Stainless Steel, so it's perfect for hot or cold beverages, and yes it can be used for soup, oatmeal, cereal, or anything else. While it's not made from recycled materials, it is 100% recyclable if you ever find the need to replace it with a new one (which we hope you don't!).
Jonathan Kosakow
every morning in my cup!
Familiarity:

I've put it through the wringer
I love this Mug! I've had it for a little over a year and its been my every day go to mug. I have replaced about two shelfs in my house with this little devil. It is fully insulated! Which makes drinks taste that much more better! I'm a special kind of petty. I love my sodas ice cold and hot chocolate steaming hot! This mug never fails. A regular cup of hot chocolate or coffee will stay outstandingly warm for about a good two hours before it starts to chill out. Which gives me enough time to drink the whole thing since its about the size of two small cups in one. It has a nice slide back lid perfect for sharing with little hands and even when your on the go. the best part about this mug is I really use it all day. When its time to have some water or some soda even a cup of ice cold milk ill wash it and throw it in the freezer for about 10 min. The insulation freezes out and turns it into a frost mug. (with my inner fat girl voice) its perfect for a warm summer night good old fashioned root beer float.
I've dropped it once and it still looks brand new! I truly do love my little Eco vessel double barrel

** I've never put it in the dishwasher only because i don't believe in that kind of wizardry but i can imagine it wouldn't hurt it a bit. **
chandra martinez