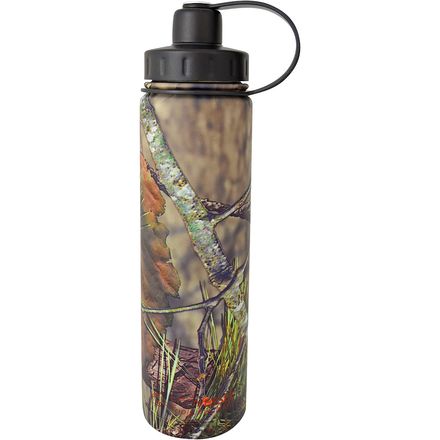 Colors
Hot or cold, this bottle does it all.
Keep your morning tea hot, or enjoy your water cold out on the trail with the Eco Vessel Boulder Triple Insulated Water Bottle. This stainless steel, vacuum insulated water bottle has been proven to keep water cold for up to 36 hours and will keep your choice of hot beverage warm for up to eight hours. The wide mouth hole is fitted with a removable tea strainer/ice dam and is secured through a tight screw top.
Stainless steel
TriMax triple insulation
BPA, phthalate free liner
Carrying handle
Recyclable
Removable tea strainer/ice dam
Suitable for hot and cold drinks
Purchase supports Water For People and Unicef Tap Project
I want every size now!! LOVE IT
Familiarity:

I've put it through the wringer
Since working for backcountry, I always thought I would only love Hydro Flask but this bottle has done its company proud. My favorite part besides the killer Mossy Oak colorway is the Ice Dam and screw off handle with spout. I have been drinking much more water everyday and I am loving the results. I now wants the 32 and 45 OZ options as well. I am SOLD!!
Dane C
Solid Bottle, serious flaw!
To begin with, this is my 2nd Eco-Vessel Purchase and both bottles have yielded the same issue, the Cap and Strap. As noted by others the cap is not insulated. I find that a tough compromise to make for a product at this price point. With my first bottle the cap began to leak after a few weeks and on the second bottle my plastic strap completely broke off within the first week! Eco Vessel seems to have serious quality control issues with these caps and straps. Please listen to your customers and address this. Sadly, past no action and generic comments about how you're "seeking to constantly improve product", has demonstrated that you don't take this problem seriously. And please do not offer to send a replacement cap. What good is accomplished by replacing a defective cap/strap with a newer, shinier defective one? Most negative reviews that I see from your product focuses on these issues. Apart from this, the bottle is an otherwise solid product. Please address this! I want to love this product but it's hard to do so!
Corey
One Star for Existing
Familiarity:

I've put it through the wringer
This product is complete garbage, and for the price it is a total joke. Initially, it seemed OK with a few flaws I could overlook. I have had it a few months now, and it has done nothing but deteriorate to the point of being useless.
The Lid: It is not insulated. The rep told me this as impossible (yet hydroflask has figured this out). I don't feel the lid has to be vacuum insulated, given the design, but some form of insulation is a necessity. It will literally get so hot when coffee is in the container it will burn your hand unscrewing it. The silicone ring around the lid falls off, and is difficult to seat. As time has worn on, even if I cam careful with the o-ring, the bottle will leak 50% of the time. I have poured coffee all over myself and my car seats on multiple occasions. Finally, the strap broke off in a month.
The finish: It has chipped and scratched with no outside use and now looks like a something found in the bargain bin at a thrift store.
The container: This was the one redeeming quality of this bottle (it was a vacuum container) until the vacuum was somehow breached and it no longer keeps anything hot for longer than it would stay hot just sitting in ambient air. The bottle has never been dropped.

Bottom line: Don't waste you money buy a Hydro Flask.
Alexander Manfred
Solid bottle
Familiarity:

I've put it through the wringer
I love this water bottle. The insulation works great, keeping water cold for hours on end, even in hot conditions. I have not experimented with warm liquids. I have heard reports of the cap breaking with use, but I have not encountered any problems, myself.
Roger C.
Best water bottle i have ever owned!!
Familiarity:

I've put it through the wringer
This is a great bottle!! I love taking it everywhere!! I use it for hot soup at the office and cold water on those warm climbing days!! I put this bottle to the test!! It kept my chicken noodle soup warm overnight!! And that helped me out a lot when i woke up cold that night!! When i took this bottle out on a work climbing day in Big cottonwood canyon, and it was on a day when the temperature reached 85 degrees!!! When i was done with the first route, it felt as if i had just spent three days in the desert!! When i grabbed my water bottle i was disappointing to find it very very hot to the touch, but when i took a drink I still had full ice cubes in my bottle!! by the end of the day, after five hours of climbing, the ice cubes still had not melted!! WARNING!!! do not expect ice melt with this bottle because if you do, you will end up like me on a hot day......waterless...... I love this bottle but unfortunately it only earned four stars in my book, because of the lid!! The narrow mouth hole cap works pretty well for me but some of my friends tell me that sometimes it wont screw on correctly, leaving room for the water to potentially spill out!! The big problem i had with my bottle, was the wide mouth hole. I have only used water in my bottle, but every time i put that cap on it gets stuck, and let me tell you, muscle man randy savage could not get that off!!!! Every time i need to refill my bottle i have to get my grandmas jar opener to get the cap off!! Other than the lids issue i have love this bottle, it keeps your colds cold and your hots hot for longer than any other bottle i have used!!
Ryan O'Dell
Great bottle, not so great cap
Familiarity:

I've put it through the wringer
The actual bottle is incredible. It kept my water cold for hours even when sitting in the hot sun and zero shade. I doubt there's anything on the market that could compare to the construction of the bottle. Unfortunately I cant say the same for the cap. After about a week the plastic arm that attaches the cap to the lid snapped off. Not too shortly after, the inside of the mouthpiece had cracked and was leaking badly. It wasnt long before the entire mouthpiece cracked off. Im super bummed because i love the bottle. Help!
Steve Stepp
Angela S.
Eco Vessel doesn't recommend putting this bottle in the dishwasher because the pressure may damage the paint and compromise some of the insulation and leak-proof properties. We recommend hand washing with warm, soapy water. For a more thorough clean, you can use vinegar or other non-

abrasive cleaners.
Jonathan Kosakow
Cold water all day every day
Familiarity:

I've used it several times
I love this thing! I can leave it in my car all day at work and while my seat belt may burn my arm, the water i am drinking is still ICE cold. Having a strainer is an awesome feature because you can fill it completely with ice and not have to worry about choking on a piece of ice. I also am not very good at driving and using a wide mouth lid so the small mouth option is extremely useful for that kind of thing. Overall an AWESOME product that I would suggest to anyone that wants to keep water ice cold.
Mike Hulme
Cold tea after 9hrs of climbing!
Familiarity:

I've put it through the wringer
While a couple of my coworkers have, unfortunately, had their straps break. I'm glad mine didn't, otherwise we'd be finding out how well an Eco Vessel could take a 500ft fall!



As with a couple pieces of gear, I decided to put this bottle through the wringer climbing in Yosemite for a weekend. Why not, you know?



When it comes to the Eco Vessel, not only was I able to enjoy ice cold water hanging off a mountain mid summer, it has this epic strainer! I filled the bottom of my Eco Vessel with some tea leaves, because once again, why not? What's better than ice cold tea while climbing? At the moment I don't have those answers for you and for that I thank you Eco Vessel!



When you finally get done after a long climb, assuming you didn't drink all the water in exuberance due to it's disarming chill, you'll be happy you have that Eco Vessel. While it's water, you won't really care how warm it is when you're thirsty, but when it's cold... you're friends will be jealous that theirs isn't!
Tom Roberts
Don't hesitate buy this now
Does exactly what it says, I have kept water cold for two days and cool for three!
Jeanette B.
Love the bottle, Broken Strap
Familiarity:

I've put it through the wringer
I have had this bottle with me every single day since I got it. I will say that it does a great job keeping my water icey cold even when sitting out in the blistering Salt Lake City sun.

The included strainer is a nice touch. I haven't used it yet but if you like to infuse your drinks with fruit or you could add loose tea leaves in and have no issues. Very cool.

The wide mount and narrow mouth is another great feature to have. But, like I said the strap that connects the lid to the bottle ripped off after about 2 weeks of use. I don't know if that is an isolated few instances or if it will be a major issue. It hasn't stopped me from using the bottle. Still love it.
John Kutcher
A necessity for me
Familiarity:

I've put it through the wringer
I drink a lot of coffee. I want it before I go ski touring, during (though its too heavy for me to carry), and after. Lets deal with the before and after though.

In the wee hours of the morning, my normal coffee mug is usually my go to even in the car. TJ Burke drank coffee out of an open mug in his van so I figured give it try. Guess they didnt show the part in Aspen Extreme where he had all the coffee stains on his pants. Got a bottle like this but, only with a wide mouth lid. Less coffee stains but, still had some stains. More importantly I lost precious oz's of the black elixir of life.

The lid MAKES this bottle in my eyes. The wide opening makes it easy to pour the coffee straight from the carafe. Then the small opening allows you to drink it without the spilling, genius. Usually its one or the other, or you have to BUY another lid to accommodate drinking it.

As far as the insulation goes. Its on par with other insulated mugs Ive owned. I didnt notice any glaring differences. On a very cold day the coffee left over after my drive to the trail head was still luke warm. That's more than I can ask for. I know it says keeps warm for 8 hours, Hydro Flask says 6 but, in reality when you are drinking the coffee, I dont screw the top on every time, so there is a huge hole and heat leakage due to my actions not that of the bottle. The triple insulation which incorporates copper is an awesome detail that only Eco Vessel is doing, definitely spreads the temperature around better. That is the one thing I noticed that was better than most competitors on the market.

Also a great home for stickers, and gift for any occasion!
Bill Porreca
Good Bottle, Terrible Lid
I like the bottle, and the little tea strainer is pretty nice. Also having both a wide and narrow mouth on the lid is great.

But, one thing you'll notice about that lid, is, unlike the rest of the bottle; it has no insulation. Whats the point of buying a vacuum bottle if all of your heat escapes from the top?

Come on guys, put an insulated lid on that thing!

Also the "carry handle" they tout, broke off faster than the terrible strap on a nalgene lid.
Tom Grummon
This is my second Eco Vessel, and I absolutely love it. The tea/ice/fruit strainer is very high quality and keeps your water running clean. There are two screw top openings of different sizes which is convenient for driving or if you need to chug fast. It seems to live up to the claim of 36 hours cold and 8 hot. The loop handle is really well made as well.
Lisa Edlund