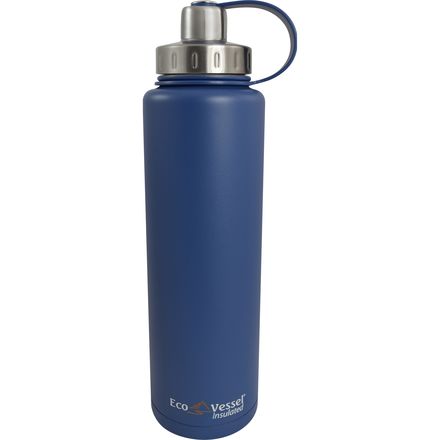 Colors
Eco Vessel's TriMax technology helps the Bigfoot Triple Insulated Water Bottle keep your tea hot on cold hikes for eight hours or your water cool on hot days for 36 hours. The removable valve features a strainer that prevents loose leaf tea or ice cubes from falling out while you're drinking.
TriMax triple insulation
Premium stainless steel
Removable ice dam/tea strainer valve
Sturdy carry handle
Awesome Bottle
Familiarity:

I've put it through the wringer
As many others have said, this bottle will keep your water ice cold for 24+ hours. It has a removable strainer in the top so no ice will come through the mouthpiece, and having two separate openings makes it really easy to fit even the biggest (within reason) ice cubes into the top. I've yet to use it with hot liquids, but if you like your water to stay cold, look no further.

EDIT: Gotta take this one down to a 4 - like people have said, the strap that holds the top cap on breaks. I've been excessively careful with it, not bending it at all, and last night the strap ended up cracking off. It's not a huge deal but it definitely turns drinking out of this bottle into a two-handed task.
Dan Brown
The Coolest Water All The Time
Familiarity:

I've put it through the wringer
This bottle is top notch in term of insulating water bottles. I can put ice in my water bottle at the begging of the day and when I wake up the next morning there is still ice in it. The bottle is also very easy to clean and sips like a champion when you are on the move. The only down side to this bottle was how clunky it is. The bottle doesn't fit very well in my hands and does not fit in my cup holder. However, when I need water throughout the day and have limited access to fill-ups, this bottle has me covered!
Sean Arruabarrena
Strap Broke
Familiarity:

I've put it through the wringer
after a month of desk use and a few trips into the great outdoors the strap connecting the lid to the bottle broke. I never hung the bottle from that strap so I was pretty bummed to see a break so early on. However the bottle it's self is bomber and keeps liquids cold and hot as advertised. This thing is big and heavy but has been worth it in my pack on the few trips outside, once to keep tea warm for a cold day climbing, and the other was to keep my water ice cold on a hot afternoon floating the river. It performed well on both occasions. I'll get the strap replaced and give it another go.
Dan Gates
Pretty Rad
Familiarity:

I've used it once or twice and have initial impressions
I just recently procured my first Eco Vessel right before a trip down to the desert. It did a great job of keeping my water cold, I especially liked the ice/tea strainer function. I had never seen a water bottle with that and it makes a ton of sense. They also found a simple yet effective way to solve the wide mouth vs. narrow mouth issue. Narrow mouths are better for drinking out of on the go, its much harder to spill on yourself, but its also nearly impossible to fit ice through that narrow mouth. Previously I had always opted for wide mouth water bottles for this reason. But alas! This has both! You can open up the wide mouth, insert ice cubes, and then seal it back up and drink through the narrow mouth opening, which also has a strainer which keeps ice or tea bags/tea leaves in the bottle and out of your mouth. Although I haven't been able to extensively test this bottle yet, I am very pleased with my experiences with it so far, and can't wait to test it out with both hot and cold liquids to a greater extent.
Pat Guinn
Leaks, do not purchase bottles from Vess
Familiarity:

I've used it once or twice and have initial impressions
Wish I could support a Co. in Boulder; however, I can't being that this product leaked 1 week after I purchased it. I used to use it as a work water bottle, until I set it on it's side on some blueprints, only to see a large water spot on the the prints 5 minutes later. If I punished the bottle for years then I might understand the issue. I'm a desk jockey by profession, the bottle never even made it outside.
Cory B.
It's True What They Say...
Familiarity:

I've put it through the wringer
Normally when a bottle says that it is rated to heat hot liquid warm for 8 hours, I get a bit skeptical. Not that it's not possible, just that I seldom experience what the bottle is rated to do.

The Bigfoot Triple lived up to its ratings and then some. Ben and I had to drive up in a late April snowstorm to shoot some footage at Brighton Ski Resort so I figured I'd bring some tea with me. I drank some on the way up and then left the bottle in the car while we went out and filmed. About 6 hours later I came back and the tea was still wicked hot. I was beyond impressed with how well the insulation works on this bottle.

Insulating:
It lives up to what they say. After 6+ hours of leaving my tea in a cold car on a 30-ish degree day my tea was still wicked hot. But the exterior of the bottle is not hot to the touch. Probably the first bottle I've experienced like that.

Volume:
At 45 oz, there is a good amount of liquid this thing can hold. More tea than I would have normally wanted but on a cold day, it was awesome to have that much tea.

Material:
Who doesn't like a stainless steel? I love the look and feel of the stainless steel but also like how durable it is. It's a nice clean bottle.

Tea Strainer / Ice Dam:
When I popped open the bottle for the first time I saw the tea strainer. This is held in place real well and doesn't not pop out. I really liked it since I tossed a tea bag in the bottom and never had to deal with the tea bag making its way to my mouth. I'll definitely be using that this summer with ice.

Opening Options:
This is one of the few bottles that has two openings. There is the wide mouth option which is awesome if you're looking to fill it up. On the very top there is the narrow opening that you can unscrew which is pretty nifty.

All in all, I'm a big fan of this bottle. I think they definitely took their time to make a well thought out product that performs at the level they say it does.

Oh and my goofy face is because of how hot the tea was!

Shoot me an email anytime you have questions!

Jared D.
Expert Gearhead
801.736.4336
jdowns@backcountry.com
Jared Downs
THE BIG JOINT
Familiarity:

I've used it several times
This is probably going to be the only thermos I use for a *long* time, it's just that good. While it is on the larger/heavier size and can sometimes be an inconvenience to pack, it really is the best solution to keeping your beverages hot/cold. I mean you could always bring your refrigerator with you?

The vacuum insulation is top notch and it truly does keep your beverages hot/cold for a long time. The ice-dam/strainer is clutch and makes drinking iced tea super easy!

The dual function top makes it easy to gulp colder beverages and sip hotter ones. The loop created by the cap is also a convenient carrying/clipping handle.

Construction/craftsmanship is top-notch and so far my drinks haven't had any aftertastes (metallic or otherwise). I have the black and so far I don't see any scratches on it, but I also haven't been too rough on it.

Bring this bad boy on your next outing to the beach, park, or keep it in the car for a always-cold thirst quencher!

Ben
brabinowitz@backcountry.com
801-746-7564
Ben Rabinowitz