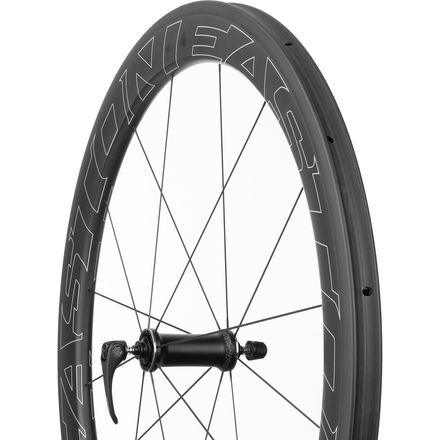 Colors

Detail Images
Whoosh.
You've seen all the fast, lightweight race wheels, but more often than not, those desirable attributes come at the expense of out-and-out strength. That's why we're so impressed with the Easton EC90 Aero 55 Carbon Tubular Wheel. As part of Easton's race-ready EC90 lineup, they'll slice through the air like a hot knife through melting butter, but the real surprise is that they're bombproof enough to withstand a full season of 'cross without flinching. Not bad for a wheel that, according to Easton's published test results, outperforms much deeper rims in a wind tunnel at just about every imaginable yaw angle.
It may sound like hyperbole, but the EC90 Aero rim is a feat of modern engineering. Easton's engineering team opted to ignore convention, most notably rejecting the long-held belief that a mid-depth rim couldn't be the fastest thing on the road. The result of this grand experiment is the new Fantom rim profile. It's noticeably massive, with an external width of 28mm at the widest. Also noteworthy is the blunted internal profile that is said to greatly improve both stability and speed in crosswinds.
According to Easton's published test results, the Fantom rim profile is faster at a variety of yaw angles than anything it was tested against, including its own 90mm deep section TT rim. Due to a lack of available data, it's possible that a few of the very deepest TT-specific rims are marginally faster in some circumstances, but they'll give up a great deal of stability, and at significantly higher weights, it's easy to see why Easton calls this the single wheelset arsenal.
Unlike the clincher version, the Aero 55 tubular uses internal nipples. It means you'll have to remove the tire to replace a nipple, but this sacrifice means that the rim is considerably lighter than its clincher counterpart, which relies on a rivnut style nipple insert to provide an undrilled inner rim wall, for tubeless compatibility.
The rim profile isn't the only new aspect of the Aero 55 wheelset. In fact, one could argue that the Echo hubset is an improvement of similar magnitude to the Fantom rim profile. The reason for this is simple — namely the bearings have been placed as far apart as possible, improving both stiffness and bearing life. For the rear hub, the bearings are a whopping 95mm apart, which is an enormous improvement on the previous R4 hubset. To accomplish this, Easton had to place one of the load bearing bearings (please, bear with us) inside the freehub, which required a completely new approach to hub design. In addition to maximizing the bearing spacing, placing the pawls in the hubshell, instead of the freehub, allows the freehub to run on two enormous bearings. In case it wasn't clear, the Echo hub is stiff, light, and promises significantly improved bearing life over anything Easton has offered to date.
The Easton EC90 Aero 55 Carbon Tubular Wheel is sold individually. The rear wheel is available with a Shimano/SRAM 11-speed freehub, and both the front and rear wheels come in the color Black.
Hey is this a pair of wheels, front and rear? Or is it only one wheel?
jes105919333-0
Hey Jes,

These wheels are sold individually. We do have both the front and rear wheels offered, however you will need to order 1 front and 1 rear wheel to get a set.
Dan Be
Unanswered Question
Does anybody find that the rear hub has a good amount of drag? Maybe just needs time for hubs to loosen up?
KURIA N.
Unanswered Question
Hi, does the wheels comes with cork brake pads, and/or does Easton insist on the use of them? I personally never like the feeling of cork brake pads and prefer using Swiss stop instead.
Yong Hui O.
Hi everyone!



Has anybody bought and ridden this or the RT wheelset? They were 'officially' released in 2013 however I can't find any long or medium-term reviews.



I'm at a junction between 404s and these however the lack of independent testing and feedback is halting any purchase.



Cheers guys!




Greg Amann
Greg,



Like the 404 and the rest of the aero wheel world, Easton has gone FAT! But fat doesn't mean heavy. These are a very respectable 1300 grams or so.



The 404 feels brittle to me. These Easton's felt more solid. I have only one ride on them, but I'm a bigger guy and they felt fast. Easton's been building wheels for a while and they have it down. I also have a teammate who's on these and he loves them. He regularly rides 100+ milers and really likes the ride quality. A 1 year warranty isn't the best in the industry by any means but after a year you would have a good idea of their durability anyway.



Hit me up directly if you have anymore questions. btowery@backcountry.com
Ben Towery
What is the recommended tire size to...
What is the recommended tire size to accommodate the 28mm rim width?
JCB
Best Answer
A 25mm tire would be great on these wheels. A 23 would also work but I wouldn't go any narrower than a 23. For a 25mm tire, I would recommend the Vittoria Evo CX III. For a 23mm tire the Veloflex Carbon would 'da bomb!! Hit me up directly with any questions. btowery@backcountry.com
Ben Towery
I would recumbent Tubeless tires to have the full benefit of these Wheels. I ride tubeless since 4 years, and it is best of both worlds.
Roberto Kai H.
Looking for a rear wheel replacement for...
Looking for a rear wheel replacement for my older R4SL hub's continual problems. Drop-down menu says it's Shimano/SRAM 11spd - that's still compatible with my 10spd, correct? Thanks!
Steve N.
Hi Steve N.,



These would be compatible with a 10 speed SRAM/Shimano cassette with the appropriate spacer. The 11 speed freehub body has the same spline pattern as the 10 speed, it has just been elongated to accomodate the extra cog. Feel free to email me directly at atierney@Backcountry.com if you might have any other questions or concerns.


Andrew T