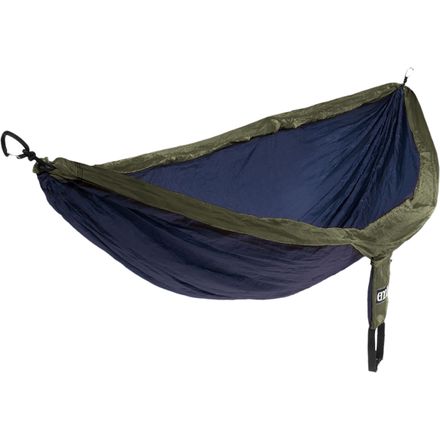 Colors

Detail Images
And you thought camping was relaxing before.
Get fully outfitted for hammock camping in any conditions with the Eagles Nest Outfitters OneLink Hammock Shelter System. This comprehensive kit contains a ENO hammock, hanging straps, a Guardian BugNet, a waterproof rain tarp, and aluminum tent stakes for securing the whole thing. Everything packs together in the included stuff sack for easy transport.
SingleNest and DoubleNest includes Atlas Straps and Pro Fly Rain Tarp
ProNest includes SlapStrap Pro Straps and ProFly Rain Tarp
Colors ship at random
Hang out in style
Familiarity:

I've used it once or twice and have initial impressions
I used this hammock setup over a long weekend on a backpacking trip into the Uintah mountains and was very happy with the experience. Setup is a breeze and consists of looping two straps to two trees, then linking the hammock to the straps using built in carabiners. After the hammock is hanging you can use the included bug net and rain fly to stay dry and bite free, I ended up using the net but opted to hang out under the stars since rain wasnt an issue. I also purchased the Hotspot for this hammock which provides a way to keep your pad and sleeping bag in place while you snooze soundly suspended between the trees, and also provides a bit of insulation on the sides and bottom of the hammock where chill winds are liable to penetrate through. This is a bit heavier then my bivy setup, but because it is off of the ground, it has little to no impact and flat ground isnt required for setup, just two trees. I would definitely recommend this setup for anyone looking for a tent or bivy alternative
Robert L
Hammocks, so hot right now
Familiarity:

I've put it through the wringer
This is a great hammock that is very comfortable for a tall person. You could easily fit 2 people in here. I use it with the Slap Strap Pro and would recommend buying those to go with this hammock. This hammock is lightweight and easy to set up with the Slap Straps. If you can get used to sleeping in a hammock this is a great lightweight alternative to a tent when backpacking. Otherwise it is a great way to relax while camping or in your backyard.
Pete OBrien
What's different about the pro setup?


Stephen J.
Excellent lightweight camping option
Familiarity:

I've put it through the wringer
I love camping and traveling with my ENO system. I get some of the best sleep I can remember when I'm hammock camping. Set up is pretty easy IF you're around good trees. I've camped out in the cold and a few rain storms and I manage to stay dry and warm with the rain fly and a sleeping bag.
hannah robs
Bought this set-up from Backcountry for a X-mas present, but own one myself. I car camp and hike with it. Still going strong after a couple of summers.
Troy
Is double nest two separate hammocks or...
Is double nest two separate hammocks or just a larger hammock?


Nicole A.
The double nest is just one large hammock.
Matt Towner
If i already have a double ENO hammock is...
If i already have a double ENO hammock is there a way to get this kit minus the hammock?
Robert A.
The only way I know is to buy each separately
Zac O'Brien
I ordered this hammock over the others because of the versatility and the price. I like that I can hang it just about anywhere I go. It is nice to be able to choose whether you want the bug guardian on or not, some brands have it permanently sewn into the hammock. I can just use the hammock for lounging in the yard, or the whole kit for those stormy nights in the backcountry. The Slap Strap Pros are so stretchy though I will not use them. I am 170lbs and I have to hang it as high as my head so I don't hit the ground when I have been in it for a couple hours, even that high I end up being only a few inches off the ground. It is not so bad when you have trees that are the perfect distance, but when you have the straps all the way out they stretch WAY too much. I purchases some cheap tie downs, took the hooks off, and use them instead and it is perfect now. When I called they said that the only color they come in is navy blue and olive, which I like anyways. This would be the perfect system if they just changed the straps to something other than nylon.
j.b101715948
Unanswered Question
Looking for an all terrain hammock, w/add...
Looking for an all terrain hammock, w/add on's
Michael Haddox
hanging out over Russell Lake in the Quetico.
had to put the rain fly up later that evening due to torrential downpours and 50mph wind gusts. no adjustments needed over the course of the night...
jason spellman
off the ground, now there's an idea
having problems finding the right pad(s) to make it comfortable enough to get a good night's sleep on the ground? here's an idea...don't sleep on the ground!

borrowed a doublenest system sans the rainfly for a couple months from a buddy. when he asked for it back, i went back to my tent. I finally had to break down and buy this guy. i weigh 208 right now and this thing has never hinted at failing. i primarily use it for its intended purpose, sleeping off the ground in the backcountry, but it is great to hang up at a backyard grill out type thing as well. when i bought my own, i went from the double-nest to the single-nest. i found that the double was too uncomfortable for 2 (you roll on top of each other). and the double made it difficult to hang my legs out the sides when they were searching for a breeze. this whole system weighs about 4lbs, but excluding the winter, i dont have to pack a pad(s)...and in the winter i can leave the bug net at home. slap-strap pro system works great. easy set up easy tear down, made easier by the attached stuff sacks. the one link system comes with its own stuff sack. it is decent. it doesnt have compressions straps, but i am not sure that the system would compress much anyway. measurements and weight are accurate. i have gotten some of the best sleep of my life in this thing. love it. the only way i see it failing is due to misuse or exceeding the weight limit.

i havent used the rainfly yet. i used my tent's footprint with some extra cordage and added a loop when i borrowed my buddy's and still do the same. its much lighter and serves the same purpose (although i will use it in the winter because the footprint wont block the wind). the only complaint i have is with backcountry, but its not really a complaint at all. they told me in a live chat window that it only comes in one color, black. it showed up in the khaki and olive color, which is fine. if it showed up in purple and pink i might have to complain a bit...not my style. also, they told me it came with the dry fly, but it came with the pro-fly. good stuff. much easier to set up and more comfy for me than the a-sym and the others you climb in from underneath that i have tried. i am a side-sleeper and have no problems. never felt like i was gonna roll out of it...its plenty deep. got this on sale at backcountry.com for 159. get it.
jason spellman
Trial run in the back yard.
Conditions: Chilly that night: 33 and a wind.
Accompaniaments: Cats Meow 20 degree synthetic, thermarest pro lite pad, street clothes, jacket, dog, and an extra blanket for him.
Speed: First time (and even read the directions) - took only a few minutes to set it up sans bug net.
Durability: My Weim River decided to join, but wasn't confident about the whole set up so he stood up and moved around ALOT. I thought for sure his toenails bearing all his 90 pounds punctured the material more than once, but the next morning I couldn't even find a scuff.
Warmth: I slept toasty when I wasn't squished up against the sides of the hammock, which was only the first couple of hours because the dog quickly realized it was much warmer if HE layed on the thermarest. Otherwise (and I'm cold ALL THE TIME) I think I would have been comfortable all night.
Next time I'll: put the tarp closer to hammock to help shed the wind. Also, I'll switch out the supplied stakes with lighter, "stickier" ones from my tent. We bailed and went inside about 2am (for the record, the dog cried uncle first) and the next morning 4 of the stakes were pulled, the tarp was flapping hard in the wind and 3 ropes were ruined. (not a tear though - like I said - tough) Also - I'm pretty sure I'll order River his own hammock to hang below me and to stash all my gear in on rainy nights - I ordered the doublenest hammock, but I wouldn't reccomend sharing it with man or beast if your intent is a solid night's sleep.
Backcountry service is excellent and expedient - and an extra shout out to the wish fulfilling backcountry gurus who somehow knew I had my fingers crossed for the olive/blue combo.
Ginger N.
whats the difference between the pronest...
whats the difference between the pronest and the singlenest?
Berrett W.
Size and weight are the main differences. The pro is a bit smaller than the single and uses custom carabiners to reduce weight. However, both are constructed from the same material and will hold up to 400 lbs.
James Cooper