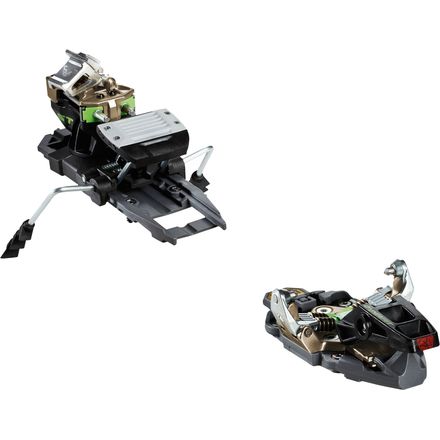 Colors

Detail Images
The wait is over.
The long awaited Dynafit TLT Radical ST 2.0 Binding makes its debut this winter carrying with it a safer and more efficient design, as well a well-earned TUV certification. While the easy-walking nature of traditional tech bindings may have been great on the uphill, they have left a lot to be desired on the descent, in terms of both power and safety—that is not the case with the TLT Radical ST 2.0 Binding. The pivoting toe piece of the Radical 2.0 is now able to absorb lateral impacts, giving the binding the ability resist early release. And if that wasn't enough, the heel piece now is capable of withstanding up to 10mm of forward pressure, giving it the ability to compensate for lateral impacts.
Prior to the Radical 2.0, the Dynafit Beast 14 and 16 were the only bindings in the Dynafit lineup able to lay claim to TUV certification. The rigorous TUV certification ensures that release values of the bindings can be reliably set between 4-10 as determined by DIN ISO 13992 standards, resulting in increased safety and better downhill performance. In addition to the TUV certification, the Radical 2.0 now houses a more efficient design than it predecessors with a heel that can be turned either clockwise or counter clockwise—this means you won't have to waist time turning the heel a full 360-degrees just to get back to walk mode when you could be getting first tracks.
They say if something isn't broke, don't fix it, which is why you'll find the same two-position heel elevators that were on previous versions of the Radical. Where the Radical 2.0 differs, however, is with the Easy Lock brake system, which allows the brake to be engaged or disengaged independently of the heel. Once the toe piece is moved into walk mode, the pivoting toe piece locks into place for the same easy-walking feel as previous Dynafit bindings. The toe piece is compatible with Dynafit ski crampons for added security when climbing icy skintracks and puckering ascents up bulletproof ice.
4-10 release settings
Pivoting toe piece
10mm forward pressure in the heel
Forged aluminum and CrMo steel components
Two position heel elevators
Easy Lock brake system
Crampon compatible
TUV Certified
Great Tech
Familiarity:

I've put it through the wringer
Excellent binding. When the rad 2 first came out, the elasticity in the toe was revolutionary. This is my go to backcountry binding that provides a bit of safety, lightness and solid feel both on the ascent and descent. I have not had any issues pre-releasing or felt uncomfortable ripping down something steep. I'm a 160lb guy and it's been a great experience. We'll have to see how these stack up against the S/LAB Shift!
Zander
thirth season and it broke
Familiarity:

I've used it several times
this is the third season with the bidings, they are excelent, lightweight, some time it was pain in the ass to put it on, but they work great, the din is really trustfull and the biding is really confortble. But yesterday in a very small jump the binding just broke, and the other one it seems that probably it will brake to. I woundt recomend this binding to anyone, to expensive just to last 3 season , well 2 and a half. I was really expecting more lasting material. Im really disapointed
mileandrews
So awesome
Familiarity:

I've used it several times
Dynafit has really figure it out with this one. All of the benefits of a tech binding while still making you fell safe and have great downhill performance. I am generally a resort skier but while skiing down on these I felt really confident on these. The release when I want and keep me in when I don't. There are a few options ever so slightly light but overall great binding.
Joe
Unanswered Question
Would the 90mm bindings work with a 99mm underfoot ski?

Thanks
Amy C.
Love it!
Familiarity:

I've used it several times
The redesigned toe piece is awesome! Dynafit took an already great binding and made it better. I trust my backcountry bindings so much more now.
Allison Parrish
Great upgrade from the TLT Radical
Familiarity:

I've put it through the wringer
I've been on Dynafits for about 5 years now, but I love the upgrade to the TLT Radical 2.0 and the rotation in the toe piece. I wouldn't necessarily say it's a game changer, but it continues to be a solid binding, and I certainly appreciate a little extra safety for my knees.
Pip Hunt
Best tech bindings ive used
Familiarity:

I've put it through the wringer
Ive used a number of alpine touring tech bindings, and this dynafit binding definitely takes the cake. I would highly recommend these bindings. The heel elevators are super easy to flip down when the slope increases and the toe pins will hold you in while you shred any area on the mountain.
Jackson Smith
Solid bindings
Familiarity:

I've used it once or twice and have initial impressions
I've only taken these on two trips so far, one trip on a small resort and then one in the backcountry. I have no complaints so far and they have felt great on both the ups and the downs. Can't wait to use them more
Owen Watts
Such an upgrade from Fritchi freerides. Light, low profile, hike really well, heal risers are super easy to put up. Kind of a pain to rotate the heel piece from walk to ski mode without taking the ski off (using my pole to rotate heel piece). I have even skied these in-bounds and have not had any issues with prereleasing, but also have not taken any bad falls on them so cannot rate their releasability when it counts either.
Nicole Sumner
I love these so much that when my mom wanted to start touring with an intuitive to use binding I set her up with these! They are great for experts and beginners!
Emery Gaylord
So good!
Familiarity:

I've put it through the wringer
I am happy to say that I skied the Radical ST 2.0 all of last Winter, Spring and Summer and had ZERO issues. Skis like an alpine binding with out all the weight. The best touring bindings in my opinion and highly recommended.
Samuel D.
Great update
Familiarity:

I've used it several times
Used the older Radical FTs for quite a while now and these are a nice upgrade. Pivoting toe piece is a great safety feature. Great all around binding and can't wait to get to use them more.
Reagan Chung
The bees knees
Familiarity:

I've put it through the wringer
These bindings have taken everything from long tours which the light weight is perfect for to days at Alta where they will hold up to me pushing them past their limits hiring jumps and taking chunder while still flying past jerry. These bindings not only have surprised me but have kept me going with light weight keeping my legs ready for a night out after a day of touring
Owen
Best Touring Bindings Ever
Familiarity:

I've put it through the wringer
I don't think I'll ever use any other binding for alpine touring. Super lightweight, solid user friendly design, never pop out and they work with crampons. I use them in the backcountry weekly and have also skied the resort with them, they are just simply the best.
Alexandra Lev
LOVE THEM LONG TIME
Familiarity:

I've put it through the wringer
Switched over from Barons two years ago on my JJ2.0s and haven't looked back. The Radical 2.0s bindings are amazing, they tour like a dream with the tech toe pivot, and on the downhill take everything you can throw at them. I thought i would be able to tell the difference between these and my Barons and i can't they are super solid in the steeps, deeps, and resort groomers, never had a prerelease in two years. The only issue i have is they can be hard to get the toe in on angled surfaces, but that just takes some practice. Love them, no regrets, would never tour with a frame binding again.
J Nelson
Super solid binding.
Familiarity:

I've put it through the wringer
I've had a couple pairs of these and I keep putting them on my skis because they're so solid, easy to use, and still relatively light. I currently ride them on a Blizzard Zero G 108 and am super happy with the setup. Light enough for climbing and confidence-inspiring for sketchy and variable descents.
Lily Krass
Great Alpine Touring Binding
Familiarity:

I've used it several times
These bindings are superb and very easy to get used to coming from a frame style binding. I noticed the weight savings right away on the chair lift or skinning up a track. They are mounted on a set of Armada JJ's and it made the skies feather-light compared to before. They are great at releasing only when you need. Have not had any early ejections. I recommend these to all my skiing buddies.
Alex Cocco
Simply, the best.
Familiarity:

I've put it through the wringer
I've been fortunate to be a Dynafit ambassador for a couple years now and have put in too many vertical feet of climbing to count. Suffice it to say I've put a range of their gear through the wringer and love the safety and performance Dynafit provides.



I have these mounted on Denali skis for ripping laps on the groomers and fat Hokkaido skis for big mornings deep in the pow. Two full seasons of flawless use have proven their worth - these bindings set the bar for ease of use, durability and safety in ski mountaineering.
Robert K.
Awesome bindings.
Familiarity:

I've used it once or twice and have initial impressions
These bindings are great and super easy to use. I recently switched over from a frame binding and so these feel feather light, even if they're on the bulkier end of the tech spectrum. They're solid enough to rip big lines with confidence, and it's a breeze to switch from ski to walk mode with the rotating heel. I've got them mounted on a Zero G and I am psyched on the setup.
Sarah Schlaefke
Bullet proof!
Familiarity:

I've put it through the wringer
Skied these as hard as I have skied anything and they never let me down. 80% in-bounds hard charging and never released unless I needed them to but ripped it up in the woods and on Mount Washington with no complaints! Highly recommend these bindings!
Everett C.