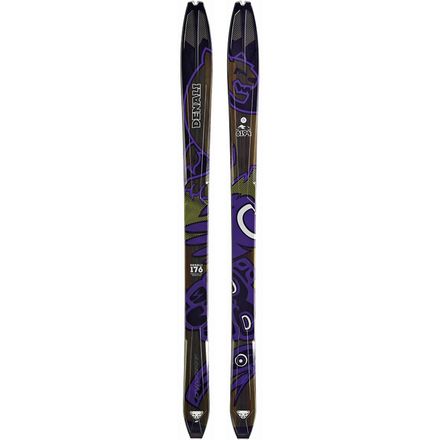 Your backcountry powder party date.
The Dynafit Denali Ski was designed for big days in big terrain. With both scoop rocker and tail rocker, as well as a waist width of right about 100mm, depending on size, the Denali floats effortlessly so you can make big turns look good. The paulownia core with carbon fiber stringers keeps the ski ultra-stiff without turning it into a boat anchor on the skin trip up, and titanal plates at the binding interface area add multi-season durability.
Snapped in half
Familiarity:

I've used it several times
I loved the skis up until the point where one of them broken in half while i was making some non-aggressive turns down some BC terrain. I'd noticed a small hole in the top sheet (from skis banging together) the morning of and planned to have it looked at but it broke in half at that exact spot (right behind the binding mount point) before I had a chance. Luckily Dynafit is offering to replace/return the ski under warranty or I wouldn't have given them 3 stars.
goleary
Light and Light!
Familiarity:

I've used it once or twice and have initial impressions
Incredibly light, I am glad I can save some energy for the descent while still getting the performance I deserve after climbing to the top.
Andrew Wike
Unanswered Question
I'm thinking of buying these as my first pair of rockered skis and am trying to compare to my traditional old skis in terms of size. If these have 40 cm of rocker and my old skis (not rockered) measure about 20 cm from the tip to where it transforms into edge does that mean the new skis should be 20cm longer to effectively turn like the old ones? Not to mention these have an additional 20cm rocker in the tail.
david
Snapped Denali's
Familiarity:

I've used it several times
Sure this ski is good on the uphill, but is that really what you tour for? Toured in this ski about 15 - 20 times in all types of conditions, and a couple of weeks ago while skiing on a groomer in the resort after some side country action, the ski just snapped in half. Granted I might have been pushing these skis a little too hard, but if I can break a pair of skis on a groomer, then it's definitely not the ski I want to take in the backcountry.
Henry Alimanestianu
Buy nice or buy twice
Familiarity:

I've used it several times
I am 5'10" & 195lbs intermediate/advanced level. I've had the opportunity to ride them in powder & soft to semi hard-pack back to the parking lot and have done some touring on them. This is a fantastic light tour ski. I only wish I would've saved $ and bought them earlier vice experimenting w/a side country set up. Noticed very light swing weight, skis normal to me. Got the precut skins from Dyanfit as well that fit like a glove w/no issues.
John G.
I am looking at getting a pair of Denali's but I don't know what size to get. I'm trying to decide between the 176 and the 184. I am 5'10", 180lbs, doing backcountry skiing in Colorado. Proficient skier. Any advice?
powder addict
I was also unsure between the 176 and 184 (am 6' 1", 175 lbs) and went with the 184. Am very happy with them. The amount of tip rocker makes them feel shorter than a 184. And the very low swing weight makes jump turns easy. Hope that helps.
Andrew Mayer
I don't own this ski, but my advice would be to go for the 184. Given the tip rocker less of the ski is going to be on the snow, so you'll want to go a little longer. I'm 5'10" and ski a 186 fully rockered.
OK, I got the 184s and am very happy with them. They ski really short... in fact, I would consider going longer next time, or at least mounting them a centimeter back.
powder addict
Grant Kates
Grant Kates