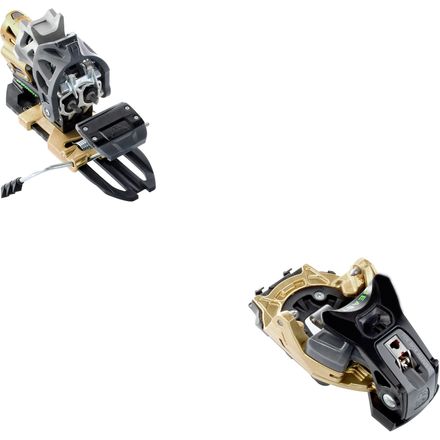 Colors

Videos
The king of the binding jungle.
In the ski world there's an irresistible push to go bigger, faster, and harder, along with the desire to venture deeper and deeper off the beaten track in search of big lines and fresh snow. The quest for bigger and more remote lines requires more and more specialized equipment, and last year Dynafit lauched the Beast Binding as a serious weapon for freeskiers set on taking their talents to the backcountry. This year, the Beast is back, with a few tweaks that make it tougher, safer, and more reliable than last year's initial offers.

The biggest difference is in the toe. While the new 16-release-value version features a toe cribbed from the Dynafit Radical, the 16's toe mechanism is quite similar to that of the original Beast—basically a beefed-up version of the classic tech toe. The hike-mode locking mechanism is unchanged, but the whole package has been mounted on a rotating baseplate, giving you more elasticity and retention than you'd get from a classic Radical. When you engage the ski/hike lever, it also locks the baseplate in place for easy and movement-free skinning. Apart from that, it's totally recognizable—four springs, two pins, and plenty of friction-free climbing movement.
While the change might be most noticeable in the front, don't think for a second that Dynafit didn't improve the heel, too. It's been mounted on rails, letting it move slightly to accommodate ski flex, improve retention, and give you a more supple, less chattery ride than you'd expect from a tech binding. Spring-loaded pins provide a super-solid connection to the horseshoe heel insert (like last year, boots will need to be retrofitted to work with the Beast). Dual climbing risers give you the ramp angle you need to cruise up steep slopes. When the lower riser is in place, hard heel pressure will lock the brakes in a retracted position to prevent drag, but they'll snap back into place if you release on the way down. If you're that dude who's humping up 3,000-foot lines and hitting 50-footers on the way down, there's not a binding out there that'll do you better than the Beast 16.
5-16 release range
Forged aluminum base with steel wings
Rear pivot-point system
Rotating toe piece
Hike/ski lever
Sliding heel piece with spring-loaded pins
Two climbing risers
Retractable brakes
Dynafit Beast heel insert required
Unanswered Question
Can this binding be used on any size ski or is it limited to the brake width. Can you change th brake ?
Clifford B.
Too beastie
Familiarity:

I've used it several times
I've used Dynafit bindings for about 20 years and have loved them. Bought these thinking Dynafit wouldn't disappoint and I would enjoy the increased security. Overall - clipping in is to complicated. Getting out is a struggle. Bomber if your screaming down hill. Overall, i wouldn't buy them again. Too heavy, too complicated.
Robert D.
Beast
Familiarity:

I've used it once or twice and have initial impressions
Thing is what it says - A beast. Great for touring and skiing in steep conditions. Only down side to them is lack of flat mode when touring in areas with no incline. Overall, great for bombing big lines and cliff drops with the tech style touring option for weight savings. If you go fast, drop cliffs, or are planning to do big mountain skiing in any condition these are for you. please feel free to reach out to me directly if you have additional questions or are looking to snag a pair. Give me a ring or email at - 801-204-4533 or escherer@backcountry.com
Ethan Scherer
Unanswered Question
This binding would probably be great for snowkiting. However I'd really like to see a flat walking/touring mode first. Does anyone know if the next generation of the binding will have a flat touring mode?
generation will have a
Schifoan
Adam Saucedo
Once I mod my boots to work with the Dynafit Beast binding (ie, add the special heel insert), can I still use them with other bindings? Ex: Is the special heel insert compatible with:

-- normal Dynafit bindings (TLT Vertical, Speed, etc)?

-- frame-style AT bindings (Marker Duke, Fritschi Freeride, etc)?
Russell S.
Best Answer
I believe Dynafit's official word is "no". However, I have heard of several other users going from a Beast to a TLT without issue. I was curious about DIN bindings myself so I put my touring boot into a Look Pivot and it stepped in without issue. However, I did not perform a systems test to see if the release values are within the appropriate range.
Evan L
Unanswered Question
What, if anything, is different on this years version of this binding from last years limited release?
Tristan K.