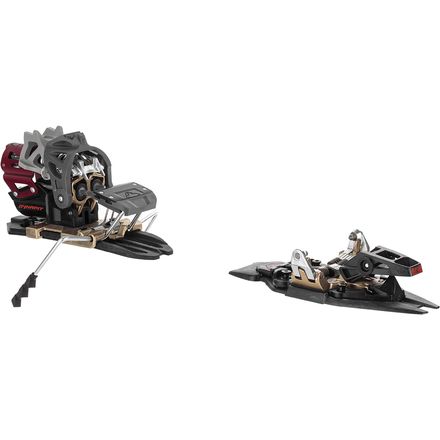 Colors
Beast 14 Binding
Dynafit's Beast took the backcountry freeride world by storm last year, and it's back to rule the out-of-bounds world again, now with a few tweaks to make it lighter, safer, and more versatile. It's still a tech binding that loves to go big, fast, and hard, but it's been refined in its second go-round to make life a little bit easier for big-mountain rippers who need serious performance on the way up and down.
Last year, the Beast had a release value of 16, but this year a 14-release-value version has been added to the lineup, giving lighter, weight-conscious, or approach-minded skiers a friendlier option. The biggest difference is in the toe. While the old Beast, and the new 16, feature a specially designed toe piece, the 14 cribs the toe from the Dynafit Radical but mounts it to a rotating baseplate (and calls it the Radical 2.0, if you're wondering), giving you more elasticity and retention than you'd get from a classic Radical. Apart from that, it's totally recognizable—four springs, two pins, and a ski/hike lever to prevent releases when you're on the way up.
While the change might be most noticeable in the front, don't think for a second that Dynafit didn't improve the heel, too. It's been mounted on rails, letting it move slightly to accommodate ski flex, improve retention, and give you a more supple, less chattery ride than you'd expect from a tech binding. Spring-loaded pins provide a super-solid connection to the horseshoe heel insert (like last year, boots will need to be retrofitted to work with the Beast), and dual climbing risers give you the ramp angle you need to cruise up steep slopes. When the lower riser is in place, hard heel pressure will lock the brakes in a retracted position to prevent drag, but they'll snap back into place if you release on the way down.
Ski binding built for hard-charging backcountry freeriders
14 DIN is the lesser of the two Beast bindings for lighter riders
Walk mode with dual climbing risers for steep or gradual skintracks
Rotating toe piece eases on-and-off and helps with the ascent
Rail-mounted heel accommodates ski's natural flex without chatter
Compatible with tech boots only
These bindings are defective. The break lock doesn't work.
Thomas H.
Beast of a Binding
Familiarity:

I've used it once or twice and have initial impressions
These bindings are bomber, tech bindings. Definitely not the lightest pair of Dynafits, but with the high DIN I feel more comfortable sending in these things. Built with the classic quality of Dynafit that we've come to expect.
Courtney Less
Too heavy
Familiarity:

I returned this product before using it
This binding would seem inappropriate for anyone except those jumping off cliffs! Way too heavy for routine backcountry touring. Wish the gearheads had mentioned this. Also, the bindings appear to require a special heelpiece which doesn't seem compatible with typical tech boots.
Sent them back.
Page D
Beast 14
Familiarity:

I've used it several times
I have been touring on Dynafit iterations for quite some time. Dealing with compromises in function, ramp angle, and pre-release issues in previous versions of comforts, verticals, radicals 1.0 to date. However I can say that Dynafit raised the bar with the Beast 14 and 16. The bindings capture the freeride characteristics previous versions were lacking. Release values are higher, elastic travel has improved, and the ramp angle has slackened. All characteristics that I have been desiring for quite some time. Dynafit Beast 14's are for the skier that needs a little more in terms of downhill performance without suffering from a weight penalty of a frame binding on the way up. Recommended
Kevin H
Perfect for sidecounty or one-ski
I have no fears skiing these in the area (unlike Radical 1's), although I'd probably want a normal binding if I was in the bumps a lot. I do have fears of taking them on real long tours. No 'flat walk mode' isn't a huge problem, but it is annoying. They're also pretty darn heavy.

Great binding for 50+ inbounds/50- backcountry, especially if you've only got the budget for 1 or 2 skis.
Allen
Beasts
Familiarity:

I've put it through the wringer
These bindings are completely solid, really lightweight, and something you can trust to shred lines in the backcountry with no fear or breaking out like I've done in the past with the Radical TLT's.
Martina Platte
Love the security
Familiarity:

I've put it through the wringer
I have a set of beast's on the dynafit dhaulagiris and it's the best touring setup I've ever owned. The security of the setup is comforting and I haven't had any pre-release issues even after 60 plus days both in and out of the resort and the transmission of power is great.

I went with the 14 instead of the 16 because of the frankenstein conglomeration. I tried the 16 I loved it. The retention was incredible and the design of the heel piece gave me a sense of confidence that I have never experienced with an AT binding. The issue arose with the toe piece of the 16. It was constantly getting packed with ice and was a struggle to work with. The 14 shares a toe piece with the radical and after 20 years it has become very dialed. The Radical toe piece, paired with the heel piece of the beast 16, is the perfect combination for a lightweight touring binding that can handle and excel in any downhill application.

I would not recommend the 16. It is a little too heavy and the toe is a little to finicky. However, I believe that the 14 is the best touring binding on the market if you're not looking for compromise on the downhill.

The heel riser broke on a training skin, but dynafit's warranty department fixed the issue within a couple of days. The switch between uphill and downhill isn't as hard as other people claim and the extra retention/durability is worth it.

For skiing big lines AND going uphill for miles it is the best tech binding I've been in.
Vance S
Some design issues
Familiarity:

I've put it through the wringer
I have used these bindings for one full season of training, putting an average of 30-40 miles a week in every sort of conditions from steep, icy climbs to long flat slogs. I do enjoy the feeling of clicking into these bindings, they are stiff and deliver good, reliable power transmission to the ski. They have not pre-released yet and I haven't had any trouble with them while touring or skiing. However, I have broken the tips off of two poles trying to change from tour mode to ski mode, and the heel piece tends to gather lots of ice which needs to be chipped out any time you want to switch. They make the mode switch look easy in the videos, but performing the task in the backcountry is not nearly as carefree. Even switching the heel risers on/off often requires hands. With another season of work, these could be awesome but they have a few issues that make them difficult to fully recommend.
gone_bikin143
Sidecountry, maybe. Touring, no.
Familiarity:

I've put it through the wringer
I got these bindings after losing a few pieces off of an ST last year. Figured they'd be a stouter build. And they are.

What they are not is appropriate for touring. At all. Transition from tour to ski mode is incredibly difficult (I'm a strong guy). The heel-piece picks up snow and ice, which makes the lifter (single lift level) not function properly until you take the ski off and clean out the ice. No zero-degree lift option.

This is a finicky binding that is great for a day of 90% resort with a jaunt into the backcountry at the end of the day. Otherwise, stick with another option. I'll be moving my Beasts onto a set of Wailer 112s, and picking up FTs for the backcountry boards.
Sam H.
Would these bindings at the 105 brake width fit on skis that are 105 underfoot?
Lee
Hi Lee,



The 105 brakes should work great with the 105 waisted skis.



If you have any other questions, feel free to reach out to me directly.



Thanks,
Matthew Pizza
These bindings don't hold you back
Familiarity:

I've put it through the wringer
I use these bindings everyday and they hold up very well, I don't feel that I have to hold back while skiing and the build quality is amazing. On the resort or in the backcountry they will do the things you expect from a good binding! I would recomend this binding to a friend 100%
Félix L.
Unanswered Question
I sold my original boots that I installed the power heel insert on. Is the power insert sold separately?
Jonah K.
Will these work with BD Method110, BD Factor 130, or Atomic Waymaker110? I heard something about compatibility issues. Please post if you know. Thanks
Scott L.
Hey Scott,

Scroll down and check out Bill Porreca's responses to similar previous questions! If you're still having trouble, I'm sure he would be stoked to help you out - just shoot him an email! Contact info also listed below.

Basically the Beast requires a modification with the heel piece on your boot. All of those boots you mentioned have interchangeable soles so you can make them compatible with tech or alpine bindings - basically Bill has said that once you make that heel modification, you will not be able to swap the soles out anymore. If you're cool with that, then you should be able to make that modification to any of those boots. Bill also suggested checking out the Marker Kingpin! That binding features similar performance to the Beast, but only requires a tech toe piece - it is compatible with alpine style heel pieces with no necessary modification.
LF
Dan F
Would these work with Salomon Quest BC 120 boots?
Vail Szendrei
As long as you have the Touring sole block on there they will work just fine. You will have to add a special attachment to the boot that comes with the Dynafit Beast. When your shop is mounting them, they can add this but, you wont be able to swap soles anymore. If your looking for a similarly performing Tech binding, take a look at the KingPin from Marker. You would only have to swap the tech sole on the toe because the KingPin uses a tradtional alpine style clamp on the heel.



If you have anymore questions feel free to send me an email or call!



Bill Porreca

bporreca@backcountry.com

801-736-6398
William P.
Adam Saucedo
I am looking at mounting these on K2 Shedditor 112's and using black diamond quadrants and I just want to make sure that that is a workable set up for about a 50% inbounds and 50% touring set up? (maybe even 60% inbounds.)
Benjamin G.
This would be the way to go! They are a burly touring binding that can handle inbounds abuse.



Feel free to hit me up at bporreca@backcountry.com or 801-736-6398.
William P.
Is the Beast 14 compatible with multi norm chassis tech bindings - like the optional tech sole of the Atomic waymaker carbon 110 boot?
Colin S.
Best Answer
I will say no. Only because of the extra heel fitting you need to add to be compatible with the Beast. Once you put the heel mod https://www.wildsnow.com/bindings/backcountry-dynafit-beast-binding/page-2/#fittings on, you wont be able to swap out easily by any means and over time you might degrade the security of the fitting. Id say if you want to turn your boot into a full time tech fitting then go for it but, to have it swap on and off could be a real problem.



You can call or email me directly. 801-736-6398, or bporreca@backcountry.com
William P.
Adam Saucedo