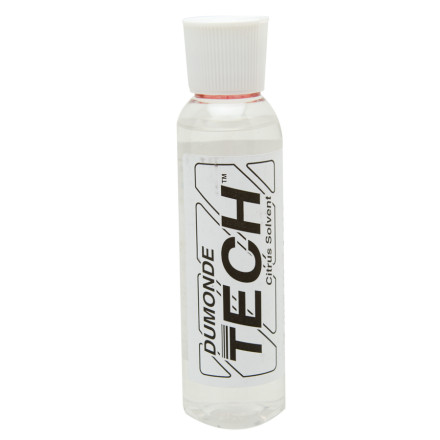 Colors

Detail Images
It's not orange juice.
Break down the built-up grime on your drivetrain with Dumonde Tech's Citrus Solvent. Hippy-friendly natural citrus degreaser cuts through the crud so you can save elbow grease for the dishes.
The rumors are true!
Familiarity:

I've used it several times
Dumond puts fairy dust in their products! This stuff is incredible - a veritable miracle worker.
Spencer Dillon
This stuff works great! Easy to apply and takes off all the grime! I just applied with a old toothbrush and sprayed with water and the wiped with a rag.
Teresa Nguyen
Orange-y Goodness
Familiarity:

I've put it through the wringer
Clean your drivetrain! Use this stuff when you do it! The best part is you don't have to use much to get it done. Just put some in a jar and dip your cleaning tool of choice into it, then you can re-use it.
Jacob Popek
This little bottle is POTENT. Just a few little drops and you can clean your whole drivetrain. Makes bike cleaning absurdly easy and also easy to clean your hands after.

Smells nice too. Just remember proper wafting technique.

Ben
brabinowitz@backcountry.com
801-746-7564
Ben Rabinowitz
Better than Dish Soap
Familiarity:

I've used it several times
This stuff is great at cleaning up parts you've neglected. I use it with a toothbrush to clean up dirty cassettes and chains. It makes quick work of the most stubborn grease and grime. It does go a long way so I try to conserve it if I can. I would recommend using a small disposable container (like a peanut butter container) to keep a small amount in and allow you to wash small parts in the container.
Kevin K
GREAT PRODUCT
Familiarity:

I've put it through the wringer
This stuff does it all really quickly. Well worth the price.

I use it an an Gatorade bottle and doesn't effect it at all.
AK Brown
Awesome stuff, works like a charm, reusable
This stuff is awesome, all the grime will melt right off your drivetrain. Also, you can reuse it, so it ends up being pretty cheap per use. My advice is to transfer it to a good sized glass jar (if you put it in a plastic food container it will destroy the plastic). Then use it by taking your chain off putting your chain in the jar and shaking the jar for 30 seconds to a minute. Remove the chain, run it through a rag to get excess solvent off and then rinse it. For cassette and chainrings grab an old toothbrush and just dip the toothbrush into your jar of solvent and run that over your cassette and chainrings. It sounds tedious to be sitting there scrubbing with a toothbrush, but this solvent works so well that your components will be clean in seconds. Then just rinse everything off. Even when the liquid looks jet black it will continue to work well. I got about 10 cleanings out of one bottle. I find that it's a good idea to clean my drivetrain every 200-300 miles (or every other time I put more lube on it).
Adam D.