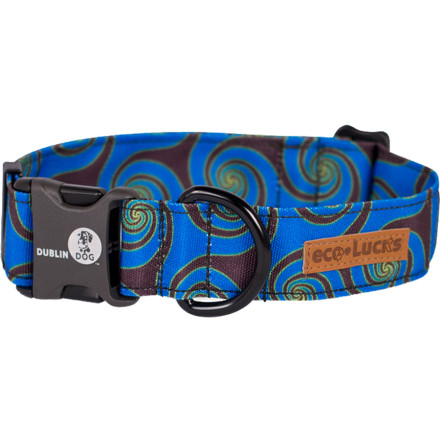 Colors
Eco-friendly collar for man's best friend.
Dublin Dog made its EcoLucks Gravity Dog Collar out of recycled plastic bottles so you and your pooch can save the world, one bottle at a time. This smooth collar also features a high-strength buckle that will keep this collar together for many walks, trips, and adventures.
EcoLucks material
High-strength buckle
Nice Collar
Familiarity:

I've used it several times
Bought this collar for my 80lb Doberman. He's very active and we're about to take him on a camping trip and wanted a good collar for getting wet, muddy, etc. Only thing I don't like about the collar is the black metal D ring for tags- the moment I put the tags on it, it got scratched up. Seems like it won't look great after some wear, but I'm ok with it. We'll see how I feel after a couple months of tough wear!
ashley S.
Good Collar
Familiarity:

I've put it through the wringer
I really like the collar overall. I purchased it for my dog almost 2 years ago and it has worked well-- I have two complaints though. First, the color has faded a lot, especially in the past year. It is no longer bright blue but more worn out. The attached photo was taken last year; couldn't find any better more recent ones. The second issue is that the color doesn't like to stay tight. It takes periodic adjusting to be snug. My dog can slip out of the collar if its not tight and while I rarely have him on leash it is inconvenient when holding him by the collar.

I do really like the width (wider than most collars) and I like the fact its made out of recycled plastic. No matter how bad my dog stinks, this collar does not smell at all. It is easy to clean. I prefer the other types of Dublin Dogs collar material, I just wish they made them wider.
tmth