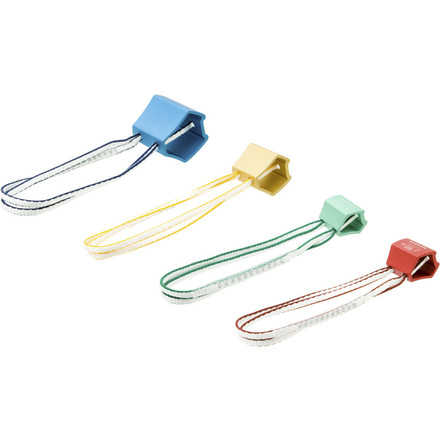 Colors
Stoppers for splitters.
You'll find the DMM Torque Nut Package surprisingly versatile regardless of the trad route you're climbing. These large camming units feature a unique shape that allows you place it in a camming position as well as a passive placement. Unlike any stopper, you can place the Torque in splitters with a simple twist, and they still make bomber stoppers in pinches and horizontals. DMM added an extendable Dyneema sling to each piece, so you can leave the alpine draws at home.
Large camming nut
Extendable Dyneema sling
Anodized color-coding
Perform great.
Familiarity:

I've used it several times
I've only used them a handful of times (if you can fit a hex, you can probably fit something easier to carry), but they are always bomber placements. The quality is excellent and I love them for horizontal placements. They're great for building anchors and letting bears know you're coming on the trail, but won't be your first pick to take on an actual climb.
Spencer C.
More Cowbell.
Familiarity:

I've used it several times
The Dmm hex set is awesome. I have used these in San Diego and in Joshua tree. They find placements well in flares and the extendable slings work out really nice for more meandering routes. They also correspond in size very well with the Black Diamond cams #.75-3.
Craig Bradshaw
These are the large hexes to get
Familiarity:

I've used it several times
I came across a blue torque nut on someone's bail and claimed it for my rack. I ended up using it on every climb! It seats amazingly in the rock and seems to sit better than wild country, or the straight-edged BD hexes. I tend to use it in it's 'flatter' placement.

The extendable sling is a cool idea, clean for racking. But half the time I clip the other loop and try to pull it through, only to have the loop with the bar-tacking get stuck against the nut. That's my only pet-peeve.

Eric C.
New Age Hex Old School Feeling
Alas, a reform to the age old and time tested Cow Bells. The highly designed and more dynamic lock these bad boys provide have me reaching for them more than i had with my old hexagonal chocks!

They torque nicely in place, even in pretty much parallel sided cracks, and they hold! great for building anchors on alpine routes when you want to keep the weight down.


Alex Quitiquit
Karen