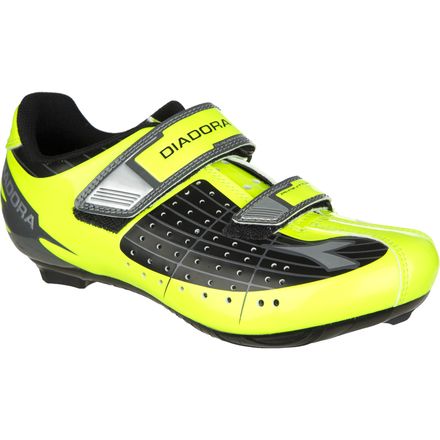 Colors

Detail Images
The next step.
Diadora believes young riders deserve shoes with much of the same technology as the adults they look up to, which is why the brand created the Phantom Jr — a kid-sized version of the adult shoe of the same name built to accompany aspiring cyclists as they ride further, experience new terrain, and maybe even try their first races.
Sturdy Suprell-Mesh wraps around the tops of the feet, acting as a barrier and conforming to growing feet without feeling constricting. The fabric's perforations and mesh panels allow it to wick moisture away from the skin quickly and efficiently, keeping young riders comfortable throughout a race, and the Race Last that Diadora constructs the shoe on is shaped to provide more room in the forefoot, giving newer riders time to adapt to the fit and feel of a cycling shoe, which may be tighter than what they're used to.
Unlike those of us who had to precariously learn to clip-in as adults, young riders who master the typical 3-bolt system will be able to quickly take advantage of the Phantom Jr's Junior Sport Road CR sole. We can only imagine their excitement as they experience the stiffness and improved power transfer that the composite-reinforced nylon sole provides as they tackle intimidating climbs. Features like a shaped heel cup and dual hook-and-loop closures help the shoe stay secure and give young riders the same ability to make adjustments to accommodate their foot shape as adult models do, making sure they stay comfortable and content as they explore the roads.