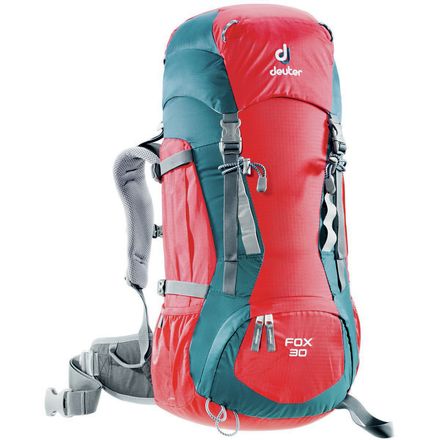 Colors
A serious pack for your hiker.
Just cause the Youth Fox 30 Backpack is a kid's pack doesn't mean Deuter skimped on any features. Your kid can adjust the torso length for a comfortable fit day after day, and year after year (it's almost like a growth-spurt indicator).
Padded foam strips provide chimney-like ventilation for a less sweaty back
Stabilizer straps on shoulder harness provide precise positioning
Bottom-access zip panel gives quick access to gear
Side and lower side pockets organize small items
Not intended for children under three
good kids pack
Familiarity:

I've put it through the wringer
I got this for my daughter and she likes it so far. we haven't hit the trail with it yet, but the finish and quality seem top notch. Just what you would expect from something put out by Deuter.
Marc DiVall
Kids pack
Familiarity:

I've used it once or twice and have initial impressions
Great kids pack My 6 year old and I did a 5 mile pack trip into the los padres forest. His first backpack trip carried 16 pounds with minimal complaints none of which were from the comfort of the pack. This was more than a third of his weight!! He was very pleased with all the places to stash stuff. By the looks of it this pack will work for him for years to come.
shadd M.
Great full featured pack for kids
Familiarity:

I've put it through the wringer
My son has used this twice. Once for a four day pack through the Desolation Wilderness as a 40lb 7 year old, once for a 3 day trip through the highest section of the Tahoe Rim Trail as a 50lb 8 year old. Great pack, fits well, adjusts well, and was the only thing approaching a "real" pack for kids that I could find.
Patrick Mulligan
This is a great pack. I am 5' and it still fits me...
Jep-helps21
This pack is loaded with features. I really do wish that Deuter made this exact pack for adults. It fits my 10 year old great witht he adjustable shoulder harness and he has room to grow. Very nice.
Lee Lannom
My son is only 5 and his torso measured in at 10" and this is the only pack that adjusts that small, so my choices were somewhat limited. I liked all the other bags though, but didn't have a choice. That being said, he loves this pack. All he will be carrying is his bag and some h20 and toys that he may want on the trail. While some might complain that the bottom won't hold a bag, what do you expect from a pack this size? My sons bag fits great in the main compartment with his water bladder. He also has plenty of room for a few toys, or rocks that he collects along the way.

The fit and adjustment on this pack are pretty much the same as you would expect from any Deuter bag, and it will adjust with him as he grows. The materials on this bag are the same as you would find on many top quality bags. I would highly recommend this for anybody looking for a pack for their kid.
Thomas Bloess
perfect starter pack for kids. It has a sleeping bag access which is really great. I initially thought it was too small for my 8 year old, but the size ended up limiting the weight to just about perfect. I was thankful for that after the mile and a half uphill we started out on. Quality of material is top notch. Highly recommend
fish hawk
I am very pleased with the fox 30 pack! So is my 8 year old grandson. A few weeks ago we purchased the North Face Terra 55 for him thinking he would have room to grow into the pack. We went on a 2 day trip to see how he would do and to test the pack. Turns out even with adjustments, we could tell that the pack was just to cumbersome for him. He is 8 years old and at 95% in his class as far as height goes, he's really big for his age. So, to make a long story short I decided to go small and ordered the fox 30 pack from backcountry.com. We were able to fit everything into the pack (same gear as the other pack) with plenty of room to spare. His first reaction was to sprint down the trail. Ha! It was all about the fit. The fox just simply fit his body better and things were not rubbing on the back of his head and sides etc. I would like to note that we had to adjust the shoulder strap to within one notch from the top and my guess would be that he will only be in this pack for about a year or two at the most but I guess I will not have to worry because we have other ready for him to move up to. I hope this helps anyone trying to make a pack choice for there young adventurer.
STEVE S.
We have 2 kids that we want to take out on some hikes this year. One is 6 yrs and the other is 8 yrs. Both are small in their class. I ordered this along with a Osprey Jib. I liked the jib better because the frame actually had some structure. The deuter though an excellent pack did not have the support. Plus we were able to fit the jib to my 6 year old. Albeit the fox 30 fit a little better there will less fighting between kids when they have the same thing.
Brian W.
Great for your Little Hiker
We bought this pack for our 9-year-old daughter's first "big" overnight hike (A 10-mile out-and-back on Olympic National Park's Hoh River Trail). We are really pleased with Deuter's Fox 30. First, the adjustability is super. Right out of the box, it took only a few moments to fit the pack to her torso length. Second, the pack has all of the little features you would find on adult-sized packs just smaller. Third, the 30L/1800 cu in. volume was just right for our little hiker. Obviously, kids won't be hauling any of the heavy stuff, but we got all of the essential "kid gear" inside (small sleeping bag, water bladder, some clothes, snacks, flashlight...etc.). Fourth, and the most important test in my opinion...comfort. She wore the pack all day hiking in and all day hiking out with no complaints of discomfort (trust me we asked). Bottom line, if I had to buy another kids pack, I would buy the exact same one.
Matt B
What are the torso adjustment sizes with...
What are the torso adjustment sizes with the Deuter Fox 30?
JOHN T. J.
Best Answer
It's 10-17 in.
JOHN T. J.