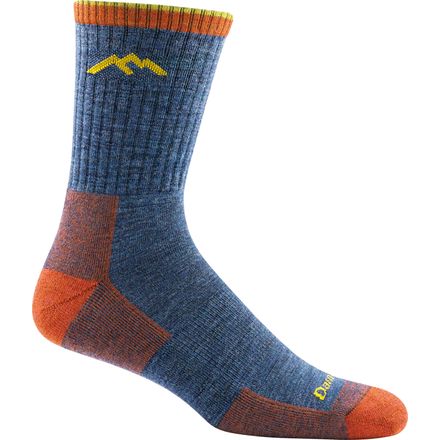 Colors
Darn Tough is right.
Darn Tough gave the Merino Wool Micro Crew Cushion Hiking Sock a dash of spandex and nylon so your trail-tromping paws stay extra comfy while you tick off the miles. The Micro Crew blows away your heavy, itchy wool socks with its built-in elastic arch support and high-density padding in the heel and toes. Darn Tough built these midweight beauties with merino wool that's naturally resistant to stinky odors and manages moisture to keep your feet blister-free.
Socks built for thru-hikers, backpackers, and peak baggers
Merino wool blend manages moisture and resists odor
Moderate cushioning underfoot provides padding underfoot
True Seamless construction reduces risk of blisters
Performance Fit reduces bunching and slipping
Darn Tough socks are made in Vermont, USA
Great Product
Familiarity:

I've used it several times
Socks are nice and soft, breathable, and comfortable. I trekked through the snow and my socks got wet. They dried pretty fast once I was finished. I will be wearing these when I climb Mt. Rainier in a couple days
fra2874782
great socks
Familiarity:

I've put it through the wringer
love these socks super comfy but on the down sides after a week long backpacking tip in the desert i had to burn mine the the sake of everyone else. will be buying again
Jayde Adam
Good socks
Familiarity:

I've put it through the wringer
These are awesome socks, good fit, comfort, support, they last forever and they are a back by a good company
Jack Hall
Darn Tough is the BEST
Familiarity:

I've put it through the wringer
Everything about these socks is perfect. They fit great, regulate heat and last longer than they should. I have had pairs last years with weekly use. They are comfortable for casual daily use or on long backpacking trips. Buy them you won't regret it.
Chris Ringel
Warmer living is happier living
Very comfortable, warm socks. Slept in them with my sleeping bag in freezing conditions and never got cold. Great to hike in as well!
Kyle
Darn Tough socks are the absolute best. Great support and fit, they stay on your feet without shifting around. Perfect for minimizing moisture and odor on any adventure.
Erickson Lyons
Unanswered Question
I was under the impression women's Darn Tough socks 🧦 only came in S-L, yet item #DRN0016 says also available in XL. Now this particular sock looks similar to a style also available in men's, but when I reach this item via another pair of women's socks, it clearly says "women's" at top. When I access it otherwise it says nothing about whether for men or women. Attempting to include a few pics to clarify this. Wouldn't mind trying an XL in women's if available BUT either way I need to be 100% sure what I'm ordering as a men's XL would be way too large. Thank you in advance for clarifying this for me.

Stephanie H

stephaniehobbs@msn.com



I hope this photo shows "women's" at the top. I hope the pic also shows size XL...hard to tell as can't enlarge photo when choosing to tell what I'm sending! Regardless of what photo shows, can you verify Darn Tough socks do come in XL for women's ever? I've been looking at these socks for DAYS and haven't seen. So if the wrong info inadvertently ended up on your site, I understand...and I am by no means assuming I'm correct...I just want answers for us both!
Stephanie Hobbs
Great socks for casual and active
Good for vacationing as they're wool and don't hold odor. Durable.
ashley.oelschlaeger2276580
great socks. comfortable, warm and durable. would recommend to anyone
Rolando H.
Darn Tough For The Long Haul
Familiarity:

I've put it through the wringer
These are the 6th pair I've purchased & not because they need to be replaced. Darn tough undoubtedly makes the toughest,most comfortable, warmest and consistently fantastic socks on the market. Naturally, my feet are always cold, Ive taken to layering this pair with a slightly lighter weight set and they keep my toes toasty, but dry in 11 degree weather. I'm a big fan of the light arch compression in the stitching, as well as the cushion quality in the foot. Also another great feature, these babies are super, hiker stank,resistant, they've got a customer for life.
Ashley
These are some of the best socks I've ever owned. I use them for work, for recreation, and for every day wear. I last bought a set of 6 pair back in 2008, and am finally starting to wear those out. Darn Tough has their lifetime guarantee as well, so you can send them in for any reason if any issues arise.
-kris
Darn Good!
Familiarity:

I've used it several times
Love these socks! My feet are so much happier on a long hike when I wear these. They wash well with just a rinse and don't stink up like some of the others socks I have. Keeping my feel warm and dry on all the hikes so far! Thinking about getting few more pairs since they have been so good to my feet.
Mike Corey
THE BEST OF THE BEST !
Familiarity:

I've used it several times
When I wear this socks, my feet feel very warm and relaxing ! IT'S SO GOOD !
I will throw my other socks away ! I will buy this again and again !
HAI LONG LI
Darn tough socks are just what they sound like. These socks will last forever and if they don't just send em in and get another pair. Awesome fit, super comfy, and many different styles to fit your everyday lifestyle.
Luke Fortune
Wore these bad boys for 4 days straight....no stench, no blisters!
Chris Lopuski
Great Socks!
Familiarity:

I've used it several times

Fit:

True to size
These socks are excellent at keeping your feet warm and dry! They are extremely comfortable and I couldn't be more pleased with them!
Austin Gillespie
Awesome Socks
Familiarity:

I've put it through the wringer

Fit:

True to size
Just returned from a wet hike thru the Yorkshire Dales and carried noting but Darn Tough socks. Couldn't have asked for better socks. Kept my feet warm, dry and blister free. I would not hesitate to order Darn Tough socks again!
Dan E.
Awesome Socks
Familiarity:

I've put it through the wringer

Fit:

True to size

Size Bought:

Both medium and large
I was a big smart wool fan, but these Darn Tough socks just rock! My left foot is size 10 and my right is size 9.5, I wear both medium and large pairs of these socks, both sizes fit great. Got like 6 pairs so far, every time I order anything, I'll tack on another pair of these sock in a different color or style. AND beside the lifetime warranty, I wash them with everything else and hang them up to dry. Simple enough.
Eric W.
Height:
5'11"
Weight:
200lbs
They really are darn tough!
Familiarity:

I've used it several times

Fit:

True to size

Size Bought:

Large
I just bought a couple pairs of these bad boys and I have quickly fallen in love! I've gone through many a hiking sock but no sock has ever fit, felt, or looked so right! The fabric is incredibly comfortable and the socks never ride down on the ankles. Im excited to see where they take me in the future!
Alex Blackmer
Height:
6'0"
Weight:
150lbs
Best socks ever!
Familiarity:

I've put it through the wringer

Fit:

True to size

Size Bought:

medium
The level of durability and comfort these socks provide is unparalleled. With all the miles I've hiked these socks are showing minimal wear and are still as comfortable as when I first bought them. The padding underfoot makes it feel like you're walking on clouds all day long! They hug your foot perfectly and don't move around while you're hiking, which helps prevent hot spots and blisters from forming. Couple these features with their lifetime warranty and I am one satisfied hiker. Not only are my feet forever happy, but I'll never have to buy socks again!
Jacob Stenberg
Height:
5'7"
Weight:
135lbs