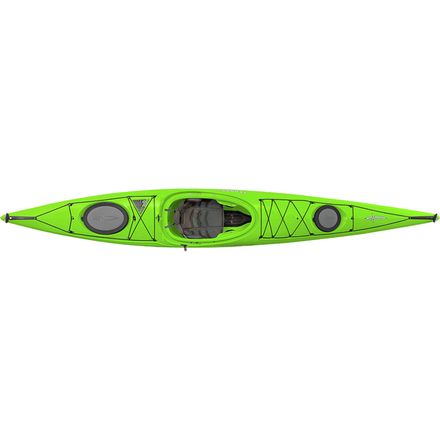 Colors

Detail Images
Fast meets roomy.
The Dagger Stratos 14.5 Kayak isn't your usual big and cumbersome touring kayak. The Stratos is designed to punch through surf, play in estuaries and rock gardens, and track well on flat, open waters. Dagger employed its whitewater expertise when designing this boat to give it a highly maneuverable feel with exceptional primary and secondary stability. The actual shape of the hull is rockered in the bow, giving the boat the ability to aggressively punch through waves and remain playful in areas of rough water, while edges along the length of the hull and an adjustable drop skeg allow the boat to carve and track well on flat water.
Dagger is calling the Stratos a high performance touring kayak, meaning it is not just stable and capable of carrying loads to support multi-day expeditions, but it is also a fun and playful boat that advanced paddlers with a whitewater background will enjoy, and intermediate paddlers will be able to quickly progress on. The Stratos is outfitted with Dagger's ConTour CFS seating system, which combines the capabilities of a whitewater seat with a comfortable, soft foam construction of a touring seat. The seating system also comes with adjustable hip pads, SlideLock foot braces, and leg lifters to ensure a comfortable, yet responsive fit. Additionally, the Stratos has the most storage space of any other boat in the Dagger lineup with hatches in the bow and stern of the boat, and bungee deck rigging fore and aft of the cockpit.
A playful touring kayak for roaming estuaries and open water alike
Drop skeg option for tracking in flat water
Stern hatch and deck rigging for ample storage space
Adjustable seating system and sliding foot braces for comfort
Thigh straps help keep you and the boat stable
Dagger stratos 14.5L
Familiarity:

I've used it several times
One of daggers best all around kayaks ever! This boat out performs in surf and very good for rivers just as it can handle long trips in the ocean. The large was a better choice for me adds an inch to the sides which make the padding perfect.
Chris Lavigne