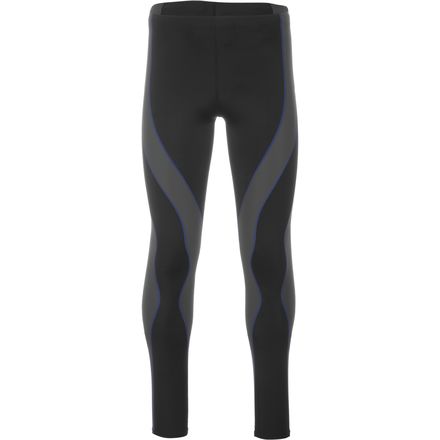 Colors

Detail Images
Like a performance-enhancing drug. Except it's a tight. So it's legal.
Toss aside your old college logo gym sweats and pull on the CW-X Men's PerformX Tight for your next run. This thoughtfully designed running tight stabilizes your hips, knees, IT band, and quads to improve alignment, circulation, and reduce fatigue. A Support Web applies gentle pressure to targeted circulation points to improve capillary action, which delays muscle fatigue and speeds up recovery. Flatlock seams and wicking Coolmax panels let you hit your stride in comfort, and reflective details add visibility on morning and evening workouts.
Cold weather running tights
Familiarity:

I've put it through the wringer

Fit:

True to size

Size Bought:

Medium
Incredibly comfortable, ideal for cold weather. Probably not the best tights for hot weather running.
Gabe
Height:
5'11"
I love it but....
Familiarity:

I returned this product before using it

Fit:

True to size

Size Bought:

Large
The material it's good, but it's thick for warm weather, size large was perfect for my legs but large in my waist.
Mario P.
Height:
5'8"
Awesome Running Tights
Familiarity:

I've put it through the wringer

Fit:

True to size

Size Bought:

Medium
I've used these for a lot of miles on a lot of runs, and I've really liked them. I've had issues from my hips, to my knees, hamstrings, calves, etc. I don't know if these pants have anything to do with it, but I've been having fewer problems when I wear them. Probably more of a coincidence to be honest, but I don't mind wearing them. Sometimes you just have to give the people what they want and run around the neighborhood in some tights.

I've ran in cold and hot (95+) weather in them. Yes, I'm sure that I would have been cooler in shorts, but I don't really mind them in the heat. It could be that I am just used to them, but I'm not too bothered, and I don't mind keeping the sun off me either. They are a fairly thick material as well. Surprisingly thick actually.

I make sure that I follow the washing directions, and haven't had any issues with them.

I've had other tights that I have to work up a sweat to even get into them. These are tight, but they aren't "second skin" tight. They still provide good support though. I contacted the company and asked them about this to make sure I had the right size, and this was their reply:
"our tights are more focused on the support taping for your muscles and Joints VS the static compression you've experienced with other companies tights. Size medium is appropriate for you as your muscles and joints are receiving targeted support but you still have freedom of movement to perform optimally."
Travis Bailey
Height:
6'0"
Weight:
170lbs
Perfect for running outdoors!
Familiarity:

I gave it as a gift but have feedback to share

Fit:

True to size
We brought this as a gift for my brother in law, and this is what he says "these are perfect for running outdoors! The material is light-weight and they stabilize your legs and knees while providing for a snug fit in all the right places. I have ran with these outside in cold temperature and they keep me very warm. Recommend these for sure!"
Luis
Unanswered Question
Expert vs Performx vs Endurance Generator...
Expert vs Performx vs Endurance Generator vs older Stabilyx?



I have used a pair of Stabilyx for several years that I love. Endurance pants are ~3x the price of Expert and Performx, so I'm not sure which to use to supplement and/or replace the Stabilyx? It seems like a big price jump and I would welcome advice.



I'm 5'11 and 175-180 and generally run 10-15 miles per week and mix in cross-fit. Suggestions?
Benjamin S.
Love CW-X
Familiarity:

I've put it through the wringer

Fit:

True to size
This is my 2nd pair of CW-X tights. I use both as a baselayer under my ski pants. I am no scientist, but I can tell you these things do work. Great muscle support. My only wishlist item for these would be some way to keep them from sliding down...even with the drawstring tight I have issues with them moving around. Perhaps it's my gigantic quads pulling them down. Probably not. Probably just my "no ass" as my wife calls it.
Adam Matthews
Love the pants & love Backcounty support
Love the pants, had a small problem with the first pair of pants i bought from Backcountry, called for a return, the return was handled quickly and i was very impressed. Received the replacement pants with no problems
Kelly Y.
These allow me to keep running...
Familiarity:

I've put it through the wringer
Quite simply, these tights rock! I've been suffering from some hip alignment issues, which in turn causes IT band problems. Not a good combo for a runner. I've started wearing these for speed workouts at the track and for my longer runs and literally feel no pain while running. I've used them for runs up to the half marathon distance, no chaffing or discomfort and they have provided sufficient warmth down to 25 degrees and weren't overly hot all the way up to around 65. They really do a remarkable job keeping things in line and I also find they help with my stride. I'm 6'0" 170 lbs and the Medium fits perfectly. Also, backcountry.com customer service was outstanding during the ordering process, matching a competitors price with no questions asked. They arrived at my house in Alabama in 2 days. Can't beat it.
Jason Johnson
I do crossfit and in that I do a ton of...
I do crossfit and in that I do a ton of burpees (my knees tend to bang against the ground) and an Exorbitant amount of rope climbs that tend to give me a small burn on my calf. I want to know if I were to buy these will I be r eplacing these in a week, month or year? Do they hold up to punishment well?
Jason Miknuk
Best Answer
I am a competitive crossfitter in the mid-Atlantic region and use Cw-x daily in my training. In competition, I have never not had a pair on. I have won free gear from other brands (skins, 2xu, etc) but nothing provides the same level of compression performance. On rope climbs, I tape over the front part on my calf to ensure they don't get torn up too bad. OLY lifting will start to show drag marks if you don't keep the bar off your thighs but this doesn't influence the performance. Buy with confidence. Attached in the Expert tights battling Jeremy Kinnick (games athlete).
Ryan K.
Wouldn't leave the house without em!
Familiarity:

I've used it several times
Had these since Christmas, first pair of leggings I've owned and man have I been missing out! Normally I freeze on the slopes, now I find myself looking to jump in the snow! Deff a great buy!
Dylan Leggett
I am 5'7" and about 170 pounds. I wear a...
I am 5'7" and about 170 pounds. I wear a 30" waist in 90% of the pants I purchase and generally wear a medium very comfortably. Would mediums be the right size purchase for me?
Joshua Van Horn
use the size guide. I'm between medium and large, in the gray area. I opted for medium and it fits great. after all, these are supposed to be compressive and supportive
ddayjason
Is it fit to use in the summer heat?
Is it fit to use in the summer heat?
Yves Langlois
Hey Yves Langlois,

The CW-X Performx Tight - Men's can certainly be used in the summer. I have used the Stabilyx full length in the hotter times of the year, but I found it a bit stifling when the temperature gets above 85 degrees. We also carry the CW-X Stabilyx 3/4 Length Tight - Men's which will work better in really hot temps. I hope this answer helps.
Wally Phillips
What if the person's height (men) is shorter...
What if the person's height (men) is shorter than 5'5 and somewhere between 130-150 lbs? Any suggestions?
KK
Best Answer
I'm 5'4 / 128lbs. Unfortunately they don't come in an XS so I ordered a Small which bunch a little on both sides of my knee caps after moving for a while. I'd recommend getting the 3/4 length to remedy that issue.
J.C.
Im a runner/sprinter. I have a pair of the...
Im a runner/sprinter. I have a pair of the pro and a pair of the stablil-x that I wear to train in. The pros provide very good support for the hardest training, the stabilx for the lighter-focused training. What can you recommend for the real competition in a meet? Pros? Stabilx? These tights are the real deal.
Eric
Eric,
Thanks for your question. If you are looking for the top end of the CW-X family, check out the Revolution tight. There is a full length tight, and a brand new 3/4 length Revolution knicker that will be arriving for the Spring 2012 season. The Revolution series features seamless construction for the CW-X support web, opposed to how the web is constructed in the Pro and Stabilyx series. I hope this is helpful for you.
DeskDriver
I was the guy that didn't want to wear the tights, but after much reading into it, I finally decided to go for it. These have been life savers on the knees and helps me to run a lot longer and actually faster..may be in my mind but since i've gotten these, my endurance has stepped it up for sure
Kun K.
We plan to give this as a gift to our...
We plan to give this as a gift to our nephew who currently wears a size 14 (boys) or youth large. Do you know if small falls as an equivalent? Thanks much.
Joyce Dee Zee
Best Answer
Joyce- The CW-X sizing runs by height and weight. If your nephew is somewhere between 5'5 and 5'9 and somewhere between 130-150 lbs, he would be a size small.
Hope this helps.
OLEG- CW-X Rep
Would these work for bicycle riding in the...
Would these work for bicycle riding in the winter?
Jeff
absolutely!! Might not be super warm like a heavy fleece but certainly doable
Mitch Andrews
Jeff- These will definitely work for you for Winter time riding. If you plan to be out in anything between 35 degrees and below, you may want to check out the Insulated version of the Versatx tight. The coolmax non insulated is best for anything above 38-40 degrees, etc.
OLEG- CW-X Rep
Jessica D.
Never thought I would ever run in tights, until I bought these. Great for the colder days and offer support for your knees. I'm 6'1 and med. fit great.
worm
While these are not a panacea for my IT band issues, with some dynamic stretching and foam rolling, I am almost pain free on runs up to a 1/2 marathon. I would recommend these to anyone with IT, hip, or quad issues. I often even wear them after a run for a few hours to help with my recovery. Awesome.
Grant L.