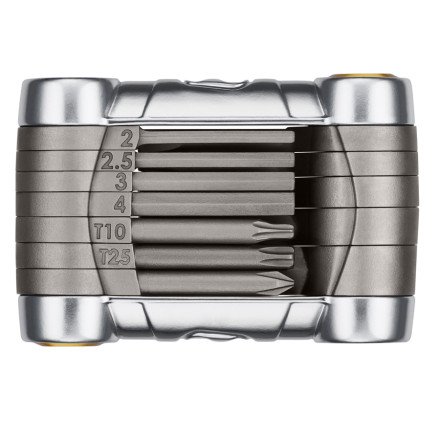 Colors
You went from a jelly into a jam.
The Crank Brothers PIXL Premium Multi-Tool will get you out of your next sticky jam with a full array of allen wrenches, three screwdrivers, two torx wrenches and one helluva nice body.
Full Coverage
Familiarity:

I've put it through the wringer
I love my Crank Brothers multi-tool that I've had for four years now and never leave for a bike trip without it. The only gripe I have is it can be bulky to use in tight spaces and the bits are short (it's a compact tool), so it can be a pain in harder to reach places as well. Overall, excellent range of coverage with its tools and convenient to carry.
Morgan Eliasen
Seems like a decent tool, in a perfect world you won't need this ever but preparedness counts.....I found myself on trail a while back with my old multitool that had been in my pack for about a decade, found out my torx bit was not long enough to access a loose bolt which prompted looking for a new one and I went with this unit. About half a winter inside my pack, never even used it but I recently removed it and the tools all have surface rust all over them. Really lame, I would not reccomend this tool because of that.
Keith M.
I really like the indexing function, but the bits don't seem to be hardened enough for much use. My T25 bit was starting to look like a helix. Crank Bros. honored a warranty, and it came back with a chromed bit...not sure if that is a running change or only a warranty replacement.
Andrew
Crank Brothers PIXL Premium Multi-Tool
Backcountry Video