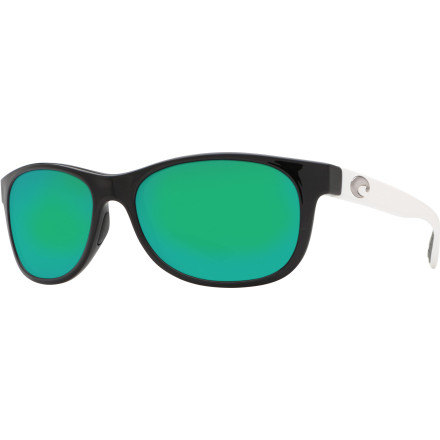 Fisherman's best friend.
When you're spending a lot of time on the water, you need a pair of sunglasses that do more than just scratch the surface. The Costa Del Mar Prop Sunglasses feature Costa 400G glass lenses for optical clarity that you can't get from a plastic lens, and they're thinner and lighter than other glass lenses so they're more comfortable during all-day fishing marathons. The glass lenses are also polarized to eliminate glare so you can see beneath the water's surface more easily when you're casting flies on a mountain stream or searching for sailfish out on the open sea. Rubber nose and ear pads not only improve comfort, but they also provide a secure fit so you don't lose your shades in the drink when you're reeling in a big one.
Proposition 65 Warning for California Consumers: This product contains chemicals known to the State of California to cause cancer and/or birth defects or other reproductive harm.
Polarized lenses reduce glare from reflective surfaces such as water and snow
400G glass lenses offer superior optical clarity, and are twenty percent lighter and thinner than the average polarized glass lens
TR-90 nylon frame is lightweight and durable
Stainless steel hinges are corrosion-resistant and flexible so they keep their shape
Rubber nose and ear pads provide a comfortable and secure fit