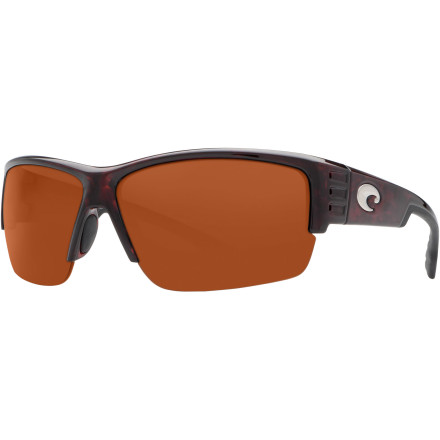 Tiny polycarbonate suits of armor.
Intense light, glare, salt water ... a walk in the park for Costa Del Mar Hatch Polarized Sunglasses. After all, this is their native environment. Designed for use on the open ocean, Costa Del Mar Hatch Polarized sunglasses can handle anything that you can throw at them. You can definitely trust your eyes to sunglasses this tough.
Proposition 65 Warning for California Consumers: This product contains chemicals known to the State of California to cause cancer and/or birth defects or other reproductive harm.
580 lens blocks yellow light at 580 nanometers to enhance color and reduce fatigue
Blocks shortwave high-energy blue light to cut haze and blur for enhanced clarity
Blocks 100% of UV light for complete protection
Provides 100% polarization to completely eliminate glare
Shatter-resistant for protection from flying objects and debris
All 580P lenses offered on the Ansil transmit 12% of light for comfort and protection in bright conditions
Integral hinge for clean styling
Super-durable nylon frame for years of bend-free service