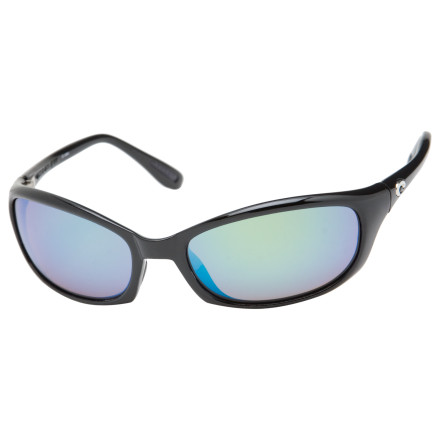 Colors

Detail Images
Tough design and great style combine to form the Harpoon Sunglasses.
The Costa Del Mar Harpoon Polarized Sunglasses have tough durability and classic styling. Unlike plastic, the glass lenses in the Harpoons resist scratching and provide you with top visual clarity. The nylon frames are nearly indestructible for demanding days on the water, yet have a classic look that works just as well at the country club. Polarized lenses fight off glare while fishing or golfing.
Proposition 65 Warning for California Consumers: This product contains chemicals known to the State of California to cause cancer and/or birth defects or other reproductive harm.
What are the measurements?
Adam Saucedo
Measurements:



Temple Length: 121 mm

Frame Width: 141 mm

Lens Height: 41 mm

Lens Width: 62 mm

Bridge: 16 mm


Adam Saucedo
Unanswered Question
I have a perfectly good pair of Costa del...
I have a perfectly good pair of Costa del Mar perscription sunglasses. My perscription has recently changed. Do you sell perscription replacement lenses?
Dan Leatherwood
I bought these glasses for my husband for Christmas. He had 2 pairs previously but broke one and had the other one stolen. Unfortunately, he can't live without them so I just dished out the money for a third pair... man, was he excited when he opened them on Christmas morning! He is in the construction business and is outside all day and drives a lot. These glasses are his life when he's out on the road. He has owned Oakleys and Maui Jims in the past, but these Costas are his favorite by far!!! Not only are they awesome glasses, but the company really stands behind their product. The first pair he ever owned was damaged at one point, and we shipped them back to Costa Del Mar. They weren't able to repair them, but they gave us a new pair for half of the retail price. That pair was stolen so I bought this pair from Backcountry because they had an awesome price. They've got awesome customer service too. You can't go wrong!
Lora H.
another great pair of costas. I have the frigates with amber lenses for inshore fishing, and wanted something hardy for offshore with blue glass. the harpoons were definitely a good choice.
Ryan Rindone
Best sunglasses I've owned
Got the tortoise shell with green mirror lenses a few years ago for my birthday and love them. The green mirror gives produces a brownish tint that really brightens things up in low-light situations. They work great in direct sunlight too. I've had them for two and a half years now and they are still going strong. I let someone try them on and they dropped them onto the pavement, which caused a little scratch and the lenses to rattle in the frame. Sent them back to Costa and they fixed the rattle and put in a new lens at no charge. Just bought a pair of Isabella's for my girlfriend, hope they perform as well as mine have.
Jordan Byrum
What is 400 glass mean I have seen like...
What is 400 glass mean I have seen like 500 somthing what is that
Tom Ponder
Best Answer
The 400 glass is just your basic polarized glass lens that gives clearer vision than the their polycarbonate Cr-39 lens, but the cr-9 lens will weigh less so they will feel more comfortable when being worn for longer periods of time. The 580 glass blocks most of the yellow light spectrum which has a wave length of around 580 nanometers (hence the name 580 glass), this improves contrast and delivers deeper colors. The 580 glass uses a special filter which unfortunately makes them a lot more expensive.
Geoff Thomas
Never in a million years would pay $100+ for a pair of sunglass, but after receiving these as a gift I now know you get what you pay for. These sunglasses are great very durable (dropped them a few times and no scratches) and stylish, I just hope mine never break or else I would have to buy another pair, but costa is known to back up their products pretty well with the lifetime warranty.
David K-M