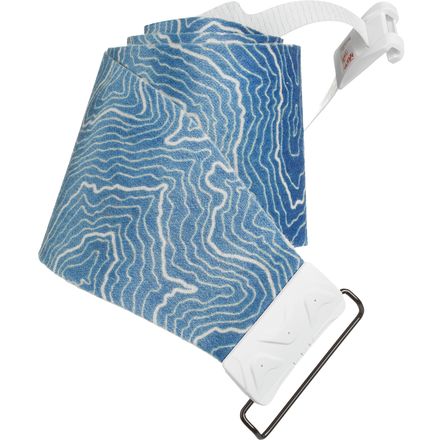 Less hassle, more skiing.
Tired of skins that make you risk tearing a tendon when trying to pull them apart and lose their effectiveness on frigid dawn patrols? The Contour Hybrid Mix Climbing Skins employ an innovative Hybrid glue technology that tackles these problems head on. The adhesive layer sticks securely to your ski bases for reliability when you're skinning, yet pulls off your skis and separates from itself almost effortlessly, so you don't need to take off your skis to remove them or have a partner help you pull them apart in the parking lot. And since the glue is applied in sheets rather than melted on, it's much less temperature sensitive than standard glues, so it still performs well in bitter-cold temperatures. And when the adhesive gets covered in dirt and grit, you can simply clean it with warm water and mild soap so that it's like new again.
Innovative skins to make backcountry life easier
Hybrid glue technology makes skins easier to pull apart
Less temperature sensitive than standard skins
Mohair blend for optimal mix of glide, grip, and durability
Adhesive can be cleaned with warm water and mild soap
Adjustable tip and tail clips for easy fit
Includes skin cutter
Best Handling Skins of Them All
Familiarity:

I've put it through the wringer
I had an earlier version of these skins and used them for more than one hundred fifty days in the Wolf Creek Pass Colorado backcountry. Eventually, they got a little tired; so I got a new pair. KochAlpin the manufacturer says the adhesive is improved. So it seems. The new pair is tackier than I recall the old pair was, but not so tacky that they can't be readily ripped off while on the hoof. Contour Hybrids can be folded glue to glue without fear or mesh separators. Werner Koch also says long term storage without separators is fine. But what about pulling them apart? Not hard. The glue does not transfer from one place to another either. When the glue loses enough tackiness to concern, you can clean it. I use GooGone. The ski wax and dirt come off, and the glue is pristine again.

The grip and glide are as good as any skins I've used. Because the glue is not insanely grabby, folding them in wind is easy. The main drawback is sensitivity to water. The glue does not stick to a wet ski, nor if the glue is wet. If you ski in the rain much, these skins are not for you. They resist icing well, but in warm conditions, if icing occurs on the pile, I rub on some broad spectrum ski wax, the same as I would for the skis.
Jim Milstein