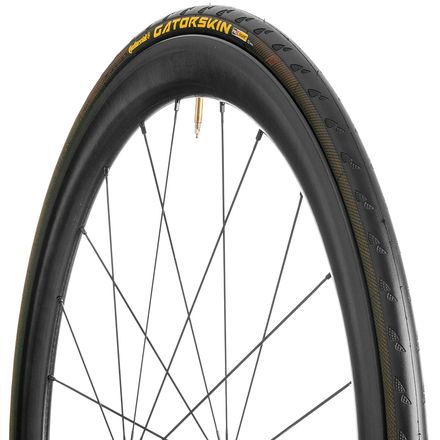 Colors

Detail Images
Gatorskin Clincher Tire
If you're logging big miles year-round, the Continental Gatorskin Tires just might be your new piece of must-have gear. They're similar to the GP4000-4 season tires, but a little heavier and a little slower — geared more toward training than all-weather racing. The Gatorskins feature two distinct layers of puncture protection: a Duraskin mesh at the sidewalls to prevent cuts, and a dense, nylon breaker under the tread to protect against direct punctures and road debris.
Dual-layer puncture protection
180 TPI
Folding bead
Commuter tires
Familiarity:

I've put it through the wringer
I run these on my commuter bike. These, with some tubes with a little stans/slime inside are an almost fool proof method for preventing flats on rough/tough/rugged roads. The sidewalls are stiff and do stiffen up the ride a little, so rider beware.
Perry Hall
Go-To Road Tire
Familiarity:

I've put it through the wringer
Once my bike shop recommended these tires, I haven't used anything else. I only use my road bike to cross train for MTB so I'm not looking for the lightest option out there, just durability so I'm not changing flats on my training rides and this tire delivers. I was curious how many miles I could get out of a set, and I'm cheap, so I rotated the set every 1000 miles and ended up getting 4500 miles out of a set. They were still rolling well at 4500 but flat spotted and flat protection was diminished. I'd recommend these tires for anyone commuting, randonneuring, or the every day cyclist not wanting to change flats. Even if you're carrying a few extra grams, chances are you'll get there faster than the guy changing a flat.
Derrick Smith
I've been using Gatorskins for a few years now and I love them. I consistently get thousands (~4,000) of miles out of them and the only flats I've gotten have been from screws, nails, and an industrial staple. I use the 25mm one on my road bike for training and racing and I just got the 32mm ones for my commuter. The tires are smooth, durable, and very puncture resistant.
Samuel H.
Commute protector
Familiarity:

I've put it through the wringer
Never be late to work again due to measly sharp objects. These tires still roll fast, and are incredibly puncture resistant. There is a bit of a harsher ride on the tires but its a worthwhile tradeoff.
Perry Hall
NOT thorn resistant
Familiarity:

I've used it once or twice and have initial impressions
I really wanted these to work (700x25). I've had 5 flat tires in the last 5 weeks on my 1000 mile GP 4000's/Conti Race tubes (not the race light, but thicker race), so I installed these gatorskin bad boys. 6.1 miles into my first ride and already my first flat. I expected to see some kind of gnarly damage for these to go flat, much to my dismay it was a measly little thorn. I like the way they ride, although heavier, but just not anymore thorn resistant than the GP 4000's. I'm at a loss what to do now? Tire/tube liners or gator hardshell tires, or both? Unfortunately my new Enve 4.5's are not tubeless compatible.
Kevin Y.
Tough as nails
Familiarity:

I've put it through the wringer
These are my commuter tires and now I just bought a pair for my road bike. I've ridden over all the hazards of the road including glass and they just laugh at it. When the weather is nice and I want to go fast, I use the GP 4000 IIs. They aren't bomb proof, but they have a lower rolling resistance over the gatorskins. However, if you are going for big miles, the extra 9 watts of power needed for the gators might outweigh the concern over a puncture.
Ryan D
smooth!
Familiarity:

I've used it several times
Im very stoked on these tires. Super smooth rides and haven't gotten any flats. Perfect for my commuter bike.
Chad Maurer
These are super durable and I've put hundreds of miles on them...no flats.
Sara VanderWaal
Are these tires tubeless ready or not?
Robert A.
Hi Robert,



These tires are not tubeless ready.
Neal Forbes
Thelbert M.
Handles all the road can throw at you
Familiarity:

I've put it through the wringer
Like you I've tried so many different tires, but these are the only ones that have come through for me. The roads here in Sonoma County ,CA can change dramatically with the seasons, pot holes after rains, glass, debris from winery trucks, etc.. my previous tires always would get side wall cuts for all the debris on the roads, this'll always ruin a ride and cost you a new tire, I finally decided to try these and haven't had a flat or side wall cut yet. Some reviews state these are a little heavier than other tires, but I'm not a racer so the weight and rolling residence really don't effect me. CC has the best prices I have found and have outstanding customer service.
andy R.
Get outta here goatheads
Familiarity:

I've put it through the wringer
This is a very robust tire. I use it as a commuter. Good grip, solid protection, and it rolls well.
Sunn Kim
Great training tire
Familiarity:

I've used it several times
Easy installation, and great tires! I have never had an issue with GatorSkins. Also, despite others saying they are heavy, I have never had an issue with the weight. I can maintain my cadence at 90rpm and average 22mph just as easily as my other brands. Even on longer training rides of 30-50 miles, these work just as efficiently. These work well as others have stated, for people who live in the south west (goat heads).
Patrick O.
BOMB PROOF
Familiarity:

I've used it several times
Love the Continental Tires. I bought these for my desert riding and commuting rolls great and grips like glue. Stands up to goat heads and rocks that other tires can't take.
Nick F
Super Happy Riding
Familiarity:

I've used it several times
Has taken my riding to the next level of happiness. Looking forward to putting hundreds of miles on these beauties.
James Martinelli
Bullitt Proof !
Familiarity:

I've put it through the wringer
These are the best. Great training tire for the not-so debris free roads of the southwest. Have been training on these tires for a couple years and very few punctures, have great tread as well. Highly recommend!
Mark McEwin
The only tire I will run
Familiarity:

I've put it through the wringer
Been using these for years. I ride about 8,000 miles a year and average maybe 1 or 2 flats a year....always from the little wires from shredded truck tires....those little things can go through anything though, including tire liners. I will say that I tried the Continental hardshell tire, but it was just a little too rough riding.
Also, up until recently, I always ran 700 x 23. This last set I put on I went to 700 x 25. Supposedly they have a smaller "footprint" than the skinnier tire which should mean less rolling resistance, etc. I will say though that the 700 x 25 is a noticeably softer ride. I will use them from now on.
mark K.
I have been riding on Conti Gatorskins for years. I ride just over 3000 miles per year with a lot of climbing in Colorado. These tires are bullet proof. Very few flats. I rotate them once or twice and get about 3500 miles per set. I have tried several other "better" tires and found that they might ride a little better but I would get many more flats and much less mileage on the tires.
Bruce R.
Never need another tire
Familiarity:

I've used it several times
This tire is a beast. I constantly get sharp objects stuck in my tires. So I wanted something that could take it all. This tire certainly does that. You'll never use another setup.
Grant
Keep it on the road
Familiarity:

I've used it several times
Great tire that's always given me that warm fuzzy feeling, knowing it won't shred and slam me into a wall if I had a blow out.
Kyle
Awesome Rubber
Familiarity:

I've put it through the wringer
Already put in a few hundred miles and still haven't gotten any flats, even when riding on unpaved roads or some moderately rough terrain where glass and rocks could be found. These tires are super durable and I highly recommend them if you're doing any city commuting, long training rides, or just want something dependable. Installation for these tires is a bit difficult the first time- you can "stretch" the tire by installing it without tubes and letting it sit overnight- inside in a warm room.
Sonya Salansky