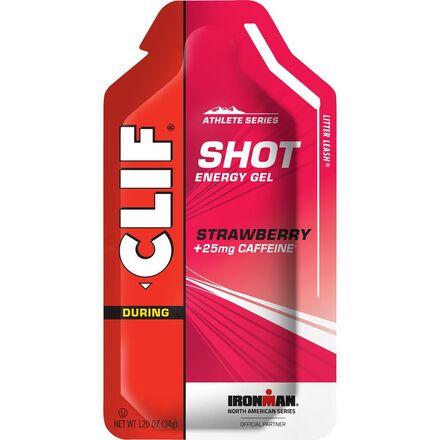 Colors

Detail Images

Community Images
Don't bonk.
Keep your energy up until the finish line with Clifbar's Clif Shot Energy Gels. This 24 Pack of energy gels are quickly digested and deliver new carbohydrates to your body within two to ten minutes of consumption. Packed with simple and complex carbs, the Clif Shot Energy Gels also deliver much-needed electrolytes to your blood. Filled with essentials like sodium, potassium, and magnesium, these gels help you stay hydrated and keep your muscles pumping until you're done with them.
Turbo Clif Shot flavors have 100mg of caffeine
My favorite gel is Citrus
Familiarity:

I've put it through the wringer
Doesn't hurt my stomach while riding (I have a very sensitive stomach), tastes great, small amounts of caffeine, what more could you want?
Jennifer Chase
Clifbar Clif Shot Energy Gel
Familiarity:

I've put it through the wringer
An all time classic and chocolate flavor is my favorite... The only issue i have is they are a bit thick and higher intensity rides Science in Sports gels are easier to consume.
erhan ayan
Decent but not ideal
Familiarity:

I've used it several times
These gels get the job done but they're pretty thick and can be hard to choke down when you're in the middle of a run. I much prefer using the Stinger gels which are way less thick and grainy.
Payton Schiff
I have used this product for many years and it is my favorite energy gel. Taste and texture are OK but then again this is not like eating a great tasting burger on the trail. I typically eat one every hour with water, due to the thick viscosity of the gel.
Charles H
If you have to gel, this is a great one
Familiarity:

I've put it through the wringer
I have to admit that I got a little burned out on gels...they are great for their purpose, but one particular race where I needed about 10 of them let me wanted to use "real food" whenever I can. Having said that, Clif Shots are still my go to product when I do need a gel, and I often throw one or two in my jersey pocket when going on a medium-long ride. The Vanilla, Chocolate, and Espresso are my favorite flavors (in that order).
Brian Quinif
grab and go
Familiarity:

I've used it several times
These make for a great no stop option, they're easily digested and don't feel like they sit in your stomach as some trail foods can, especially on a vigorous route on a hot day. They fit easily in your packs waist pocket. Something to consider is disposal, you will not consume all traces of this which is important in bear country. They roll up very small when empty taking nearly no space but if you simply place it back in your waste belt you will had an exotic and quizzical scent to you pack. Consider placing an empty Loksak in an accessible portion of your partners pack. When you're both done place the waste in the loksak.
Kyle Cherry
Great taste, good ingredients
Familiarity:

I've put it through the wringer
I love this brand, I could say they focus in being organic and ecofriendly. The best flavours for me are Chocolate and Double Expresso
Carlos Restrepo
Love the litter leash
Familiarity:

I've used it once or twice and have initial impressions
I wrote about this on my blog (http://cmkl.ca/2015/05/18/clif-shot-gels-solve-the-what-to-do-with-the-tab-problem/) but I love the fact that the packaging keeps the tab and the tube together after you open it. Makes it so much easier to open, eat and stow the empty while riding.
cmkl
I've used these off and on in conjunction with GU. The effects are almost identical. I enjoy the flavor of the Mocha better than any other energy gel out there (The exception perhaps the new Salted Caramel). The notches in the packets are a nice addition and they seem to tear open just a little easier than the GU packets do.
Ryan Gibbs
Does the trick
Familiarity:

I've put it through the wringer
You could get a gel flask and make your own gels, experiment with maple syrup etc. Or you could get these, prepacked=preportioned=easy I usually have 2 gels in my pocket for any ride, more on longer rides. I prefer gels for races just because they are the easiest for me to eat 1 handed. Usually the last thing eaten on long training rides as the banana's go first then any waffles or other real food. But when you hit the wall and need quick energy now these are #1.
Troy Rutherford
buzz buzz
Familiarity:

I've used it several times
energy gels really have their purpose when it comes to racing and training - they are easy to carry and provide a hit of energy when you need it the most. the double espresso turbo is awesome for those who aren't caffeine sensitive and are doing a 1-3hr of training or racing. i take this anywhere from 40 to 1:20 into my workouts / races and really benefit from the effects and you don't have to take it all at once, i usually take it in two doses because it is thick. i don't think i could live off these alone but they serve their purpose well.
Andrew D.
Best flavour
Familiarity:

I've used it several times
I'd really recommend it if you need a "snack" while you ride. I don't know if it works but I eat it for placebo and to change the taste in my mouth. I have try vanilla, chocolate, strawberry and double expresso. I like most double expresso and chocolate
Carlos Restrepo
Perfect for my needs!
Familiarity:

I've used it several times
These little packets are perfect for my needs - long distance running, hiking, backpacking and peak bagging! I won't step out of the house without them when I know I go for a long run, hike or on multiple day backpacking trips.
Scorpio on SUP
when the goin gets tough
Familiarity:

I've put it through the wringer
i started using Clif Shot Energy Gel to step up my biking and running performance. i found that this stuff works really well, i especially like the extra caffeine boost in the double shot.I also find that its best to take it before you start running out of gas. once you feel the bonk coming on it is probably too late to come back from it. i eat one of these every 30-45 min during long rides and runs.



its pretty thick so make sure you take it with water
Paul Taylor
Gets the job done but....
Familiarity:

I've put it through the wringer
I used these for a bit and the energy supply was good. They did what they are suppose to do. But a few things made me start looking for a different option.



The first being that they are quite thick. When it's hot and I'm grunting up a climb on a long run, I don't like to feel like I'm eating a thick paste. Second is that they gave me stomach cramps. It happened on a few runs and I chalked it up to dehydration or other nutrition deficiencies, but it continued to happen after every gel I took.



Good product but just not my cup of tea.
Zach Luchs
They work
Familiarity:

I've used it several times
I don't know what else to say about a gel. It picks me up when I start feeling hungry. I have no problem with the consistency. It's called a "gel" so I'm not expecting liquid or crunch. The citrus tastes fine. I prefer Gu because it comes in a variety pack.
Sandra T.
solid product, but still too dense?
Familiarity:

I've used it several times
Razz flavor is fine, but the consistency is still very dense/thick. citrus flavor is very good, i like the caffeine in it, and the consistency isn't quite as "chewy". the product is very effective (gives you energy quickly) so no complaints there. for a thinner/easier to swallow energy shot, i recently tried the Honey Stinger Gold gel packs and i found them just as effective, but with a thinner consistency that was easier to swallow and even better flavor (if you like the taste of honey, try the Honey Stinger shots).
Rickshaw
I love the Vanilla and Double Espresso flavors - for workouts and pre-race, I usually take the Vanilla, because it goes down easily and is the right consistency, not too thick and not too thin. The taste isn't overly sweet, which makes it easy on the stomach.

During races, especially in the last lap of a XC race, I boost it up with a Double Espresso. Like the Vanilla, the flavor isn't overwhelming, although you probably have to have an affinity for coffee.

Other than acting like a shot of adrenaline to the heart, these gels are great because I can take multiple during a race without having gut rot for 3 hours after.
Evelyn Dong
These are great for there intended purpose. I truthfully do not really enjoy these but the sodium & caffeinated ones give you that extra little push needed. I personally prefer the Clifbar Shot Bloks but it's all good.
Anthony and Ashley South