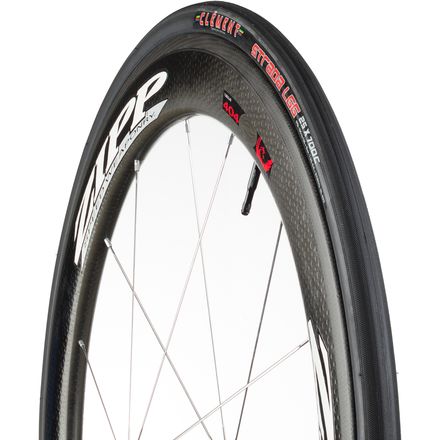 Colors
Supple is forever.
Though the cycling industry is prone to radical self-reinvention every few years, one thing remains a welcome constant: the supple ride quality of Clement tires. The Strada LGG 60 TPI Clincher Tire lives up to that reputation, albeit with a lower TPI than its more expensive LGG 120 counterpart. The lower TPI means the LGG 60 does take a hit in the suppleness department, but it makes up for it with a longer wear life and more puncture resistance.
This being Clement, we're obliged to note that the tire's LGG initialism is a nod to the airport code for Liège. We can't ever hear or read about that city without mentally appending -Bastogne-Liège to its name. The oldest of the classics, La Doyenne has been held rain or shine (or, occasionally, snow — check out the unforgiving 2016 edition or the 1980 edition where Hinault dropped a huge, badger-shaped hammer on the proceedings) over 100 times now, and the Strada LGG's mix of a slightly textured center strip and Clement's shoulder chevrons helps maintain grip in unpredictable spring time conditions.
The 60 TPI model features a single compound compared to the LGG 120's dual-compound construction. Instead of the latter's softer shoulders, the LGG 60 uses a single, efficiently rolling compound throughout. Using the harder material on the shoulders also adds an additional boost to the tire's longevity, and the addition of a puncture-resistant belt helps fend off ride-ending debris.