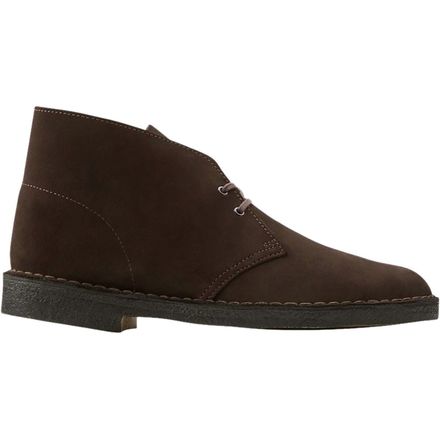 The Clark's Men Desert Boot was born in the sands of North Africa, worn by the British forces during the Western Desert Campaign of World War II. That means it's a venerable 70 years old, but for some reason it's not showing its age. That's because timeless design and relaxed comfort never go out of style.
Suede style features textile lining offers against-the-skin comfort; leather styles unlined for breathability
Natural crepe rubber sole offers cushioning and durable wear
Do it all
Familiarity:

I've put it through the wringer

Size Bought:

10.5
This is an incredible shoe because it is comfortable and casual enough to wear regularly, but also decent enough looking for dressing it up. As long as they are long enough I'd try to get them decently snug fitting out of the box, because they break in a good bit. Once they do they are sooo comfortable. I've had one pair for about 4 years now, and just bought a second pair to have another color and something a bit fresher for wedding season.

Sizing is true to size, I'm always either 10.5 or 11 depending on the fit of a shoe, I went 10.5 on these and they are snug but great.
Vinny Mauro
Height:
6'0"
Weight:
195lbs
Stylin
Familiarity:

I've put it through the wringer

Fit:

True to size

Size Bought:

13
Such a classic boot, very stylish, and has a bit of a break in period due to the leather of course. Easy on and off, looks clean around the city, ladies love em, so keep that in mind guys! a little pricey but worth every penny.
Let me know if you have any questions - agoulden@backcountry.com
Alex Goulden
Height:
6'3"
Weight:
205lbs
Always a classic.
Familiarity:

I've used it several times

Fit:

Runs small
Love these shoes; after they break in. It takes a week of solid wear to get these feeling good, but once they're formed to your feet, they rock. I picked them up in the mahogany suede, they look great, the color is on point though like any suede shoe they are hard to keep clean if you're a rambunctious lad like myself.
Rusty Olds
Height:
6'2"
Weight:
220lbs
Really good looking shoe. Only worn a couple of times and have already received compliments, so you know, big deal.
Size wise they fit true. I got the Brown Suede, cause I'm classy, and it looks classy.
Very comfortable. Break in easy.
Mackensie Baer
Go-To Boots
Familiarity:

I've put it through the wringer

Fit:

True to size
I've worn these for about a decade now-- almost a daily driver and they get better when they are broken in. Only issue i have is that the footbed is pretty flat, so i throw an insert in them for added comfort.
Sam Brown
Height:
5'6"
Weight:
154lbs
Extremely Versatile, Iconic Style
Familiarity:

I've put it through the wringer

Fit:

Runs large
I've had the same pair of Desert boots for quite some time now and I still wear them more than any other boot. Unlike a work boot, which can be a heavier sole and overall wear, the Desert boot is extremely light, can be worn with just about any outfit and can be put through anything. I've worn these through rain, snow, mud and heavy sun, and the leather and patina only looks better with time.

Pros:
- Classic and iconic style
- Can be worn up or down
- Fit great with thick socks or lighter dress socks
- Will last forever

Cons:
- Sizing, like most leather boots, is about a half size big. I wear a 13 in training/running shoes and a 12 in most boots; I wear a 12.5 in my Clarks.
- Laces: Clark's laces are infamous for breaking after about a year of use. Just seems to be their MO. If you contact Clarks on their website they will send you a replacement pair free of charge. You can also buy a pair of replacements directly from them for $2. Given the fact that I've had these boots for almost 10 years now, it was a worthwhile investment.

I also recommend treating the leather once a year if you live in a rainy/humid environment. This'll keep the patina fresh and protect the leather from salt/water exposure.
Brian Chausmer
Height:
6'3"
Weight:
225lbs
A Clarks Classic
Familiarity:

I've put it through the wringer

Fit:

True to size
Excellent materials and construction that is to be expected on such an iconic boot, comfortable and appropriate for both casual and formal occasions. You won't regret picking up a pair. Let me know if you have any questions at all.
Matt Rieder
Classic
Familiarity:

I've put it through the wringer

Fit:

True to size
Comfy, simple, and look good. Timeless design
TIMOTHY B.
These were for my brothers friends birthday saw them out of the box and they look super fly wish I had a pair
Samuel Neises
Samuel Neises
Suave Stylie
Familiarity:

I've used it several times

Fit:

True to size
These boots are easy on, easy off, and most importantly they're comfortable. Would suggest over other similar models!
Greg Gavin
Not Retro, Original!
Familiarity:

I've put it through the wringer

Fit:

True to size

Size Bought:

9
These are the original, and still the best. I wear them for everything, from Sunday church to knocking around on my bike. They seem to look good with everything, and get the occasional compliment, which is always nice.

Apart from aesthetics, I find them to be reasonably long-wearing for normal street use. And make no mistake, these are street shoes, despite the name. You don't buy these because you're going hiking; you buy these because you've decided that you're too old to be walking around in sneakers all the time but still want to be comfortable.

Fit and comfort are entirely subjective, of course, but for me they are some of the most comfortable shoes I have ever owned. Further, I didn't size down, as is usually suggested, and they fit perfectly in my normal size. That said, my feet are relatively wide with almost no arch, so maybe that's why, as these things have zero arch support. That works for me but, as thy say, your results may vary.

They do feel weird when you first put them on, but break in quickly and become insanely comfortable. By "weird" I mean that it feels as though you're going to step right out of them. But again they quickly conform to your foot and it's all good after that. Soon they feel like old slippers.

This review is for the Beeswax leather model, by the way. I had suede ones as a kid but they stretched out. These hold up better.

They're not retro, they're original, which I think is better.

PS: Anthony Bourdain says these are his "go to" shoes for travel, which, considering his annual mileage, is worthy of note.

PPS: These clearly pass the WWSMW test as well: What Would Steve McQueen Wear? Women will notice, gents. Seriously.


Thomas L.
Height:
5'9"
Weight:
190lbs
Great Everyday Boot
Familiarity:

I've put it through the wringer

Fit:

Runs small
I wear these boots just about everyday in the colder months. These keep my feet pretty warm and look great with just about everything! I typically wear a size 9 US shoe and I had to size down to an 8.5. They are super comfortable and break in easily.

The only reason I have given them a 4 star rating is because they can become very slick when they are wet.
Neal Forbes
To be honest my first impression was "I dont like it" but after I put them on, I like it! It looks great, stylish, comfortable and lightweight. It runs a half size too large for me. But it still fits good
Andres Soto
Height:
5'9"
Weight:
161lbs
Adding another pair to the collection. Leather clarks are easy to clean and take care of. Quick to throw on and get out the door and still look good. Perfect to wear casually during the winter months. Or our on the town for the weekends. Definitely recommend getting a pair.
Aaron Colborn
Dressy or Casual
Familiarity:

I've put it through the wringer

Fit:

True to size
I am never disappointed when I get a new pair of Clarks. Their classic look makes them cool in whatever situation you find yourself. I wear them casually with jeans but also have dressed them up with khaki pants and a blazer. They are a comfortable shoe and really durable. They fit true to size.
Tommy Flitton
Clarks Desert Boot
Familiarity:

I've used it several times

Size Bought:

10.5
This makes my 10th pair of Clarks. Desert Boots, Desert Trek, Desert Mali and the Jink boot. I am never disappointed by Clarks. Minimal break-in time, and they always look great.
Now, a few pointers. I always...ALWAYS spray protectant on the suede before I ever wear them. Sand Suede looks awful when incredibly dirty. Do yourself a favor and get a good silicone spray and suede cleaning kit.
Fit: I wear an 11.5 in Adidas (Samba) Nike, and Vans. I take a 10.5 in Clarks Originals. They may be a tad tight when you first put them on, but they will stretch, and after a while they're going to conform to your foot.
Now about Backcountry.com, this is the first time I've ever bought anything from them and I couldn't have had a better shopping experience. I use Zappos quite a bit, but now I believe I'm going to switch. They gave free 2 day shipping which really was about 30 hours. They gave me a free sample of some great blueberry granola and now I'm going to buy that stuff. The packaging was first class and the added free swag was a nice touch.
I would recommend getting these boots and highly recommend ordering from backcountry.

Jake B.
Linda B.
Height:
6'3"
Weight:
230lbs
Classic
Familiarity:

I've used it several times

Fit:

Runs large

Size Bought:

10
I use these as my everyday office shoe/going out and love them. Once broken in these don't just look great but feel even better. I am a little worried about the wear of the sole but time will tell. They do run a little large so my suggestion would be going 1/2 size down.
Justin Morgan
Classic look, all time style
Familiarity:

I've used it several times

Fit:

Runs large

Size Bought:

10
These are my favorite pair of shoes to wear to the office or out in town. First off they get complements everywhere i go. On top of that they are make with the suede interior which is really nice on the feet. Once broken in these are a super soft and comfortable pair of shoes. They do fit a little on the large side from my experience.
Justin Morgan
GOAT IS GOOD
Familiarity:

I've used it several times

Fit:

Runs large
Look good, iconic design. Back for my second pair in a different color. I needed a half-size smaller than my regular shoe size for a good fit. The rubbery sole is comfy but I don't think it will wear as good as other soles. Since I don't need to wear the same pair daily, I'm expecting lots of life.
Josh R